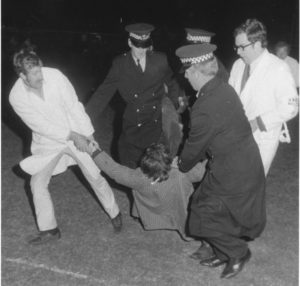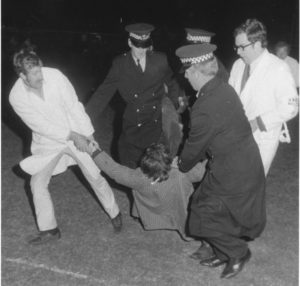 This July is the 50th anniversary of the Springbok football tour of Australia. Anti-Apartheid Protestors across Australia stood together to oppose the South African Springbok rugby team tour of the country. Indigenous activists, political militants, unions, students and citizens of conscience hurled smoke bombs into the matches, blew whistles, invaded the fields and harassed the South African rugby players where ever they went.
The second game was played in Adelaide on 30 Jun 1971 and was successfully disrupted by mainly student protestors. The following interview with Irene Gale, a leading figure of the Campaign Against Racial Exploitation from South Australia, was conducted in February this year.
This interview came from the Adelaide Chronicles website. Click on the link to hear the audio file of Irene's reflections of those heady days of opposition to the Springbok tour.
We had arrived in Adelaide from NZ a couple of months before, and the family had spent most of the time in and around Elizabeth. The airport was an amazing sight!  There were so many people – I would guess many thousands – they were not only filling the building, but were spread all across the runways and surrounding grassy areas.  In those days there was just a waist-high fence dividing the people from the runways and you just climbed down or up the stairs to the plane and walked across the asphalt to the building.  So it was easy to get onto the runway area.
There was no way any plane could land or take off while we were all there!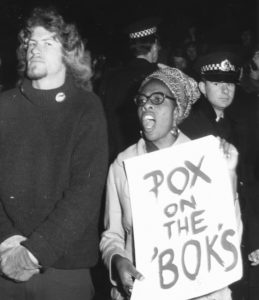 Once the message came through from the Uni that the first of the Springboks had been taken to that motel the entire crowd streamed over there (it was somewhere nearby) and filled the road around the motel.  The noise was incredible. The student on the motorbike had rung the Uni students' office. It was long before the days of mobile phones.
Sekai Holland was from Zimbabwe and came from Sydney, following the Tour around the country.  I'll never forget the faces of the Springboks as she leaned into their just-arrived taxi at the motel, snarling at them "Feusack Springbok!", as though they were vicious wild dogs.  They cringed back into their seats, clearly wishing they could get out and away from the baying crowd.