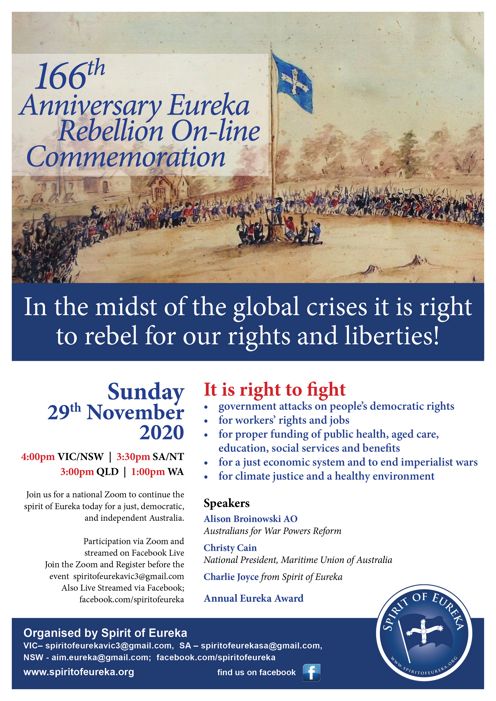 The current global crises see the convergence of a failed economic system, combined with the Covid-19 pandemic and the climate catastrophe that our social system has irresponsibly and negligently dealt with. This is both a historic and tragic moment in Australia's and the World's existence. The prophecy, 'If we don't learn from our history we will be doomed to repeat it until we self-destruct', is all to clear today.
In commemoration of the 166th Anniversay of the Eureka Rebellion, Spirit of Eureka will conduct an On-Line Zoom meeting that will cover these critical issues.
We welcome as many people as possible to participate in this event and to continue the fighting spirit of Eureka for a just, democratic and independent Australia.
Sunday 29 November
4:00 pm VIC/NSW; 3:30pm SA/NT; 3.00pm Qld; 1:00pm WA
SPEAKERS
Alison Broinowski AO  Australians for War Powers Reform
Christy Cain  National President, Maritime Union of Australia
Charlie Joyce   from Spirit of Eureka
Registration link to the Zoom Eureka Anniversary Commemoration.  Please register in advance for this meeting:
https://us02web.zoom.us/meeting/register/tZEtf-GuqzIuHdZ1IUTdjbZ2O9Zpw-WIwQGx
After registering, you will receive a confirmation email containing information about joining the meeting. Also Live Streamed via Facebook; facebook.com/spiritofeureka
Spirit of Eureka
VIC – spiritofeurekavic3@gmail.com,  SA – spiritofeurekasa@gmail.com, NSW – aim.eureka@gmail.com;  facebook.com/spiritofeureka