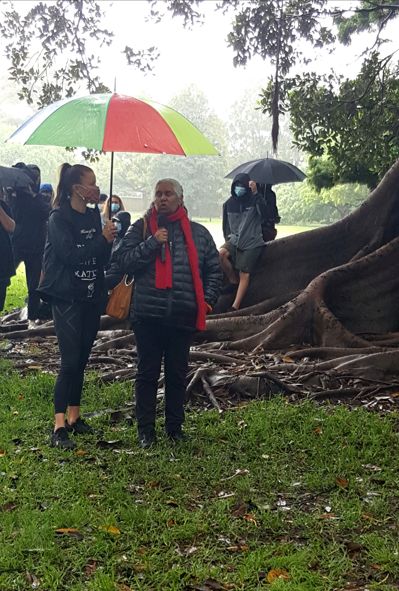 It was sunny and hot in Alice Springs and three hours down the Tanami Road in Yuendumu, on Monday, 26th October. In Sydney and Canberra nearly 3000 kilometres away, cold rain pelted down.
Four places, all marked like the rest of Australia by a system of ongoing genocide.
In Alice, hundreds of Warlpiri and their supporters waited to hear what charges a police officer, on bail in Canberra, would face after the shooting of a young Warlpiri man in Yuendumu last year.
In Sydney, the day after tens of thousands were allowed to attend the Rugby League Grand Final, police used Covid restrictions and decreed only 45 people could attend a protest highlighting a parliamentary inquiry into First Peoples' deaths in custody. Hundreds arrived, despite police rules and the rain.
 Unity in Sydney
Yuin woman, Taressa Mongta (pictured) called for systemic change labelling the system colonialist and paternalistic. She said, "It needs more people to come out, because we cannot absorb this carnage."
Above all, she said, "We have to find a point of unity."
Letoona Dungay is the mother of young Dungutti man David Dungay Jnr, who died before repeatedly pleading, "I can't breathe".
It was to be a long day, but Letoona Dungay did not complain. Wet and cold, she was determined to give evidence at the inquiry immediately after the rally.
She railed against "the system of police investigating police."
Saying "We want the deaths to stop", Letoona Dungay demanded that those responsible for her son's death be charged.
Sovereign Peoples' authority
Paddy Gibson, was arrested some months back for helping lead a similar protest. Deriding "so-called authorised rallies", he said, "These rallies have always been authorised by the Sovereign Peoples of this land."
Paddy Gibson outlined the demands for the Upper House inquiry, which only the strength of protest after protest had brought about.
The first demand is "an independent body led by First Nations Peoples" to investigate and prosecute when there is a death in custody. It must take power out of the hands of the police.
Second, is to use the billions spent incarcerating Aboriginal Peoples at the highest rate anywhere in the world, to support community organisations.
Keenan Mundine, agreed. He has spent half his life behind bars and has helped set up a community organisation, Deadly Connections to provide a future for others.
"Make sure people have the opportunity to survive and thrive," Keenan Mundine said.
He repeated a demand already rejected recently by NSW Parliament, to lift the age of criminal responsibility from ten years. Six hundred children under the age of 14 have been taken from families and jailed. "Just give them a feed and a safe place," Keenan said.
These demands will not go away.
The grief of the final speaker was raw. A young mother, twice subjected to domestic violence (DV) has had all her children removed.
The accusation? She might become involved in another DV relationship. So, the children are stolen from the victim, and placed with the perpetrator, their father!
She travelled from Lismore in north eastern NSW. Two weeks earlier, her thirteen-year-old daughter was removed. She jumped from a moving Community Services vehicle and ran away and hasn't been seen or heard from since.  To media cameras, her mother begged her daughter to contact her. Few listened without tears.
Yuendumu
Finally came a statement from the committee elected from Warlpiri People to lead the response to the fatal shooting by police in Yuendumu.
It particularly targeted the ongoing role of the NT Intervention, and its only "investment" in community, the $7 million police station.
It says, in part, "We are a proud People, strong in our language, culture and our Lore. But the police and government rule over us and treat us as enemies in our own land.
"All the investment in Yuendumu since the Intervention has been against the community. They built a big police station to terrorise and control us. The Basics Card controls our money. It feels like the Intervention opened the door to anyone to come in and wipe us out, not just shooting us, but taking away our identity, our Tjukurrpa.
"Here we really are as the Warlpiri People. We have no rights to self-determination. So many of our People, including our children, are taken away to prison.
"When the shooting happened, our young People stood up as part of Black Lives Matter Movement that is happening around the world. Being part of this movement is very special for us.
"It gives us hope that a new day is coming.
"This means those responsible must be held accountable. Justice for Walker also means that power must come back to the Warlpiri People and the violence and control against us must end. We want our rights back, to continue what happens in our communities and on our land. Stop this Intervention and all the racist laws we are under. Reset our local councils and give us the resources we need to employ and serve our people. The police must put down their weapons before they come into our land. We cannot walk around in fear in our own community.
"Respect Warlpiri Lore, the real Lore of our land," the statement ends.
Not long after it was read, the first murder charge against a police officer, in the nearly 450 Black deaths in custody since the Royal Commission, was set for the Supreme Court.
Unlike the hundreds of First Peoples in prison for trivial matters, the officer remains on bail.