By Lindy Nolan
Two weeks ago, state schools across the country were full to overflowing. Some had 1800 students in schools built for 1000.
Social distancing? Impossible. Think of traffic jams of kids getting to lessons in rooms a quarter the necessary size.
NSW public school classrooms each had about eight minutes cleaning per day. No extra cleaning materialised in the months since the virus surfaced. Many teachers took up the slack. It's similar round the country.
Meanwhile, a media frenzy focused on toilet roll shortages, while critical shortages of essential hygiene infrastructure, equipment and staff went almost unremarked.
Contradictions
These dangerous truths did not escape teachers or their unions. They wanted a plan.
As the pandemic grew, so did anger. Contradictions multiplied. Young people were a threat to grandparents, but not if the grandparents were teachers.
Kids were contagious in shopping malls, but not in classrooms. So said our prime minister.
Australian Education Union (AEU) state organisers were flooded with members' appeals for advice. Soon occupational health and safety risk notifications poured into education department inboxes and phone lines.
Hollowed out
Over decades, school education departments around the country have been hollowed out, numerous positions abolished and funding stripped.
In NSW, the process was designed by multinational giants, Boston Consulting Group and PwC, and called Local Schools Local Decisions (LSLD). It implemented from 2011. Provision of buildings and amenities have always been issues, if lesser ones than staffing.
Sold as giving principals more power to suit local circumstances, LSLD transferred departmental workload and costs to individual schools. It divided. It attempted to conquer. And it saved millions.
How did it play out over the last weeks? An eastern suburbs teacher rang to lodge a series of complaints.
Lack of hot water, soap, cleaning products, hand sanitiser and paper towels? "That's your principal's responsibility." No centralised procurement. No plan. Flick it to thousands of individual principals across the state.
It seems their responsibility is not educational leadership. It's to scour empty Woollies shelves for bleach and manage privatised cleaning contracts.
In the ACT, a successful joint AEU-United Workers Union campaign recently re-established cleaning directly under government control.
Front pages
Increasingly determined school union meetings demanded the safety of students and staff, support for the children of emergency workers, plus measures to meet the educational needs of all students.
Some threatened industrial action.
In some states, education department leaders negotiated with the AEU in relatively good faith.
Finally, the Queensland AEU branch threatened industrial action, putting the situation in schools on front pages.
No other AEU state branches followed suit, but the impetus gave their leaders media time to espouse the key message, that for the safety of students, education workers and the whole community, it could "not be business as usual". 
Voting with their children's feet
From Monday, March 23, Victorian schools were pupil free, apart from at-risk students and the children of essential workers.
NSW student numbers began plummeting. On Tuesday, the premier finally made clear that all parents able to do so should keep students at home.
By Wednesday, March 25, the strong ACT AEU branch and ACT Government had finalised an agreement allowing union members to teach from home.
Tasmania and Queensland were pupil free from Monday, March 30.
In SA and WA, parents collectively voted with their children's feet after strong union appeals, and like the NT were to be officially pupil free from April 6.
And by weeks' end, vulnerable teachers and students were working from home nationwide, except in WA.
Despite this, there were outrageous exceptions where departmental instructions were ignored. A father of a child in palliative care was not offered permission to work from home by his principal, despite his circumstances being known.
Business as usual no longer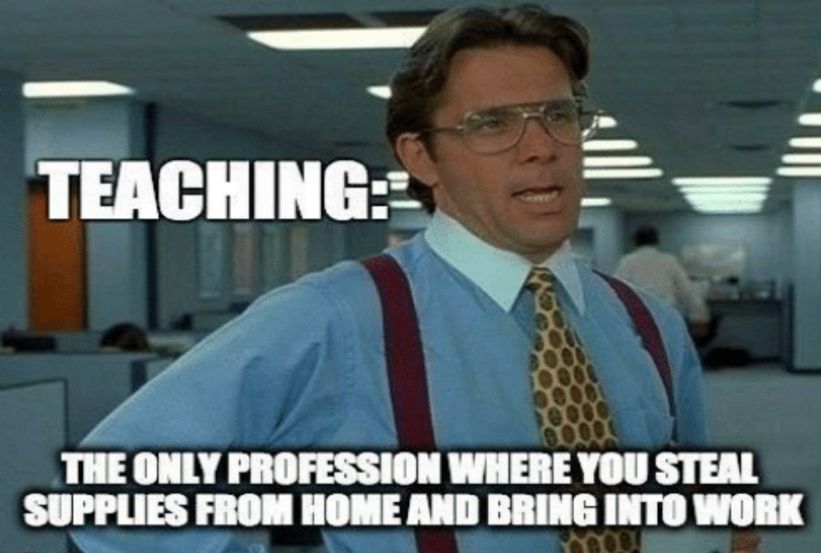 Extra cleaning hours have been promised in every state and territory.
By then, very few students were present, and even most big schools were using only a handful of rooms.
Some principals had yet to find cleaners for the extra hours funded, but at least the small number of classrooms could be thoroughly cleaned daily.
The contrast to this collective response, and Mr Morrison's advice that individual parents should decide, was stark.
Last Friday, Mr Morrison and National Cabinet announced it was "no longer business as usual in schools".
This is a huge achievement of teachers in struggle. But it's not the end.
Urgent material support
All children are precious. But there are two classes of people and two classes of children.
Some of the richest private schools moved seamlessly to online lessons weeks ago.
Many homes of state school children don't have a computer or Internet. Those families need urgent material support.
The huge logistical issues about online provision and teaching from home – amplified by chronic underfunding of state schools – are currently falling on embattled teachers to fix. State education consultants from teacher ranks are urgently needed. Some AEU branches have also warned that online platforms such as Zoom leave teachers vulnerable.
Casuals teachers are needed more than ever to ensure meaningful face-to-face and online teaching.
Not one cent extra
Particular educational support is needed for those with intellectual, physical, emotional and psychological disabilities, and for those whose families speak little English. At-risk students must get the support they need from school councilors.
Not an extra cent has been announced for First Peoples' children or remote communities, already criminally neglected after 230 years ongoing invasion. 
In remote NT communities, with new restrictions on entry, young people and their teachers don't even know where their food will come from. 
There's plenty of money!
Tens of billions have already poured into corporate pockets since the Reserve Bank's $8.8 billion injection into the stock market – mainly as short-term loans to banks – on March 12.
Confronting the storm
Teacher unions and their members saw a coming storm and demanded action. They chose a collective response in the face of Mr Morrison's dangerous pro-corporate individualism. But it doesn't end there.
Last week, a Senate committee approved a new school funding regime with bipartisan support.
Save Our Schools warns it is designed to thieve even more from the poorest schools and give to the richest. On top of that, $1.2 billion of a $4.6 billion package, no strings attached, will "compensate" private schools which lose any funding.
Governments must stop funding privilege and make universal, free education their priority.
There will be a reckoning at the end of this crisis.
Collective consciousness and action are the only way forward.