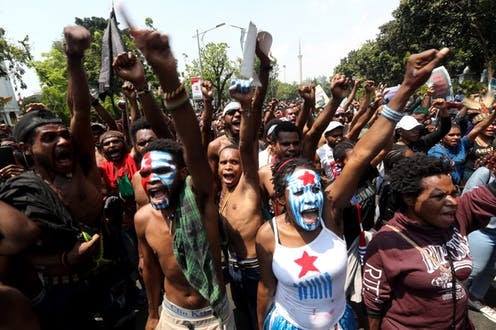 This article was originally published by the Pacific Media Centre on August 25, 2019
The groundswell of regional support continues to grow in the Pacific – and also globally – for West Papuan self-determination, writes David Robie. The latest repression only adds to this momentum.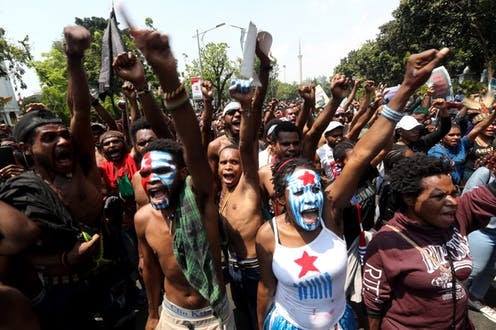 Indonesia's harsh policies towards West Papua ought to be scrapped. Whatever happened to the brief window of enlightenment ushered in by President Joko "Jokowi" Widodo in 2015 with promises of a more "open door" policy towards foreign journalists and human rights groups?
They were supposed to be seeing for themselves the reality on the ground. But apart from a trickle of carefully managed visits by selected journalists after the grand announcement – including two multimedia crews from RNZ Pacific and Māori Television in 2015 – no change really happened.
And the serious media freedom and human rights violations remain rampant.
Even the Pacific Islands Forum countries are still awaiting their promised fact-finding mission.
Instead, Jakarta has launched in recent years a major diplomatic offensive in the region through aid and efforts to win Pacific "hearts and minds" as demonstrated by last month's "Pacific" Expo hosted in Auckland's Sky City.
The futility of Jakarta's hard line approach has been exposed for the world to see this week with the masses of protests across the two easternmost Melanesian provinces of Papua and West Papua in response to a racist attack in Surabaya.
The more repressively Jakarta has acted towards Papuans, the more the resilience of a colonised people after five decades of repression has bounced back.
Wisdom questioned
Despite blocking the internet and sending in 1000 troops, Jakarta is unable to push the independence and self-determination genie back into the bottle.
Increasingly, Indonesian community leaders and civil rights advocates elsewhere in the republic are questioning the wisdom of clinging stubbornly to the unitarian nation stance in relation to Papuan self-determination. A more relaxed, compassionate and nuanced approach needs to be taken towards the Papuans, one that recognises the determination and courageous aspirations of the Melanesian people.
The editorial board of the English-language Jakarta Post, calling for a refreshed policy of respect and dignity, admitted this week "something, if not many things has gone wrong with the way we deal with Papua".
Why even criminalise the flying of the symbolic Morning Star flag, asks coordinator Yati Andriani of the Commission for Missing Persons and Victims of Violence (Kontras) about persistent acts of defiance by Papuans who risk up to 15 years in jail for doing this.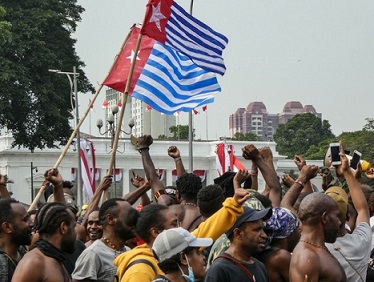 She thinks that President Widodo should follow the precedent set by the country's fourth president, Abdurrahman "Gus Dur" Wahid, who was far more lenient and accommodating with Papuan aspirations during his term of office in 1999-2001 (he died eight years later).
"Even if the Morning Star flag is flown and it doesn't do any harm, doesn't use violence, then it shouldn't be treated as a criminal act, or criminal in any way," Andriana says, according to Pikiran Rakyat.
"I think Jokowi should learn from Gus Dur, who allowed the Morning Star flag to be flown."
Time to listen
It is time for the central government in Jakarta to start "listening" to the Papuan people, she believes.
"This is a Jakarta perspective about nationalism – the NKRI [Unitary State of the Republic of Indonesia] being non-negotiable, but they close their eyes to what the people want," she explains.
Andriani also deplores the statement by President Widodo calling on the Papuan people and students to forgive he attackers who "besieged" the Papuan student dormitory in Surabaya last week, an event that triggered the rioting and protests in Manokwari, Sorong and Jayapura and many other places.
Instead, Andriani thinks that Jokowi should apologise to the Papuan people.
"Before this incident, there have been many cases of prohibitions and restrictions on political, economic, social and cultural rights, which the Papuan people are not granted.
"This all points to an important thing, the complex issues in Papua, so the president's approach of just stating that we should all forgive each other, is a statement that is inadequate to respond to the problems happening in Papua."
The spokesperson for another group, Alissa Wahid, coordinator of the Gusdurian Network founded in honour of the late former president, says that during his life, Gus Dur – both as an ordinary citizen and as a leader of Islam and the republic – has provided a good example over relations with Papua.
Papuan name restored
According to Muhammad Irfan in Pikiran Rakyat, Gus Dur had restored the name of Papua as the region's official designation (previously it was "West Irian") and allowed the Morning Star to be flown by Papuans as a symbol of pride and cultural identity.
"This model needs to be followed as an example," Wahid says. "So that the Papuan people are no longer treated with discrimination, and their aspirations are listened to and their human dignity respected."
The groundswell of regional support continues to grow in the Pacific for West Papuan self-determination, as demonstrated by last week's strongest statement yet from the Pacific Islands Forum – despite Australian and New Zealand reluctance.
This momentum will continue to grow until the Papuans get their genuine United Nations vote on their destiny, not the sham one of 1969, described by a US diplomatic cable at the time as a "Greek tragedy".
History is on their side, just as it was for the Timorese in 1999, who next weekend will be celebrating their referendum vote for independence two decades ago.
Thanks to translations from Bahasa Indonesian by James Balowski of the Indoleft News Service.