Talk to the Melbourne Unitarian Peace Memorial – 30 June 2019
Shirley Winton – IPAN-Victoria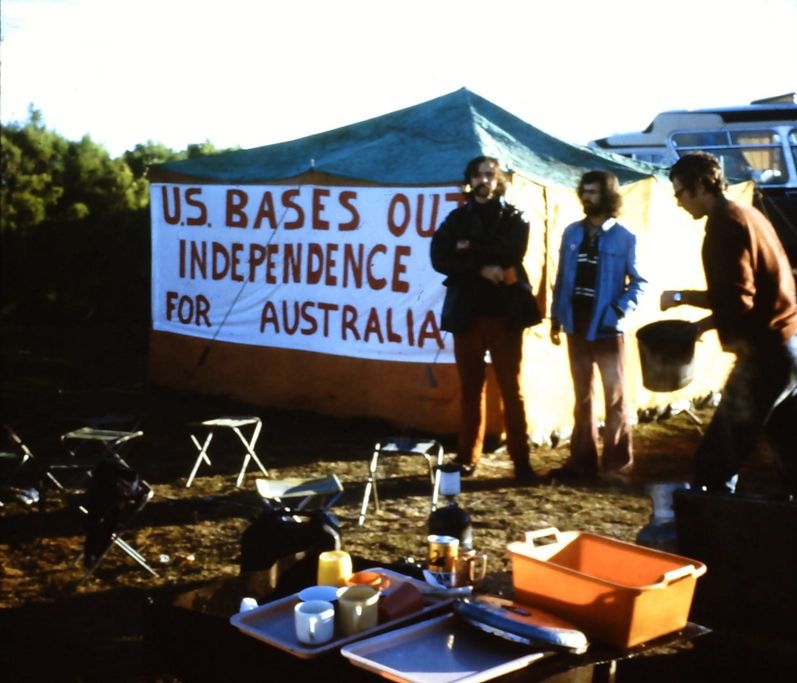 Why do successive Australian governments dance to the dangerous beat of U.S. war drums?   How do we build a people's movement to end the Australian governments' servile support for U.S. wars of aggression?
We pay our respects to traditional owners of the Kulin Nation, past, present and future elders and warriors.  We acknowledge their country was never ceded and support their struggles for sovereignty and self-determination.
Why are Australian governments dancing to the dangerous beat of the U.S. war drums?  How has the U.S.-Australia military alliance deeply enmeshed Australia into U.S. wars of aggression, its military-industrial complex and its global imperialist agendas that threaten Australia's peace, security and independence?
How do we in Australia build a people's movement to end our government's involvement and support for U.S. wars of aggression, end the U.S. military alliance and move towards a truly independent and peaceful foreign policy that respects the sovereignty of all countries, and contributes to global peace and justice for people and the environment?
Successive Australian governments' obsequious support for the U.S. and its wars of aggression diminishes Australia as the 51st state of the U.S., carrying out Washington's and Pentagon's global objectives.  With the exception of a handful of a few politicians, both the two main parliamentary parties, the LNP and Labor, are obediently following U.S. global imperialist agendas at home and internationally.
The U.S. military alliance is a dangerous burden on Australian people and the environment.
The Pivot
In 2011 Obama and Clinton announced in the Australian parliament new U.S. military strategy in South East Asia called the Pivot into Asia-Pacific, which would move 60% of U.S. global military into this region.  The Pivot was directed at rising China which is challenging U.S. global hegemony. Australia as the client state of U.S. is at the centre of this imperialist strategy in the Asia-Pacific.  For the first time U.S. marines are permanently based in Australia, with Darwin expanded into a major US military base and launching pad for wars with China.  The upgrading will enable U.S. nuclear powered submarines and naval supercarriers to dock around Darwin's coast, increasing the numbers of more active US marines and their amphibious strike invasion groups.
Bases
Since the Pivot's announcement U.S. bases and Australia's military facilities have been upgraded, expanded and more deeply enmeshed with the U.S. to make them interoperable with the U.S. global military and foreign policies agendas. Pine Gap, is the most important and biggest U.S. military intelligence base outside the U.S.  North-West Cape, another important base for US global military intelligence communications base, has been re-opened and upgraded.
Marines
Darwin is hosting 2,500 marines in Robertson Barracks. They are presently involved in joint military training with U.S., Japanese and Singapore troops in North Queensland and North Australia in the biannual Talisman Sabre joint war exercises preparing for U.S. wars in the region, and beyond.
This year the joint military exercises will practice a scenario of war with China, involving, amongst other exercises, invading and capturing an island to create a base from which to attack the mainland.
Recently US marines have been practising invasion and capture of le Shima island off the coast of Okinawa.
U.S. marines on Australian warship HMAS Adelaide have been in regular war exercises in South China Sea, in training for, in their own words, "invade, capture and secure".
Two Australian warships, HMAS Adelaide and Canberra have been modified to transport amphibious landing gear with U.S. marines embedded in them.  This refitting of Australian warships for amphibious landings on foreign countries has nothing to do with defending Australia.  It is purely to assist the U.S. invasions of other countries.
The Australian government is spending $250 million in upgrading Australian Defence Force facilities in Darwin, solely for the use by U.S. in their preparations for war with China. 
This includes upgrading and building new air strips throughout northern Australia to accommodate stealth war planes and long range maritime patrol drones. It's part of the $150 billion upgrade of Australian military's interoperability with the U.S military.  Tindal Air base in Darwin is being upgraded to accommodate B52 and B1 U.S. fighter bombers able to carry nuclear weapons.
And recently leaked information revealed that the Australian government is considering building a new naval Port at Glyde Point, 40 kilometres from the Port of Darwin, to dock large amphibious warships, mainly U.S.   A $40 million road was recently built close to the site where the Port will be built.
Manus Island is also being eyed by the U.S. for development as a military base for U.S. navy and marines.
Foreign Policies
In foreign policies successive Australian governments have been involved in and supported every U.S. war in past 60 years – from the war on Korean Peninsula, Vietnam War, Iraq, Libya , Syria, Iran, etc.   In the United Nations the Australian governments on cue obediently follow instructions from the U.S. and rubber stamp every U.S. foreign policy and its global strategy to legitimise U.S. wars of aggression, sanctions against sovereign countries refusing to bow to U.S. demands, invasions, regime changes, imperialist occupations – eg. Palestine, Iraq, Libya, Syria, North Korea, Iran, Cuba, North Korea, South China Sea, Venezuela.  Like clockwork, Australia recently fell in line with the U.S. and UK and voted in the UN against returning the Chagos Islands in the Pacific to the Indigenous people.   Diego Garcia is the main island in the Chagos group of Islands colonised by the British and taken over by the U.S. to become a highly secretive major U.S. military base in the Indian Ocean, and forcibly removed and exiled the Indigenous people from the island.
The Australian government acts as an agent of the U.S. promoting its economic and military interests in the Pacific.
Interoperability with US global military machine
Australia's military and defence are now interoperable with the U.S. military and foreign policies, indistinguishable from U.S. global military agendas and interests.  The chain of command comes down from U.S. and has nothing to do with sovereign self-defence and Australian people's needs for peace and security.  It only works against the interests of Australian people.
Interoperability with the U.S. has embedded Australian military and intelligence personnel in the US military establishments, in Washington, the Pentagon and in the Pacific Command in Hawaii.  And Vice-Versa.  The America Australia Leadership Dialogue based in the U.S. embassy in Canberra grooms current and future potential politicians and leaders from both the LNP and Labor, trade union officials, academics, business leaders and think tanks.
Defence Minister Linda Reynolds proclaimed the $200 billion spending on defence over next 5 years will be for modernisation of the "joint force" and "supporting the US-led world order and its advancement in the Indo-Pacific".
In Australia $200 billion of people's taxes will be spent on mainly supporting U.S. wars of aggression and multinational weapons corporations.
Defence industries
Most of the arms manufacturers in Australia are U.S. multinational corporations – Lockheed Martin, Raytheon, Boeing, Northrop Grumman. Billions of dollars in public funds, that's people's taxes, are handed to them.
In January 2018 a directive was sent from Washington to all its overseas embassies to drum up more business from its allies for U.S. arms corporations.
The U.S. economy, its military and the industrial-military complex are dependent on America and the world in a state of perpetual war.  The U.S. alliance locks Australia's economy and military to supporting U.S. imperialist wars.
In announcing the Pivot in 2011 Obama and Clinton sent a clear and loud message that the Australian government will be required to increase its military spending on U.S. wars.  This demand has been loudly reiterated by Trump.
Recently, the Australian government awarded foreign military contractors $73 billion in tax-free contracts, because contracts made directly with offshore companies' head offices are tax exempt, even for those with shell companies in Bermuda, the tax haven of multinational corporations.
Foreign multinational companies with local subsidiaries don't have to pay tax in Australia when the contracts are made with the head offices overseas. They are not required to pay tax on their profits made from this $73 billion tax free gift from Australian people. The Department of Defence has revealed it spends one-fifth of its entire budget, the biggest procurement budget in government, on overseas military contractors – even though these contractors have subsidiaries in Australia.
This is despite the global defence giants such as Boeing, BAE Systems, Raytheon and Lockheed Martin having companies registered here in Australia.  Billions of dollars in tax evasions by multinational weapons corporations have been syphoned away from social and community needs and services of Australia's people.  But this is nothing new as multinational corporations pay little or no tax in Australia.  According to Tax Office 15 of the top 21 companies paid zero tax for the three years to 2017, including the biggest of them BAE Systems.
Recently, the Australian government bank rolled Electro Optic System, a so-called Australian company listed on the Australian stock exchange, to the tune of $40 million for manufacture and export of arms.  EOS's major shareholder U.S. Northrop Grumman (20%) is the world's fourth largest multinational weapons corporation. The other top 3 global weapons corporations are U.S. corporations, Lockheed Martin, Raytheon, Boeing and fifth is BAE (British).
Mega profits are made by multinational weapons and oil corporations from imperialist wars. Hundreds of billions of people's taxes are taken away from social and economic needs of people and the environment, and instead are used for imperialist wars and profiteering by multinational corporations.
Australia's economy is more than ever integrated and becoming dependent on the U.S. military-industrial complex.  Imperialist globalisation has wiped out many of our manufacturing industries and now turning Australia into a war based economy.
Australia's defence expenditure for 2019-20 will increase to nearly $40 billion.
Democratic Rights
Integration into US military agendas erodes our democratic rights.  The first casualty of imperialist wars is truth.   We have mountains of anti-democratic laws. The AFP raids on ABC confiscated secret military material and documentation involving SAS activities in Afghanistan.  The U.S. is demanding Australia stops the leaking military secrets; and the Australian government obliges, threatens and intimidates journalists and the ABC, to re-assure the U.S. that the secret war crimes will be protected and kept secret.
Australia has some of the most far reaching, and most extensive, so called anti-terror laws which originated in the U.S. after September 2001 and exported to Australia.  U.S. intelligence operatives visited Australia to "advise" the government on the new U.S. anti-terror laws and roll them out here. These anti-democratic laws continue to be strengthened.
Then there's Julian Assange, and the Australian government's compliance with the U.S. demands for extradition.
Friends, we have an important and urgent task to build a united front mass movement, mobilise against U.S. wars of aggression, campaign to remove US marines and U.S. military installations operating solely for offensive wars waged by the U.S., and threaten Australia's peace, independence and security.
IPAN's main objectives are raising awareness and campaigning widely in the broad community for an independent and peaceful Australian foreign policy, removing foreign military bases and troops, ending Australian government subservience and involvement in imperialist wars.
Darwin Conference
Against this background IPAN is holding its National Conference in Darwin, 2-4 August.
Darwin is being turned into a major U.S. base, a launching pad for U.S. wars in the Asia-Pacific.  This is the only threat to Australia's peace and security.
The Conference in Darwin is both concrete and symbolic.  It aims to shine the spotlight on Australian government's subservience to U.S. war agendas and the urgent need to be independent of U.S. and all big powers.   The Conference is being held in conditions of growing tensions between U.S. and China and at a time when more questions are being asked about Australia's military and economic role in this conflict and the threat of war.
Title of the Conference is:
Australia at the Crossroads:  Time for an independent foreign policy.
The conference will call on the Australian government to terminate Force Posture Agreement (U.S. marines in Darwin and send them home) and for an independent foreign policy.
There will be an announcement and discussion on IPAN's proposal for a people's enquiry into Military Spending.
During the conference a protest will be held outside Robertson Barracks to present the Commander of U.S. Marines in Darwin with a life size mould of a boot.  Part of IPAN's campaign Give 'Em the Boot – give U.S. marines the boot.
In Melbourne, in a lead up to the national conference IPAN-Victoria will also hold a public forum to mark July 4 America's Independence day, titled Keep Australia Out of U.S. wars – Time for our Independence from U.S.
The public forum is next Thursday on 4th July 6.30pm Room 1 Victorian Trades Hall,
The speakers are:  Richard Tanter; Fiona McCandless – IPAN member and union activists; and Vince Scappatura, whose recently published book "The U.S. Lobby and Australian Defence Policy." will be available for purchasing on the night.
Similar activities will be held by IPAN state groups around Australia on or around the 4th of July.
Finally, it's impossible to talk about imperialist wars without looking more deeply beneath the surface and asking the question, what creates wars of aggression and militarism;  and why is the world  in a perpetual state of imperialist wars?
My view, and I'm not speaking now on behalf of IPAN which is a broad national network of different organisations and diverse views united on the key demand for an independent and peaceful foreign policy.  My view is that to understand and make sense of wars of aggression, militarism and imperialist domination we need to examine the profit driven brutal system of capitalism which creates imperialist rivalries and wars. Capitalism depends for its survival on relentless imperialist expansion; and to that end it needs to constantly increase plunder of the environment and natural resources, create and capture more markets, and intensify the exploitation of workers. Rivalry between imperialist powers to control the world's resources and economies leads to imperialist wars.
No war on Iran!
End the U.S.-Australia Alliance.
For an independent and peaceful foreign policy.