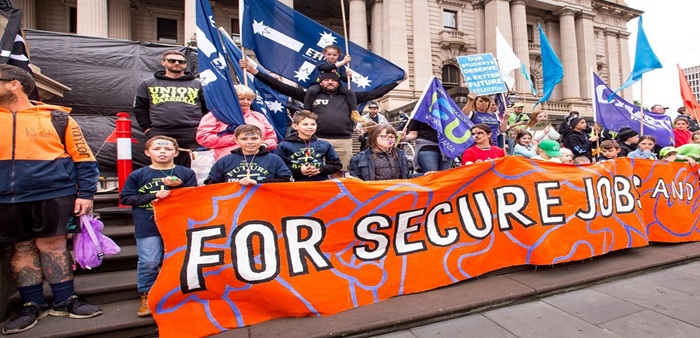 The following is the text of a Spirit of Eureka leaflet recently produced by our members in Victoria.
Workers United will never be defeated!
Unite to defeat the Ensuring Integrity Bill!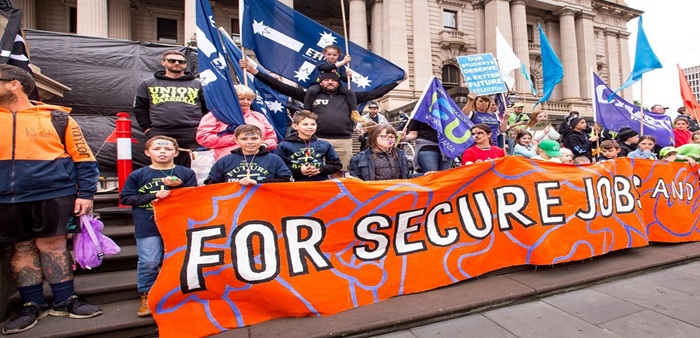 Unions and workers are always under pressure and attacks from the ruling class of big business and its governments to wipe out hard won wages and conditions. Now, the Morrison government is preparing to do this through the Ensuring Integrity Bill. This Bill is designed to weaken the entire union movement. It isn't about one union; it is aimed at crushing every union.
Our number one priority is to unite against this Bill
Our strength is in our numbers and our power is to hurt the pockets of big business. Just like the Clarrie O'Shea mass mobilisation and struggle that defeated the anti-union Penal powers 50 years ago, and more recently the united struggle by Chemist Warehouse workers, we need to use our collective industrial muscle, mobilise community support and strike this law off the books once and for all. United action will strengthen working class unity!
The Ensuring Integrity Bill will allow a "person with sufficient interest" (eg. bosses) to apply for an "Order" from the courts to de-register a union if it, or its members, breach any industrial or other laws, or take "obstructive unprotected industrial action". 
It can remove officials from their positions, and will introduce a new public interest test that must be satisfied before unions can merge. What does that mean for us? It means a union could face de-registration if its officials breach the law to deal with safety concerns on site.
It means the union could be de-registered if workers take strike action. It means the courts can deem a democratically elected union official unfit to hold office if they are convicted of breaking any laws and have them removed.  It means they won't allow mergers of unions if it's going to make them stronger (hopefully the Bill won't pass in time to stop the National Union of Workers and United Voice forming the biggest blue-collar union in the country).
The Bill has been referred to the Senate Education and Employment Legislation Committee and a report is due back in October. It is certain this Committee will recommend the Bill be approved for tabling in Parliament.
That's how long we have to mount a campaign against this Bill. The Ensuring Integrity Bill must be stopped to protect workers and their unions. 
This isn't a campaign that can be dealt with behind closed doors in the hope that it may be watered down!
We need to raise this issue widely in our unions and communities so that all working people can be involved in this important fight back. Big business and their Morrison government are stepping up their attacks on the rights of workers and their unions and they can smell blood.
This situation is not isolated to Australia; it's part of a much broader profit driven campaign internationally by multinational corporations. The super exploitation of the developing world is no longer enough to quench their greed for profit. Big business demands the introduction of anti-worker laws in developed countries to reduce working conditions and wages, cuts to social spending, and the privatisation of taxpayer funded institutions. All the while it increases military spending and creates wars of aggression because it is fighting to survive and maintain profits.
The Business Council of Australia (BCA), made up of more than 100 of the biggest corporations in Australia, mainly foreign multinationals, orchestrates the attacks against workers. The governments of the day, the courts and the police, including the ABCC, carry out these anti-worker policies of the BCA and its affiliates; they aren't neutral, they do the bidding of big business.
Time to Fight Back !
Workers united will overcome!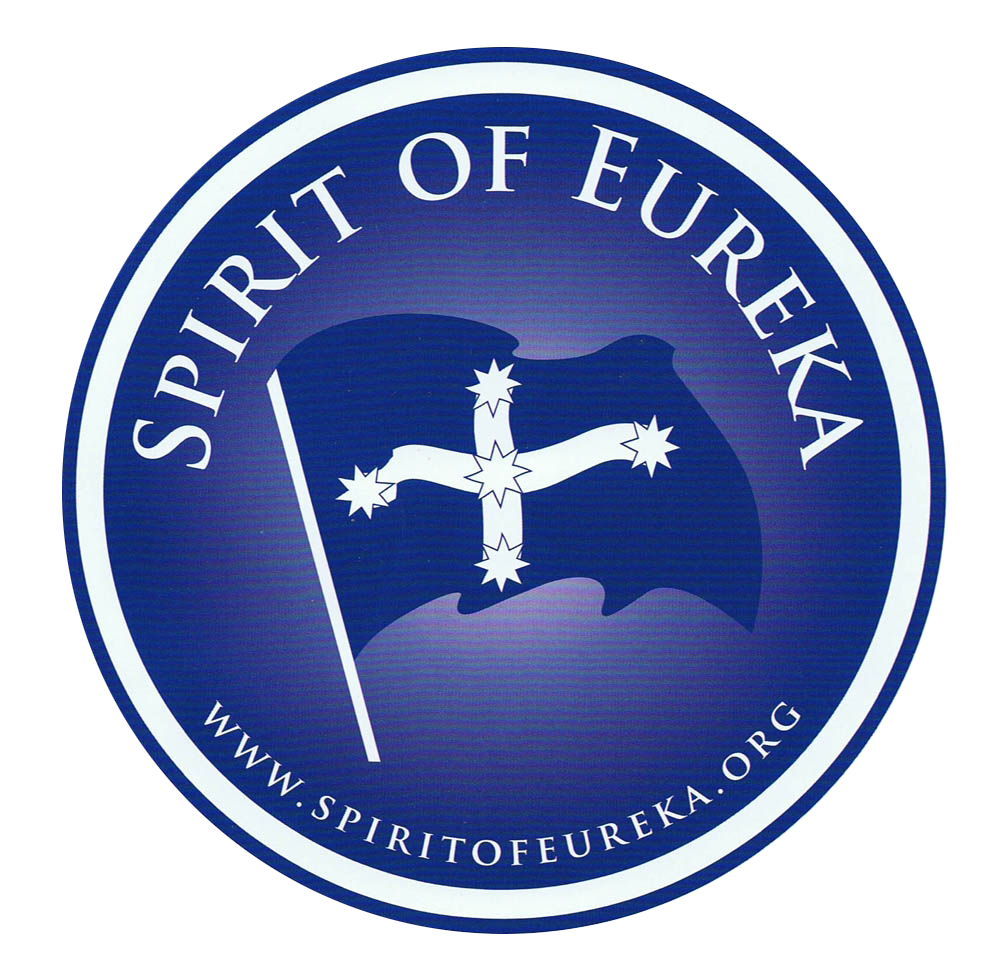 Contact Spirit of Eureka (Victoria):  spiritofeurekavic3@gmail.com
0417456001; 0476234232  www.spiritofuereka.org; www.facebook.com/spiritofeureka
For a Just, Democratic and Independent Australia!