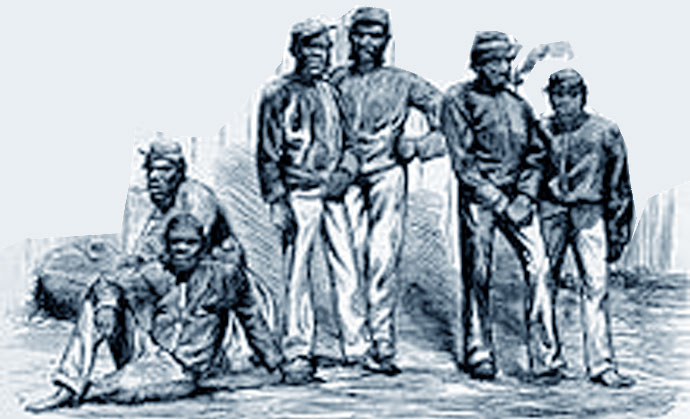 This article came from Sovereign Union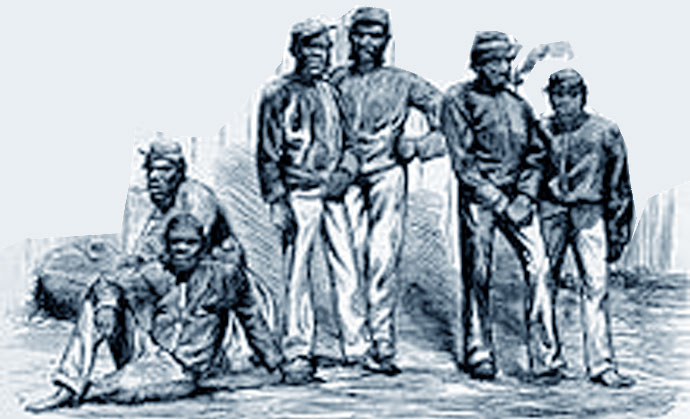 This historical image of Aboriginal Black trackers believed to be associated with Queensland in the same period. There are no known photographs of the Blacktrackers who were commissioned to the Boer War.
Between 1899 and 1902, fifty Aboriginal black trackers were summoned by the British forces in South Africa to join the Boer war effort.
Griffith University's Indigenous research fellow, Dr Dale Kerwin said that the black trackers came from all over the country but very little else is known about them.
He claims they were left behind at the end of the war in 1902 because they were denied re-entry into Australia under the Immigration Protection Act, known as the White Australian Policy.
Army Trackers abandoned and left to find their own way home
Scott Casey | brisbanetimes.com.au | September 7th, 2009
Lord Kitchener asked for their help to track guerrilla fighters through the South African bush in the Boer War.
But at the end of the conflict and after lending their services alongside 15,000 other Australian troops, four Aboriginal trackers, believed to be from North Queensland, were abandoned by their government and left to find their own way home.
No one knows if they made it.
Now, a research project being run out of Griffith University is aiming for the first time in a century to discover what happened to the men and may finally see their contribution take its rightful place in the Australian War Memorial.
Griffith's Aboriginal Research Fellow Dale Kerwin said the task was a difficult one, and until questions were asked of the Commonwealth Department of Veterans' Affairs and the Australian War Memorial by brisbanetimes.com.au this week, there had been little interest in tracking the trackers.
"It's like looking for a needle in a haystack," Dr Kerwin said.
"I've written to the Prime Minister and the premier of this state asking for some financial assistance and nothing is coming.
"They've wished me all the best and I've applied for grants all over the place but no one is interested in this story."
Fought between the British and colonial forces and the Dutch- descended free settlers – or Boers – the Boer war saw extensive use of guerrilla tactics by the settlers and brutal use of force by the British.
The British tried any method to reduce the advantages the Boers had in using guerrilla warfare including officially condoned murder of Boer prisoners by Australian Lieutenant Henry `The Breaker' Morant.
In 1902, the head of colonial forces, Lord Kitchener, asked Australia's first Prime Minister Edmund Barton to send indigenous bushmen with knowledge of hunting and tracking to act as scouts to locate Boer fighters.
When Australian forces withdrew later that year, the four trackers are thought to have been left behind, forced to live out their days on foreign soil.
Dr Kerwin believes the Immigration Restriction Act of 1901 – known as the White Australia Policy and which prevented non-white landing – was to blame. It meant the men would have had to have applied to return home and funded their own passage.
"No one cared," Dr Kerwin said
"We were seen as less than human in those days. We were less than the flora and the fauna at the time and [the Australian Government] were just waiting for us to die out."
Dr Kerwin has enlisted the help of a UK researcher to help with the project, scouring war archives across two continents.
Indigenous historian and author David Huggonson has also provided some assistance on the valuable role the trackers played in the war effort.
In his book The Black Trackers of Bloefontein, Huggonson recounts the story of an Aboriginal man known only as Billy who tracked five British officers across the South African veldt (or open plain) proving the abilities of the trackers by finding all the men and bringing back evidence of their presence.
"The tracker, first stating that the men had chosen their various routes…described how one had got off his horse and had then proceeded to light his pipe, producing the half burnt match to prove it," Huggonson wrote.
"One man whom the boy describes as a `silly fellow' because he had gone in his socks, had cut his foot at one point, and gone lame for the rest of the journey; a piece of fluff from a sock was brought back as one proof."
So impressive were the bushmen's skills, Australian officers in South Africa at the time had wagered on their abilities to win a bet with the British.
Dr Kerwin believes the trackers came from North Queensland and may have been drawn from the Queensland mounted police force due to their required skills in weaponry, horsemanship and military discipline.
After being contacted by brisbanetimes.com.au on Friday, Gary Oakley, curator at the Australian War Memorial and head of the Aboriginal and Torres Strait Islander Veterans and Services Association of Australia, said the memorial was keen to investigate the plight of the lost men.
"The project we are working on at the moment is to try and document all indigenous Australians who ever served in the defence force or worked for the defence force in a capacity such as trackers or auxillaries," he said.
"We would be very interested in their story. These people were employed by defence for a specific purpose and basically the Australian Government let them down."
Dr Kerwin said he wanted to raise the profile of the contribution of Aboriginal Australians in some of the nation's most historic events.
"At school when we do history and presentations to our peers its all about the dominant cultural history and it doesn't give [indigenous Australians] any self esteem from the contribution we've made," he said.
"We've made a lot of contributions: these men who went to the Boer War and the capture of Ned Kelly just to name a couple."
50 Aboriginal trackers left behind after the Boer War
ABC PM – Program Transcript
ABC PM Radio Broadcast May 31, 2010
ASHLEY HALL: On this day in 1902 the Boer War in South Africa drew to an end. The rebel leaders agreed to lay down their weapons, abandon their claims to independence and recognise Britain's Edward VII as their king. And so began the process of repatriating the 22,000 Australians who'd survived the distant war. A thousand of their fellow countrymen didn't.
But not everyone made it home. It's claimed 50 Aboriginal trackers were left behind because they were denied re-entry to Australia.
Charlotte Glennie reports from Brisbane.
CHARLOTTE GLENNIE: Griffith University's Indigenous research fellow, Dr Dale Kerwin has spent the last four years delving into a conflict which took place at the turn of last century far away in Africa.
He's especially interested in 50 Aboriginal trackers who were summonsed by the commander of the British forces in South Africa to join the Boer war effort.
DALE KERWIN: I found a telegram from Lord Kitchener in 1901 requesting that these trackers be sent across and I found telegrams going back to the Lord Kitchener saying that, you know, they're being rounded up and they'll be sent on a certain date.
CHARLOTTE GLENNIE: Dr Kerwin says the men came from all over the country but very little else is known about them.
DALE KERWIN: I'm making a guess here that they were part of the Aboriginal police force, you know, the black trackers. These men were skilled in use of weaponry, as well to take orders and you were trained in military fashion.
CHARLOTTE GLENNIE: Gradually Dr Kerwin says he's piecing together parts of the puzzle.
DALE KERWIN: There was a telegram sent from Burketown in north Queensland saying that there was a man wanting to enlist in the war effort and so I've been able to find, follow that telegram. He boarded a ship but I was unable to get his name because they listed him as a deadly blackfella. So in amongst ship passenger ship list, they've named women, men, children, whatever stock's on board and as well as Aboriginal people but there was never any names.
CHARLOTTE GLENNIE: And what were these trackers sent over to South Africa to actually do?
DALE KERWIN: The imperial edicts from the War Office in Britain was that no coloureds were to serve as, in the Armed Forces and so these men were actually sent across as bullock drovers and trackers as such. They weren't really enlisted.
However, I'm finding some indication that a couple of men did enlist and they would have come back with the general enlisted men. But the ones that signed up as bushmen, or bush trackers, were left over there at their own device.
CHARLOTTE GLENNIE: The war ended on the 31st of May 1902 and slowly the soldiers were brought home.
DALE KERWIN: There was a fellow by name of George Valder. In 1907 he was repatriating Australians back to, back to the country, paying their way, their fares on various ships that were coming back. And he indicated that these men fell under the new Immigration Protection Act and because of that, as we know it as the White Australian Policy, there was no coloureds were allowed into this country at the time. And so there's all likelihood that these men haven't come home.
CHARLOTTE GLENNIE: What do you think is likely to have happened to them?
DALE KERWIN: I'm having a guess here that there's descendents in South Africa. There's Aboriginal descendents in South Africa now.
CHARLOTTE GLENNIE: But some are sceptical.
Historian Keith Windschuttle is the author of the controversial book, The White Australia Policy.
KEITH WINDSCHUTTLE: There was no formal thing called the White Australia Policy. There was the Immigration Restriction Act of 1901 and that Act could not be applied to Aboriginal people because they were all born here and anyone who was born here, under the Immigration Restriction Act, could come and go from Australia without any legal restrictions whatsoever.
Nobody, I mean there were domiciles in Australia before the bill came in. All Aborigines would have been, and certainly those who fought in the Boer War, could have been possibly affected by it.
CHARLOTTE GLENNIE: Bill Cross is with the Queensland division of the National Boer War Memorial Committee.
BILL CROSS: We can't find evidence that's 100 per cent positive one way or the other but where there's smoke perhaps there's fire and we're certainly happy to have that aspect of the Aboriginal trackers not coming back to Australia as a part of our ongoing research and discovery of what our forebears did or didn't do.
CHARLOTTE GLENNIE: The descendents of Australians who fought in the Boer War say they hope one day a memorial is built to commemorate the first conflict which Australia was involved in as a nation.
ASHLEY HALL: Charlotte Glennie reporting.