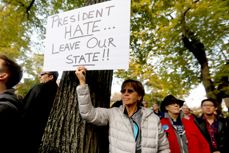 by Peter Goers
Republished with permission of the author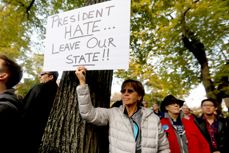 Remember when the most awful thing about Donald Trump was his hair? That weird blonde thing on his head which seems to defy physics, all tonsorial logic and good taste. Now that seems to be mere vanity. What's under the hair is the sick joke.
After the massacre of eleven innocents in a synagogue in Pittsburgh, Trump's reaction was to continue his Nuremburgesque rallies for his demented and moronic faithful. He suggested that members of the synagogue should have been better protected – in other words being armed to shoot the shooter. More guns. That's just what America needs. Then he complained to his atrocious audience that the press conference he gave about the massacre had given him a bad hair day. This seemed to disturb him more than the slaughter.
Another day in America. Another white supremacist on the rampage. Another example of a wacko's constitutional right to carry assault weapons. There were three incidents involving white supremacists in the USA just last week. Three more Trump voters. Three more people inspired and even protected by Trump – the narcissistic sociopath who has made populism dangerously unpopular.
He is a braggart, a vulgarian and an idiot who is full of hate. He seems to lack all dignity.
Les we feel superior to Trump and Trumpism let's ponder that 28 Australian senators including 23 Liberal-National Coalition senators and the Kenyan born Lucy Gichuhi voted for white supremacy in the our federal parliament. Then we read there are 35 white supremacist members of the NSW National Party. That's outrageous. That can't be right. There must be more.
It's upon us too, this Trump sanctioned madness. This hate.
Trump is a screaming misogynist  yet women in vast numbers voted for him. He is rich yet poor people in vast numbers voted for him. He is the American Dream. He is Gatsby. He is the natural leader of a corrupted people who believe that wealth equals success and success equals wealth. He has come down from his gold tower and believes he's slumming it in the White House.
He blames the media for everything. He has made America grate again. He makes George W, Bush look good  which once seemed impossible.
Kissinger said of Nixon; "Everything you hear about him is true". And so it is with Trump. Nothing shocks us about Trump anymore. We are long inured to his horror and incredible insensitivity.  But even Nixon, to quote an old Vulcan prophecy, went to China. He did, at least, recognise China and saw China as part of our common future.  Trump is doing his best to provoke the dragon.
My greatest fear is that Trump will take the world to war. It's the only thing that will save him just as it saved George W. Biush. Nixon was re-elected in a landslide in 1972 and yet no-one subsequently ever admits to voting for him. It will be the same with Trump.
He's been in power for 652 days and he has 808 days (and counting) to go. Long days. He is the symbol of most of what is wrong with the world.
Groucho Marx notoriously said in 1971; "The only hope for this country is Nixon's assassination".  I certainly don't think that for Trump. He'd be a martyr to white supremacy, conservative idiocy and hate and reality TV. Also, that would give the world President Mike Pence and he's probably even worse if that's possible. His elevation would truly be a bad heir (OK) day.
Peter Goers can be heard weeknights on ABC Radio Adelaide