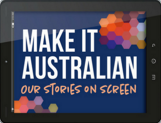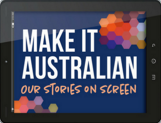 In late March a large number of high-profile film and television figures signed and presented an open letter insisting that the Turnball Coalition government bolster local content rules for television and increase tax breaks for movie producers. The letter also appeals for Australian content rules to be widen and include new media such as streaming services Netflix and Stan.
The "Open Letter to Federal Parliamentarians" states:
WE are storytellers – writers, producers, directors, casts and crews who make screen stories that honour past Australians and connect present and future generations to our history and to our values.
YOU are elected representatives – the custodians of Australia's stories, our unique culture. You create the environment within which our nation's stories thrive or die.
Ours is a partnership. And we need your help.
Our ability to keep telling Australian stories on screen is at risk, our voices in danger of being drowned out by a deluge of overseas content.
And if our nation's stories aren't told, they die. And when they die, future generations won't know who we are and what makes us us.
That's why we need to 'Make it Australian'.
We need:
    Australian content rules to evolve, to cover new media like Netflix, Amazon, Telstra TV, telcos and ISPs;
    Competitive tax incentives; and
    Well-funded public broadcasters and screen agencies.
Then we can compete. Australians telling the diverse stories of our people, our country.
We call on parliamentarians, the custodians of our uniquely Australian stories, to commit to growing our screen industry so that our Australian stories will be told to our children, grandchildren and the generations of Australians that follow.
More than 250 film and television figures were signatories to this letter. Currently the government is considering its position to the Australian and Children's Screen Content Review, whose mission was to find the "most efficient and effective support mechanism" for Australian screen content.
Equity, the actor's union, worry that Mitch Fifield, Communications Minister, will make a unilateral decision to remove local content rules and in its place promote TV content through tax incentives. The national director of Equity, Zoe Angus stated that, "The consequences for the screen industry would be devastating."
The local film industry has been especially quiet for the last two years, with many Australian film crews having to find work overseas. Consequently the film industry has been frantically pressuring the Coalition government for the 2018 May budget to raise the producer's offset from 16.5 per cent to 30 per cent to attract filmmakers to start film projects in Australia.
Australian Actors and film industry unite
The campaign to, "Make it Australian" has united the Australian Directors' Guild, Australian Writers' Guild, Media, Entertainment & Arts Alliance, Screen Producers Australia and the Australian Screen Industry Group to urge the government to support the television and film industry's future viability. A national launch was held in March, with thousands attending events in Adelaide, Brisbane, Hobart, Melbourne, Perth and Sydney.
These industry organisations joined together to fight for:
    reform of local content rules to include the burgeoning digital platforms, including streaming video on demand;
    the restoration of funding to public broadcasters and Screen Australia, who commission a significant proportion of local comedy and drama; and
    the modernisation of our production incentives to make them globally competitive at all levels.
In addition they agreed to tenaciously oppose attempts by free–to-air commercial networks to reduce local drama production and abandon original Australian children's programming generally. President of the Australian Writers' Guild, Jan Sardi ominously stated that, "Without a new regime of quotas and content regulations there will be no scripted drama, no kids television, and no stories or culture of our own to pass on to future generations whose screens, as well as their hearts and minds, will be filled instead with foreign content and reality shows."
The $3.5 billion film and television industry is caught up in the intersection of where culture and commerce clash, which will have a huge impact on the 20,000 Australians who work in it. The Free TV have asked for the Australian and children's content quotas to be eliminated, whilst Netflix have opposed the need for any local regulations.
However the "Make it Australian" campaign argues that if the commercial broadcasters' reduced quota proposal had been in place in 2016, more than 40% of drama hours, $125m in budgets, and 3,500 jobs would have been lost. The ABC's commissioning budgets for adult drama and children's content have both dropped by 20% since 2014.
The Australian content in film and television is not only under serious threat from overseas TV programs and films but now from the new media giants such as Netflix and Amazon.  "Our ability to keep telling Australian stories on screen is at risk…and if our nation's stories aren't told, they die," are words of warning which should be heeded not only by our politicians but by citizens of our country.