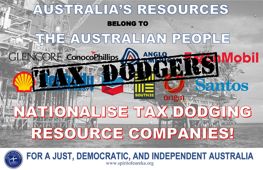 Nationalise the multinationals that refuse to pay taxes and decent wages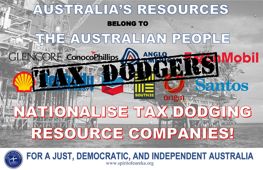 Too many multinational corporations making billions of dollars and paying no tax while ordinary working people and the community suffer!
Australia's natural resources should be owned by the working people of this country, and used to meet the needs of Australia's people and the community, not the private profits of giant corporations.
It's a new year, but the old struggles roll on. Esso Longford (ExxonMobil) Workers still standing strong.
197 days on strike and just getting started. Solidarity with the courageous and determined Longford maintenance workers!
They are taking a stand against the attacks on the hard fought for wages and conditions of all Australian workers, and leading the fight back against tax dodging US oil and gas multinational, ExxonMobil.
Their struggle is the struggle of all Australian working people! Please show your support and donate what you can to help them continue the fight.
https://www.essouglydispute.com
https://m.facebook.com/makeexxonpaytax/
Background to the Esso Longford struggle
(The explanation below came from the Esso Ugly Dispute website)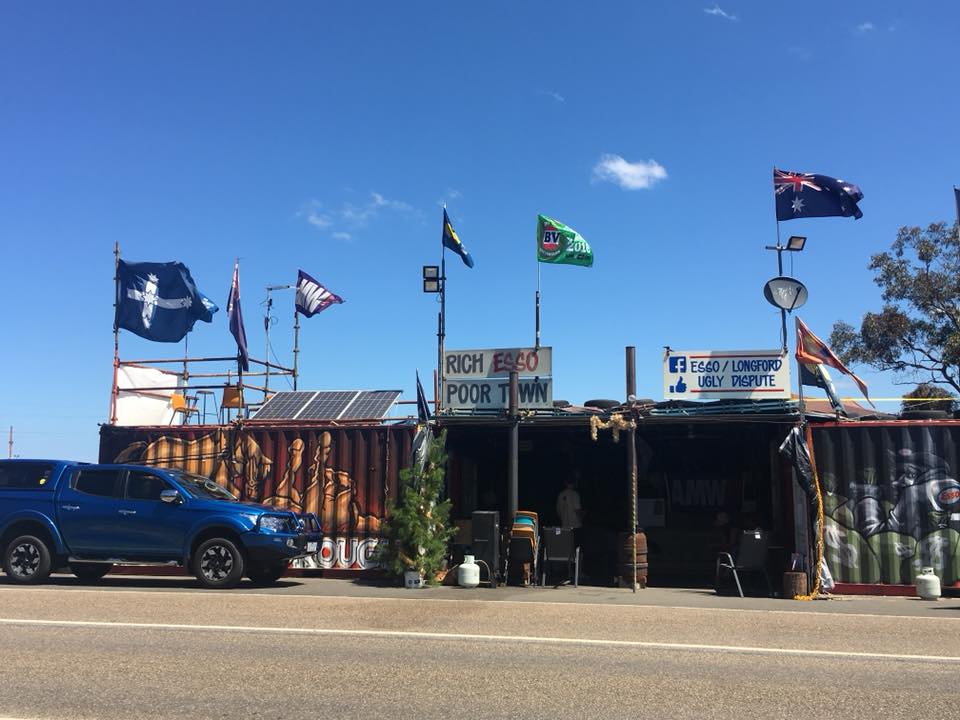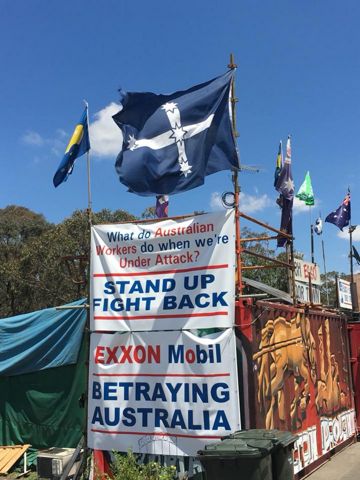 Upon completion of a successful 7 year contract and the winning of a further 7 year contract, UGL set up a subsidiary company MTCT Services Pty Ltd (An on paper company only).
Instead of continuing business as usual for a further 7 years, UGL saw fit to sack the entire workforce and then offer them their jobs back (the very next day) under the title of MTCT Services Pty Ltd.
There was only one catch, It would be at the cost of eroding conditions that had been built up by the employees over a number of years previously.
For Instance;
Signing up to MTCT Services Pty Ltd would see the workers face
    Annual Leave Entitlements Cut
    Significant Allowances Cut
    Worker's Shift Loading's Cut
    Implementation of Harsh anti-family shift rosters   (eg. from 1 week on & 1 week off, to 5 weeks on & 1 week off)
    Implementation of Stand Down Clauses which could see employees at work, but unpaid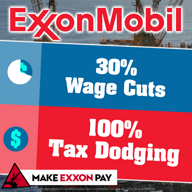 Once again we see a company decline to negotiate a good & fair EBA with their workers, but have an EA signed in WA by three individuals only that will never be employed under these conditions.
These conditions are then presented to the workforce in a "Take It or Leave It" approach.
UGL along with ESSO, are exploiting a legal loop hole in the system which is being used to undermine wages & conditions. This tactic is rife across Australia and was recently highlighted in the CUB dispute…. Battle Of The Brewery.
This is not only an attack on the work force, but an attack on the surrounding communities that rely on money being spent in their shops, their business, theirs schools etc.
It is a direct attack on our Families, our Mothers, Fathers, Sons & Daughters.
As mentioned previously, this tactic is now being used all across Australia. When and Where will it Stop???
We believe that time is NOW!!!
It's time for Australian Workers to say NO!!!
It's time for the community to say enough is enough!!!
We the workers of the ESSOUGLy Dispute are not going to stand for this!!!
We are committed to Stand Up for What we value
​& Who we value.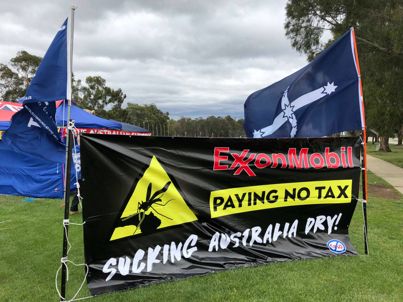 IT'S TIME TO STAND UP AUSTRALIA, FIGHT BACK!!!