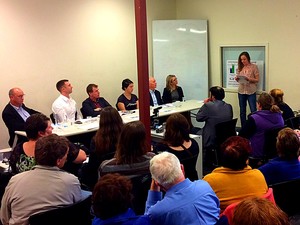 By Pas Forgione, Adelaide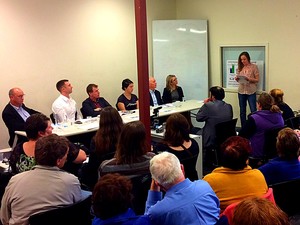 A meet the candidates meeting in Adeliade on June 18, hosted by the Anti-Poverty Network SA. Photo: APNSA
About 80 people attended a fiery, standing-room only, public forum on unemployment, hosted by Anti-Poverty Network SA on June 18 in Adelaide's northern suburbs.
In a twist to the standard election fare, candidates were required to spend the first half of the event listening to the honest, insightful testimony and views of job-seekers, sole parents, aged and disability pensioners, and others with direct, lived experience of being out of work and being poor, before participating in a Q&A.
Candidates who attended included Nick Champion, Labor MP for Wakefield; Sean Edwards, Liberal Party Senator; Robert Simms, Greens Senator; Bob Day, Family First Senator; Skye Kakoschke-Moore, Nick Xenophon Team Senate candidate; and Artie Priddey, Australian Progressives Senate candidate.
Speakers from Anti-Poverty Network SA drew attention to the difficulties they faced such as: navigating Centrelink's baffling, complex bureaucracy; unsympathetic and unqualified job agencies; spending large portions of their low incomes on rent and the impact this has on their wellbeing; and feeling locked out of a tight, hostile labour market where there are not enough jobs to go around.
Sarah, a single mum from Adelaide's southern suburbs, said: "As someone who has participated for a longer time in the workforce than not during my adult life, I really cannot conceive of how any of the obligations required by Centrelink and my job agencies actually achieve anything in the way of finding work. The assumption in all of them is that people would somehow prefer to live in abject poverty, having to sell personal possessions, or have them repossessed, like my car, rather than work and have some financial security."
Kat, an unemployed person in her late 50s from Adelaide's western suburbs, said: "I pay 75% of my income on rent and I struggle to pay the gas, electricity, internet and phone, all of which are needed. I gave up a long time ago on eating healthy, I now eat what I can get, when I can get it. Three meals a day are a forgotten luxury for me."
Speaking of her job agency, she said "I do all the right things: I attend my appointments and do their in-house courses, such as learning to write a resume, how to talk when attending an interview, what to wear to an interview et cetera., none of which has helped me in any way."
The inadequacy of the Newstart Allowance was a major focus of the very angry and passionate Q&A, one largely full of disappointing responses, or non-responses from the candidates.
When asked about his party's stance on whether Newstart should be lifted, Edwards repeated his government's mantra about the need to balance the budget, which was greeted with a hostile response.
It was pointed out that KPMG released a report in late April, just before the federal budget was delivered, calling for a $50 a week increase to Newstart. The cost of this, according to Australian Council of Social Service (ACOSS), would be $1.5 billion a year, which Social Services Minister Christian Porter described as "astonishing".
But a modest raise to a payment that has not been lifted in real terms for 22 years would be miniscule compared to other budgetary measures the government is happy to implement, such as the revenue foregone through company tax cuts (estimated to be $48 billion over 10 years), fossil fuel subsidies for the incredibly profitable and polluting mining industry ($11 billion a year), and negative gearing, a subsidy for property investors worth $15 billion a year.
Labor's response was only slightly less infuriating. While Labor leader Bill Shorten has said the Productivity Commission would review the rate of the payment if he wins the federal election, this is certainly not the same as guaranteeing an increase to the payment, something Champion conceded during questioning.
That Labor will not commit to an increase to the payment — which at $263 a week is more than $140 a week below the poverty-line — as called for by growing numbers of welfare and business groups, speaks to either a lack of political courage or a failure to appreciate how far the payment has fallen behind community standards and how much hardship it has generated.
Kakoschke-Moore — from the Nick Xenophon Team, which is polling extraordinarily well in South Australia and is expected to win between two and four Senate seats and possibly two lower House seats — caused exasperation when she revealed the party, despite having policies on 41 different topics, does not yet have a position on whether Newstart should be raised.
The low rate of Newstart impacts on the wellbeing of unemployed people, with 40% of Newstart recipients unable to pay their bills on time or see a dentist; 46% only able to afford second-hand clothes most of the time; and more than half unable to raise $2000 in the event of an emergency.
A 2015 ACOSS survey of 600 Newstart recipients revealed 44% of those surveyed had unsustainable levels of debt, owing more than they could afford; a majority reported they had turned off their heating and cooling to save money; and 63% reported that their income had fallen behind cost-of-living over the past two years.
Local resident Jaz said: "I felt like it would not have mattered what we said, shared or asked that afternoon. Nothing we said made any difference, there were no 'Wow, I didn't know that' statements, or 'Aha' moments expressed by the candidates — which means, whether they know how difficult it is to be at the bottom of the socio-economic ladder or not, at the end of the day, they do not care."
Other topics raised at the forum included mental health funding; the need for vastly more jobs to be created to meet the number of people job-searching in SA — where there are 9800 job vacancies, but 89,600 job-seekers — and the inability of domestic violence and homelessness services to cater for the large number of women desperately needing support.