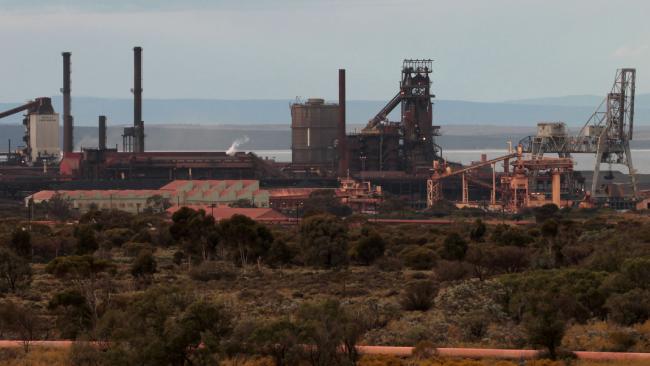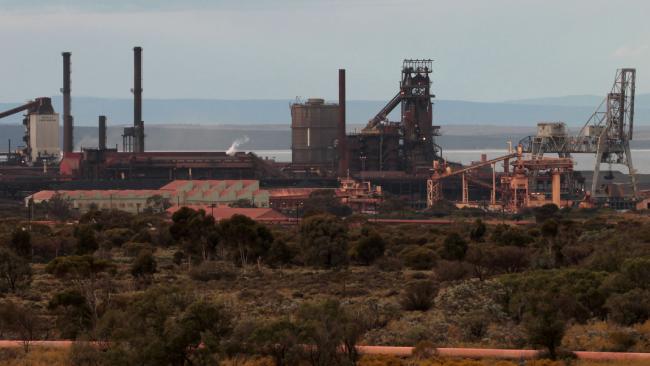 Australia's steel producing industry may soon come to an end with Arrium steel company's collapse in Whyalla. Arrium's demise is the combined result of the Free Trade Agreements (FTA) and the global over-production of steel. China produces over half of the world's steel, with  400 million tonnes per year dumped cheaply onto markets like Australia.
When Arrium  went into administration it had a debt of $4.3 Billion: owing $AUS2.8 billion to the banks, $AUS1 billion to suppliers and $AUS500 million to its workers. At the time Arrium was cast out and rebadged as OneSteel by BHP, it was also offloaded with $1 billion of the company's debt. Most of its debt came from loans to purchase overseas plants and iron ore mines after the 2008 crash on the belief that China's enormous growth would continue Australia's mining boom.
BHP Billiton divested Arrium , after squeezing massive profits from their workers for years, when their profitability declined. If and when Arrium is either closed down or revamped the city of Whyalla will be devastated, with a loss of 2000 jobs. With a population of 22,000, Arrium's steelworks is the city's major employer. Whyalla's inhabitants great fear is that the demise of such an important industry will see the city become a ghost town. On top of the GM Holden car plant closure in 2017 Arrium's liquidation will impose a severe economic depression on the workers in South Australia.
Free Trade Agreements
Politicians offer little hope in the wake of the Arrium's Whyalla steel plant collapse. Prime Minister Turnbull rejected assisting the company, stating that this would breach trade agreements. This demonstrated the lie that free trade agreements create jobs and growth!
Bill Shorten, Federal Labor opposition leader, Christopher Pyne, Federal Liberal Minister for Industry, Innovation and Science and Tom Koutsantonis State Labor Treasurer of South Australia have cried out that government construction orders must include Australian made steel e.g. new submarines and frigates for the Australian Navy  should be built from Australian produced steel.
Politicians know full well that our numerous free trade agreements (FTA) that they signed up to entitle overseas companies to sue the government through the Investor State Dispute Settlement provisions if they had a 'Buy Australia' policy. The politicians are not serious about a 'Buy Australia' policy because none of them propose Australia withdrawing from these economically disastrous FTAs.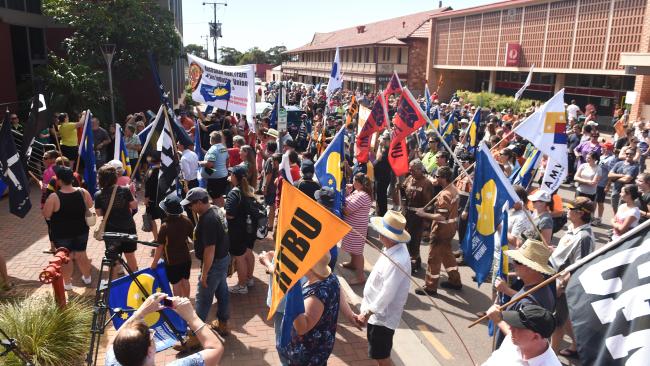 Time has come for workers and their unions to campaign for the nationalization of these industries and the withdrawal of Australia's involvement in FTAs and the Trans Pacific Partnership. Australia is losing its sovereignty to foreign capital. A country and its workers need to have an independent economy that looks after and not exploits its population, including workers of other countries. That should be the mantra of the Australian union.
Unfortunately some unions have been too timid in the fight to protect Australian manufacturing. In the recent past the AWU have cooperated with Arrium in convincing its workers to accept the dismantling of hard-won conditions, and pay and job cuts to save the company and some of their own jobs. Its leadership has argued that the Federal Government must introduce tariffs on imported steel and stop Chinese steel being dumped onto the Australian market. At the same time, it has lined up with the big four banks to change the liquidators appointed by Arrium (supported by the state government and the mayor of Whyalla) to those nominated by the banks. 
If we are to achieve a sovereign, just and democratic Australia then big capital and business need to be brought to heel and turned over to the Australian people. For in fact they create the wealth of the nation.  This wealth should stay inside the country and not be controlled increasingly by overseas corporations.
An economy, which devalues workers and dismantles its own manufacturing industries, should have no place in a independent Australia. Guarantee the steel-making industry for the sake of Australia's sovereignty!