by Robert Wesley-Smith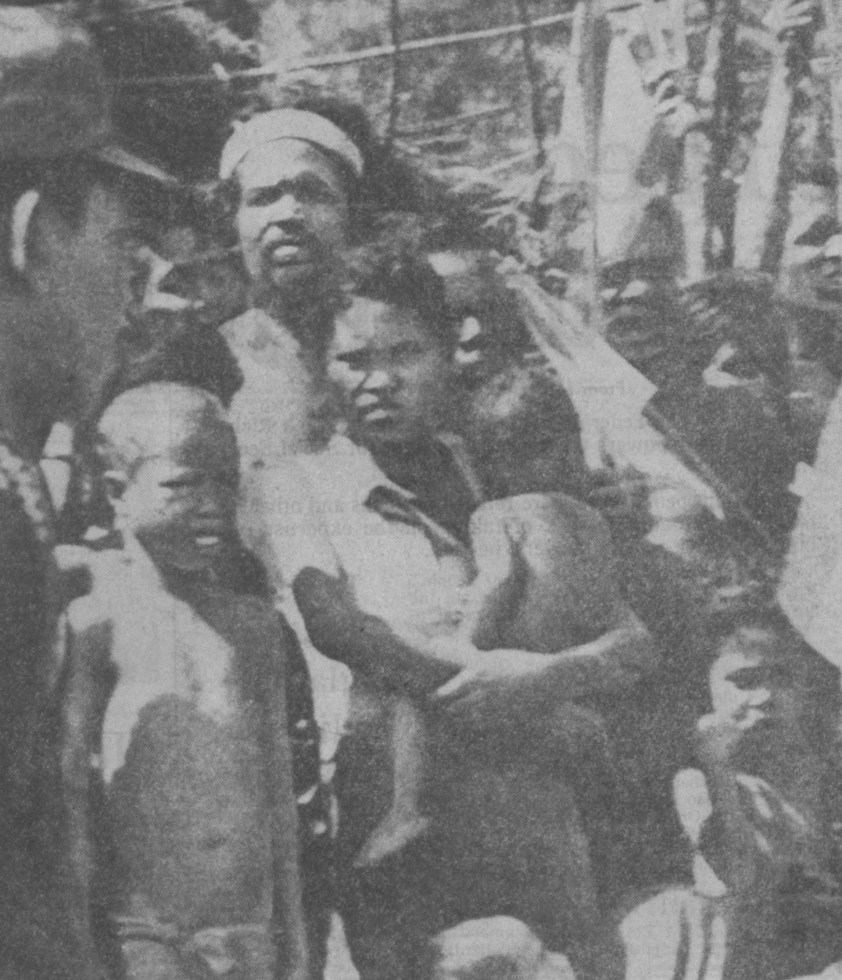 The Australian Government is restricting access to official records which may reveal the extent of its knowledge of, and what it did about, the disastrous humanitarian situation emerging in occupied East Timor in 1978 (1). We present here a small sample of media reportage which shows the minimum of what was known by the Australian government and society at that time.
 Picture: Remexio, September 1978. East Timorese internal 'refugees' under Indonesian control.
The Fretilin-led armed resistance through Radio Maubere broadcasts in 1977-78 often reported the poor condition of East Timorese being held in Indonesian-run 'concentration camps'. Rare letters from East Timorese church sources and individuals in Dili also indicated rising death rates inside and outside Indonesian-controlled areas of the territory. (2)
Most of these reports were dismissed by mainstream media and governments alike as 'unconfirmed'. By September 1978 it was no longer possible to dismiss claims of an emerging humanitarian calamity in East Timor.
Ambassadors & journalists see for themselves
In what was a very rare visit by outsiders to Indonesia-occupied East Timor, Australia's ambassador to Indonesia, Tom Critchley travelled to the territory on 6-7 September 1978. He was with a party of 10 other-country representatives and a number of foreign journalists. The entourage was accompanied by the Indonesian Foreign Minister, Mochtar Kusumaatmadja.
The group visited Dili, Baucau, Maliana and Remexio. In Remexio, in the mountains behind Dili, the journalists and ambassadors were confronted with a sample of the condition of so-called 'refugees from conflict' who were now under Indonesian control.

What they saw
Journalists' reports of what they saw in Remexio, and what they were told – including the reactions of the ambassadors themselves – left no doubt about the humanitarian situation. These reports included the following:
–  visitors were 'shocked' by the condition of the people they saw in Remexio
–  the children in Remexio reminded an (un-named) ambassadorof famine in Africa
–  125,000 'refugees' have come into Indonesian control
–  humanitarian aid was needed fast to prevent hundreds more dying
–  outside Dili – thousands are starving and barely anyone smiles
–  in Remexio – many are naked and most have the piercing gaze, emaciated limbs and distended bellies of advanced malnutrition
–  conditions in other 'transit camps' such as Suai reportedly 'much worse'
–  East Timor described as being 'in a state of deep, collective trauma'.
Click links immediately below to read a sample of media reportage from the ambassadors' visit.
The Herald (Melbourne) 11 September 1978
The Herald (Melbourne) 12 September 1978
Far Eastern Economic Review 29 September 1978
Australian commentary
Formal editorial comment by Australian media on these reports was unambiguous.
The national daily, The Australian (12 September 1978), said "Australia has a clear and urgent task to perform: to give immediate aid..quickly, with no strings attached..". It responded to an Australian government statement of being 'sympathetic' to Indonesian requests for aid with a clear challenge: "Do we have to wait to be asked?"
Similar editorial comments were published in The Herald (Melb.), 11 September & 12 September 1978
Conservative foreign affairs and defence journalist, Douglas Wilkie, was very direct in concluding what was happening to the East Timorese and offered a scathing assessment of immediate Australian government responses to humanitarian need. "Tens of thousands of Timorese have been starved into submission by the Indonesians….The [Indonesian] generals must not be seen as begging for international aid to get them out of a horror situation of their own deliberate making. And Canberra, it seems, feels obliged to play along." See The Sun (Melbourne) 13 September 1978.
A further reflection of Australian society's knowledge and concern about the situation came in the form of a cross-party petition from 76 members of the national parliament. Addressed to the UN Secretary-General, Kurt Waldheim, the petition called on "all member nations to act to facilitate the admission of International Red Cross into East Timor."  Canberra Times 3 October 1978.
This sample of material shows very clearly that the government, the parliamentarians and the mainstream media knew what conditions were prevailing in East Timor and that major humanitarian relief aid was required to alleviate the conditions and prevent an even worse catastrophe.
It is a matter of historical record that another full twelve months passed before the Indonesian Government allowed International Red Cross and Catholic Relief Services (USA) to begin emergency humanitarian aid programs in East Timor.
Access to official records
Responsibility for the exclusion of International Red Cross  from East Timor from December 1975 to September 1979 rests finally with particular Suharto Government military and civilian officials. It will be a matter for concerned Indonesian citizens to seek access to official records in order to more fully understand its government's actions on this matter.
The public record of the September 1978 visit alone reveals undeniable Australian and other-government knowledge of an already desperate humanitarian situation in East Timor. What remains hidden, however, is an answer to the question: what diplomatic efforts did Australia (and other countries with this knowledge)  make to persuade Indonesia to lift its ban on international humanitarian assistance to the East Timorese?
The circumstantial evidence suggests the diplomacy was so quiet it was barely heard. In Australia's case, public release of the relevant archival records will  help settle this important question.
NOTES
(1) Thanks again to researcher and historian Clinton Fernandes for his work to obtain access to official Australian archival material being kept secret. See this media item on his most recent work. See also Pat Walsh's commentary on the issue and a more recent (May 14) backgrounder by Clinton Fernandes. Earlier Fernandes work to obtain release of Australian materials can be found in this 2011 Timor Archives item.
(2) See, for example, Radio Maubere and other material from East Timor published in 1977-78 issues of the advocacy newsletters Timor Information Service and East Timor News.
The most detailed account of the conditions of East Timorese at this time, and the reasons, can be found in Chega!, the 2005 report of Timor-Leste's Commission for Reception, Truth & Reconciliation. See Chapter 7.3, Forced displacement and famine. Warning: Harrowing reading.
Newspaper clippings presented here are drawn from the archives of Timor Information Service, Melbourne, 1975-1984.