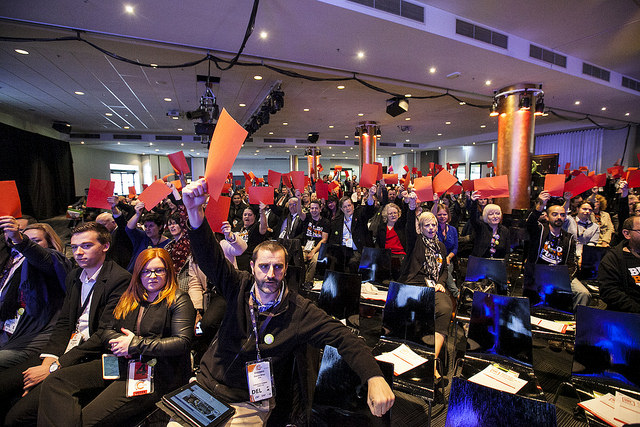 27 May 2015
The ACTU called on the Australian Government to withdraw Australia from the secret TPP negotiations  or release the TPP text for parliamentary debate and public scrutiny.
The ACTU Congress passed the following resolution on the Trans-Pacific Partnership Agreement (TPP) 
Statement/Communique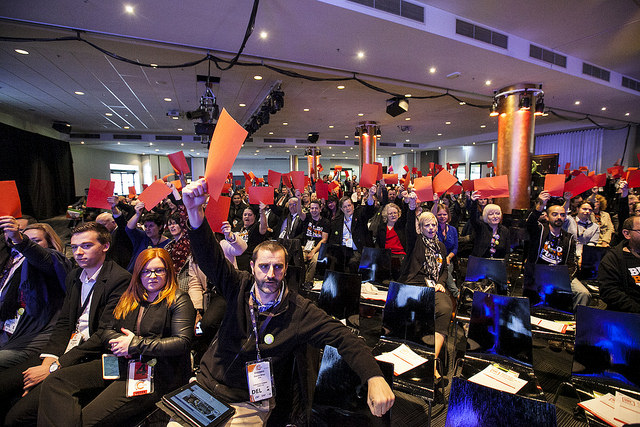 We the undersigned have come together as doctors, nurses, farmers, unionists, academics, lawyers, environmental groups, community groups, faith groups and ordinary citizens, to call on the Australian Government to release the TPP text for parliamentary debate and public scrutiny or withdraw Australia from the secret TPP negotiations.
One of the foundation stones of any healthy democracy is the right to participate in the democratic process and to be clearly informed about the choices our Government intends to make on our behalf. We cannot in good faith stand by and allow these negotiations to proceed in secret, with 600 US corporations assisting in drafting the  TPP text, that potentially has far reaching impact on people's lives and the environment, while our elected representatives and key community stakeholders are locked out of the process.
The lack of transparency of the TPP negotiations has in fact led to our elected representatives and the public only knowing details of a few selected chapters because of leaks to the publishing organization WikiLeaks and other public interest media sites.
The most recent leak of the Investment Chapter confirms some of our worst fears about the corporate influence over the agreement. The chapter includes Investor-State Dispute Settlement (ISDS) provisions which enable foreign investors to sue governments for damages resulting from domestic legislation which they claim will harm their investment. ISDS will enable foreign corporations to avoid our legal system, hold unreasonable sway over our legislative process and effectively hold our public policy formation to ransom through the empowerment of multinational corporations to sue our governments.
The leaked Investment Chapter confirms that foreign companies could sue the Australian government for damages over decisions of key institutions like the Pharmaceutical Benefits Scheme, Medicare, the Therapeutic Goods Administration and the Office of the Gene Technology Regulator. The Australian Government has sought to provide exemptions from ISDS for these institutions, but the bracketed text shows this has not been agreed (p. 55). If specific exemptions from ISDS are needed for them, what other Australian institutions could be exposed to ISDS? What about environmental regulation, internet regulation and the proposed legislation for food labelling in the wake of the contaminated berries scandal?
Current ISDS cases show that it can potentially impact our fundamental human rights and national sovereignty, and threaten our access to affordable medicines, regulations on environmental protections, food safety standards, workers' rights, jobs, and Indigenous rights.
As representatives of union members and the broader community, we call on the Australian Government to act in a transparent and democratic way and in the best interests of the people rather than corporations. We believe we need trade policy that engages and works with unions and community groups to uphold human rights, workers' rights and protects the environment. Australia needs a democratic and transparent process for negotiating and signing trade agreements.  Trade Agreements need to be released for public and parliamentary debate before they signed, and that Parliament should vote on the whole text of the agreement, not just the implementing legislation.
Australia as a member of the United Nations has an obligation to uphold the UN Charter of Human rights. United Nations Independent expert Alfred de Zayas recently expressed his deep concern that secret negotiations on trade treaties are a threat to human rights and sovereignty. In particular, Mr de Zayas noted the ISDS provisions might contravene section 103 of the UN Charter. With this in mind we call on the Australian Government to immediately release the TPP text for public and parliamentary debate and expert independent legal scrutiny. Failing this, we ask the Government to withdraw from the TPP negotiations.
http://www.youtube.com/watch?t=57&v=zq3ujEx9r5I
Quotes from experts opposing the TPP
Dr Matthew Rimmer, associate professor at ANU College of Law
"The investment chapter serves to boost the corporate rights and powers of multinational companies with an investor-state dispute settlement mechanism — at the expense of democratic governments and domestic courts. The leaked text shows that this agreement is more about corporate power than "free trade". Investor-state dispute settlement is really a form of corporate sovereignty. Investor clauses will be able to be used as Trojan Horse clauses against a wide range of government regulation — including public health, access to medicines, tobacco control, labour rights, environmental regulation and climate action."
Lori Wallach – Public Citizen commented:
"There are no new safeguards that limit ISDS tribunals' discretion to create ever-expanding interpretations of governments' obligations to foreign investors and order compensation on that basis." Lori Wallach and Ben Beachey commented: "The TPP provision on environmental, health and other regulatory objectives is meaningless."
Senator Peter Whish-Wilson
"Senator Peter Whish-Wilson of the Australian Greens emphasised that the WikiLeaks publication reinforced his call for a prohibition on investor clauses in trade and investment agreements. He said such clauses "represent a clear threat to the sovereignty of our nation, simply in order to satisfy powerful corporate interests and their deregulation agendas".
Ged Kearney,   ACTU President
"The Australian public should be very worried when high-stakes trade negotiations like these take place behind closed doors. The Government must lift the cloak of secrecy and be upfront with the public who will, at the end of all this, have to live with the outcomes.
"How can the community have confidence that the Government is not trading away the interests of Australians when there is a lack of available detail and stakeholders are reliant on leaks to gain a better understanding?  This isn't about opposing trade or trade agreements. It's about ensuring significant concerns are addressed. We do not trust they that workers' rights will be recognised and protected, environmental standards upheld and access to quality public services maintained. We do not have confidence that these principles are being upheld in this secret process."
Hon. Melissa Parke MP, Federal Member for Fremantle
"All Australians should be enormously concerned that the Abbott government is secretly negotiating an agreement (TPP) that would allow multinationals to sue Australia in secret tribunals for laws, policies and even court decisions they consider harmful to their profits.  The tribunals aren't independent: a panellist can be an advocate one month and an arbitrator for a multinational the next. ISDS has no system of precedents or appeals, so decisions can be inconsistent and unfettered. It is a wholesale attack on Australian sovereignty."
Chief Justice French
Chief Justice Robert French of the High Court of Australia has expressed his concerns that the "judiciary, as the third branch of government in Australia, has not had any significant collective input into the formulation of ISDS clauses in relation to their possible effects upon the authority and finality of decisions of Australian domestic courts".
UNITED NATIONS INDEPENDENT EXPERT ALFRED de ZAYAS, SAYS SECRET NEGOTIATIONS ON TRADE TREATIES ARE A THREAT TO HUMAN RIGHTS
GENEVA (23 April 2015) –
"Because all States are bound by the United Nations Charter, all bi-lateral and international treaties must conform with the Charter and its principles of equal rights and self-determination of peoples, respect for human rights and fundamental freedoms, sovereign equality of States, the prohibition of the threat of and the use of force and of intervention in matters which are essentially within the domestic jurisdiction of States.
"Article 103* of the Charter clearly stipulates that provisions of free trade and investment agreements as well as decisions of ISDS arbitrators must conform with the UN Charter and must not lead to a violation, erosion of or retrogression in human rights protection or compromise State sovereignty and the State's fundamental obligation to ensure the human rights and well-being of all persons living under its jurisdiction. Agreements or arbitral decisions that violate international human rights law are null and void as incompatible with Article 103 of the UN Charter and contrary to international ordre public."
"* Article 103 of the Charter stipulates that "in the event of conflict between the obligations of the Members of the United Nations under the present Charter and their obligations under any other international agreement, their obligations under the present charter shall prevail."