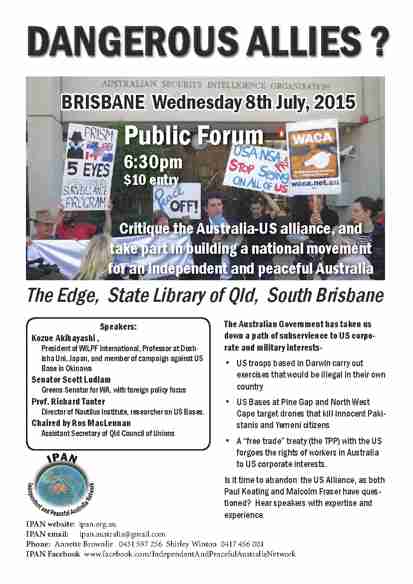 The Independent and Peaceful Australia Network (IPAN) announces Public Forum and National Conference to be held in Brisbane on the 8th and 9th July.
Brisbane 8 – 9 July
·        Public Forum "Dangerous Allies" – 8 July
·        National Conference+ AGM – 9 July
The threat of a major war in our region of Asia-Pacific is looming.  The US is expanding and building up its military presence in the region, and in Australia.  Australia's foreign policies are indistinguishable from the US foreign policies and military ventures.  Australia's defence, military facilities and industries are being integrated into the US military strategies.  The Australian people's sovereignty and independence to make our own decisions in the interest of people, peace and the environment are further eroded.  We have become a compliant host of US preparations for war in our region.
US military Pivot into Asia-Pacific and the growing threat of war in Asia-Pacific.
In November 2011, US President Obama arrived in Australia to make an important public announcement of stronger and expanded US military and economic presence through the US Pivot to Asia-Pacific.  Delivering his speech in Australia's parliament, Obama declared Australia's key role in the US military Pivot.  In November 2012, following Obama's visit, the then US Secretary of State, Hilary Clinton, also visited Australia and held extensive discussions with Australian military and parliamentary leaders, re-affirming Australia's integration into the US military plans and sealing Australia's role as its deputy sheriff in the region.  The Australian government and opposition at the time obediently welcomed US policies to open up Australia to the permanent basing of US marines in Darwin, more military and intelligence bases, and further integration into the US military war machine.
By 2020 the Pivot will move 60% of US military, naval and air forces from its bases around the world to the Asia-Pacific.  New bases will be built, existing bases will be expanded and upgraded and more US troops moved into this region.
Presently, there are 320,000 US troops and marines stationed in the Asia-Pacific, and at least 300 US bases, including in Australia.
Australia's role
Australia's military, air and naval defence facilities are being upgraded and expanded to accommodate the large presence of US military forces. For the first time Australia is routinely hosting foreign troops on our soil.   At the time of writing, 1,500 rotational US Marines are based in Darwin.  This number will grow to 2,500 in the future, and likely more.   The US Pivot is defining Australia as a major US military and intelligence base, and a launching pad for its drones, overseas military incursions and eventually wars, in our region.
US forces and air force bomber planes regularly use Australia's Bradshaw Military base near Darwin for exercises and reconnaissance.  In early April 2015, US Lt. Col. Dougherty excitedly proclaimed Australia as an empty place, "You guys have opened up your homes to us. We're living in your guest house. The outback truly is out back, with vast wide open spaces. There's things we can do here we cannot do back in the States. [In the US] it's very restricted; you have to worry about safety considerations like not shooting other units as you train. Here you don't have those issues. It's a blank slate."
In May this year, during testimony before the US Senate Foreign Relations Committee, US Defence Department Assistant Secretary for Asian and Pacific Security Affairs, David Shear, announced that in addition to the movement of US Marines and Army units around the Western Pacific region, "we will be placing additional Air Force assets in Australia as well, including B-1 bombers and surveillance aircraft." It was later claimed that Mr Shear 'mis-spoke' – it is more likely that he 'let the cat out of the bag' and revealed the US's real intentions for this country.
Independent and Peaceful Australia Network
IPAN was formed in early 2012 in response to the joint US and Australian governments' announcements on the Pivot, expansion of US bases and the stationing of US marines in Australia.  It brought together peace, anti-war community groups, faith organisations and unions concerned with the rapidly increasing US military presence in Australia; the government's subservience to US foreign policies, and the distinct possibility that this will lead us into another major war – this time on our door step with countries in our region. 
We are concerned that Australia does not have its own independent foreign policy that builds peace and friendship with people in our region and the world.  Former Prime Minister Malcolm Fraser in the last few years of his life worked tirelessly and vigorously in exposing the dangers of US-Australia military Alliance, the US controlled military and intelligence base Pine Gap in Alice Springs, NT, and the permanent stationing of US troops in Darwin.  In defence of Australia's security, sovereignty and peace in the region, he called on Australia to become independent of big powers.
In the past two years IPAN and our affiliates around Australia have initiated and participated in a wide range of public activities to highlight and protest at increasing integration/interoperability of Australia's military and defence facilities and foreign policies into the US military agendas.  We have called for an independent and peaceful Australia to halt wars.
IPAN's activities included protests, public meetings, petitions and letters to newspapers and politicians expressing public concerns with the increasingly growing presence of US military forces at Australia's military defence facilities, including the Kojarena spy base near Geraldton, West Australia, and the permanent stationing of US marines in Darwin, Northern Territory.
In 2014 IPAN held its first national conference in Canberra with 100 delegates from every state attending. IPAN member groups also worked with others to develop the Canberra Peace Convergence with a range of actions over a 5 day period.
On the Global Day Against Military Spending, IPAN together with local groups held rallies in most major cities condemning the Abbott government's increased spending in the budget on military adventures that have little to do with defence, but more with supporting the US military agenda.
IPAN and affiliates have protested and condemned Australia's continued involvement in Iraq and Afghanistan.
IPAN has developed and presented 2 petitions to the Senate and is presently circulating 2 further petitions.
During the Anzac Centenary in April 2015 IPAN members joined with affiliate groups in different peace activities held across the country.
IPAN is regularly invited by community groups, unions, faith organisations to discuss the Pivot and our proposals for an independent foreign policy as a means to prevent wars and build peace.
IPAN National Conference – 9 July
We are fortunate to have the 3 Forum speakers Scott Ludlam (WA Greens Senator),  Richard Tanter (Director, Nautilus Institute, Researcher on US Bases) and Kozue Akibayashi (President, Women's International League for Peace and Freedom, and member of Campaign Against US Bases Okinawa), willing to attend the conference and participate in the workshops.
Conference Program
830: Registration
9-930: Panel presentation with Scott, Richard and Kozue followed by a range of workshops
930-1230- workshops
1230-1pm- feedback
1-2pm- lunch
2-5pm- IPAN AGM
Promotional material for the forum and conference is attached.
Online registration is now available- please circulate to your members.
ONLINE BOOKING DETAILS
July 8th Public Forum to open national conference of IPAN
6.30 for a 7pm Start
http://www.trybooking.com/HZIA
The Edge, State Library of Queensland
Cultural Precinct, Stanley Place
South Bank
Brisbane, Queensland 4101
July 9th IPAN national conference open to the public
8.30 for a 9am start
http://www.trybooking.com/HZIJ
Queensland Council of Unions
2nd Floor, 16 Peel Street
South Brisbane
Brisbane, Queensland 4101
Join IPAN
Your organisation has indicated support for IPAN's aims and actions over the past two and a half years. Some have already confirmed their membership of IPAN with other groups indicating support but not formal membership. Updated membership of the network will assist us to develop strategy and action into the next year and beyond.
Since last year's AGM in Canberra the interim co-ordinating committee have been meeting monthly on IPAN business including development of a constitution. The copy attached has, after much discussion, consultation and modification, been accepted by the interim co-ordinating committee.
Please indicate by return mail if you do not wish to be a member organisation of the Independent and Peaceful Australia Network.
Contacts and information
For further information or consultation please contact your state representative on the co-ordinating committee.
Qld– Annette 0431597256
NSW– Nick 0420526929
Vic– Shirley 0417456001
WA – Jo 08 92724252
NT –  Justin  0424028741
SA – Stephen 08 73298542
Tasmania – Linley 03 62346672