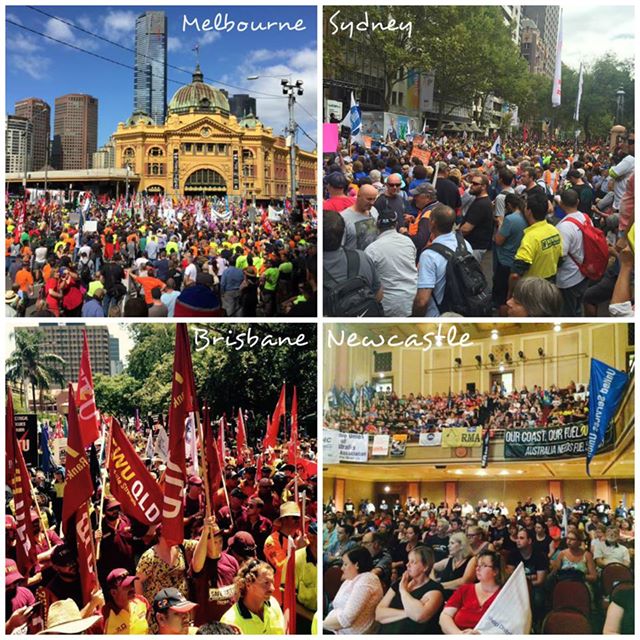 The two following statements were leaflets produced by Spirit of Eureka, Victoria and handed out to workers attending the March 4 Union Rally in Melbourne, opposing the LNP's attacks on unions' rights'.
Defend Penalty Rates! Fight for our Living Standards!
Workers' penalty rates today have been won by past generations of workers and unionists after long, hard and bitter struggles.
They are part of our livelihood, our way of life and must be vigorously defended.
Millions of workers and their families rely on penalty rates to pay for rent/mortgages, education and health expenses, power bills and transport to get to and from work.
Penalties compensate for working weekends, overtime and shift work, for missing out on rest and time with family and friends.
Government is dancing to the big business' tune
Whether it's Abbott or Turnbull as Prime Minister, the Productivity Commission will decide in the interests of big business.  The Business Council of Australia, the biggest foreign and local corporations and global banks, set the agenda.  Corporations such as, Murdoch, BHP, Rio Tinto, Chevron, John Holland, Grollo, CitiBank, Blackrock Investment Bank, etc. are driving the LNP government's attacks on working people.
International corporations and banks demand governments around the world impose austerity on working people and communities.
They dictate the economic policies for Australia.  They use the Free Trade Agreements like the TPP (Trans Pacific Partnership Agreement) to impose and enforce cheap labour on all countries.
Monopolies, not penalties are killing small business
The Murdoch media monopoly, big business and the LNP government spread lies that workers' penalties are killing small businesses.  Workers in small hospitality and retail businesses are in the front line of attacks on penalty rates, as a prelude to a wider assault on workers in all other industries.
Truth is, it's the high rental rates of monopoly owned shopping centres (eg Westfield) and commercial property owners, the high cost of privatised gas and electricity, and insurance premiums, that crush small business.
Many restaurant and cafe workers are casual or part-time young people, students or visa-holders earning miserly wages, often underpaid and/or below award, dependent on tips and weekend work to make ends meet.
Many hospitality and retail workers are not organised in unions and are subjected to abuse, harassment and intimidation.  They are a vulnerable and easy target for the LNP government as a front line attack on all workers' penalties.
If penalties are taken away from retail and hospitality workers, this money will only end up lining the pockets of big business through higher rents and charges.
 Don't Sign the TPP! Don't sign away Australia's Jobs, Health and Sovereignty
The Australian government is about to sell out Australia's sovereignty, our democratic rights, jobs, hard won working conditions and our standard of living by signing up to the US-driven Trans Pacific Partnership ("Free Trade") agreement.
The TPP is a so-called 'free' trade agreement vigorously pushed by the US and its multinational corporations and banks, on Australia and 10 other Pacific Rim countries.
The TPP will give multinational corporations and foreign banks more freedom to exploit people and plunder the environment by removing hard won local laws and regulations that give some protection in workplaces and to environment.  Any future government laws that obstruct or slow down profit making by corporations may be illegal.
The TPP will allow foreign corporations to overrule federal, state and local government laws, regulations and standards that protect local jobs, wages, working conditions, workplace rights, public health and education.
Local jobs disappear offshore – cheap labour imported
More local manufacturing industries, agriculture and food production will disappear, with jobs transferred overseas.
Foreign and local corporations investing in Australia would be allowed to bring cheap overseas labour with them.
Cost of medicines will go up – people's health will go down
The cost of medicines will go up as the US government and pharmaceutical monopolies want to abolish Australian government subsidies on local medicines (Pharmaceutical Benefits Scheme).  Food and tobacco labelling would be weakened and no longer be enforceable.
Public health and education and community services could be gutted. Local scientific and technical expertise and skills will be lost. The livelihoods of local farmers and rural communities will be threatened.
Our environment will be further trashed by the plunder of multinational mining corporations.
Local culture and the livelihoods of our cultural workers will be drowned in a flood of more imported US commercialised "culture".
Multinational agri-business corporations will overrule our standards on clean, safe and GM free food.
Why is the TPP kept so secret from the people?
The TPP is being negotiated in secrecy, hidden from public scrutiny and even parliament.
Foreign investors, multinational corporations and foreign banks will be empowered to sue our governments for hundreds of millions of dollars where local laws and regulations restrict their profit making. (Investor State Dispute Settlement clauses are in the TPP)
The Australian people will react with anger and dismay when they see hard-won achievements and social services, national assets dismantled and swallowed by the profit hungry multinational corporations. Send the government the message now!