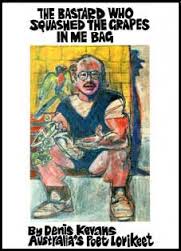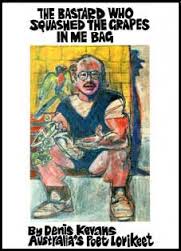 by Jefferson Lee
This article was a paper presented to the 14th Society for the Study of Australian Labour History Conference, Melbourne University 13th-15th February 2015. It is the second of two articles about Denis Kevans, Australia's "Poet Lorikeet" that the author has given permission to republish.
(5). Vietnam War and Denis Kevans Poetry
"We took their orders and now we are Dead" anti-Vietnam War anthology had no contribution from Kevans. Why? At least Vietnam Voices (Overland) ran with one Denis Kevans poem. None of his work appeared in the major anti Vietnam War retrospective in the USA. Yet his Vietnam War protest poems have been translated into Vietnamese and widely read in that country for decades. His "A Vietnamese Revolutionary Talks to Jesus" was one of the first. His "Easter 1970" again confronts the silence of the official Church hierarchy on the war.
"Paddy Battle" was a stream-of-consciousness as an Australian army officer lies dying in crater on a paddy field in Vietnam. He shares the crater with an enemy peasant Vietcong soldier who is also dying and by the poem's end is dead. He pictures the boy's life then dreams of his own privileged youth as he slowly passes out. He recalls the football match with cries of "blind side" echoing in his head, the rows of teenage girls adorning the edge of the local swimming pool and more. The poem ends with the comment we are all equal in death.
"The Slouch of Vietnam" was a battle cry of the Sydney Moratorium movement and was written in the early 1960s when Denis could see that Menzies would drag us into Vietnam as part of the Domino Theory. It pre-dates the AAATV mission send off. It pre-dates the dodgy appeal for Australian troops from Saigon fudged in Federal Parliament in 1965. His "All the way with LBJ, All the way to the judgement day" found later in "Agent Orange, Agent Blue" chronologically clocks to expanding war. It is followed by "Welcome Spiro Agnew, (I'd like to offer some chewy)" during his 1968 visit to Canberra as US Vice President and written like "a thumb nail dipped in tar" on the protest bus ride between Sydney and Canberra. Then "Henry "Napalm" Kissinger" [AWM] the first of his post Vietnam War poems:
"………
"Success upon success, H.K.,
But can you tell me, Jack
What has Henry got to do
To get the sack?
What could be his monument?
ONE demilitarized zone?
ONE Australian soldier
Weeping in his room alone?
A Turkish hunger striker?
Victor Hara's severed hands?
Three million brave Vietnamese
Who died to free their land?
Cluster bombs? Five thousand pounders?
From forty thousand feet?
Phosphorus bombs and napalm?
Metal splinters in a sleet?
Bombs disguised as flowers?
Hey, Henry you were great!
And we're glad you've come to tell us
How to run our country, mate…."
Writing in the immediate years after the war Denis Kevans befriended a number of Vietnam Veterans, particularly the more radical ones like Phil Thompson and others from the VVAA who fought over the Agent Orange issue for compensation and recognition of "undiagnosed" medical conditions like birth deformities (see Agent Orange Justice Campaign website re playwright/actor  Kate Mulvany ) and PTSD. He also befriended special forces soldiers  like Brian Day who John Pilger devoted a section of "Heroes" or "Distant Voices" to retelling his story
The Kevans poem "Agent Orange Agent Blue" linked the Dow Chemical company to the American War in Vietnam. It followed on from earlier 1960's pre-Moratorium era protest poems written about chemical weapons deployed against the Vietnamese people like "Gift Gas"[GPW]. More recently the poem "Agent Orange Agent Blue" has been reworked as a five minute film montage with Tony Barry reading it to film footage of US planes dropping chemical spray during the Vietnam war and footage of the birth defects of second third and fourth generation babies found in a gallery of the Saigon 'Remnants Museum'. [contact AOJC Sydney or David Bradbury Frontline Films for a copy]
Writing in that same late 1970's period Denis penned a short but telling poem called "Vietnam Veteran" [AWM] which began "I've seen hands like that/criss-cross/ like mulberry pickers down Bowral way/ He sees me/His eyes dart like a caged fox/…."
In short Denis recognises that the Aussie veteran's hands have scarred lines on them like agricultural workers working with Agent Orange/Dieldron and other dangerous chemicals, used in weed-killing before they were outlawed. The veteran is ashamed either of his war service and does not want to admit to being exposed to the chemicals in Vietnam (which would force him to reveal he was a shunned Viet Vet immediately after the war back at home?).
This of course gave way to the 1980s and the later period of Remembrance of Vietnam when the political dust had settled, where Redgum's (1982?) "Only Nineteen" song exposed and praised by George Negus on '60 Minutes' filming the gold record presentation at Benny's nightclub in Kings Cross (in 1984?), where former anti-war protester, John Schurrman, (symbolic of the anti-war movement as a whole), united/ reconciled/forgave Phil Thompson, President of VVAA, to jointly accept the award from a multi-nationally-owned record company. Throw in here the Sydney Town Hall 'Anzac Eve Peace Concerts' (1981-83) with Eric Bogle, The Bushwackers, Judy Small, etc each doing their songs for foot soldiers lamenting war in general. The last of these concerts was co-sponsored by the VVAA. Then the ABC television's "Vietnam The Mini-Series" (1985) and Channel Seven's "Sword of Honour"(1986). One could almost feel the tide of public opinion turning?
All this inevitably lead to the ever popular, all is forgiven, why did we treat you so bad "Welcome Home Parade" in the Sydney Domain which saturated the media so much that Clive Robertson put out a special appeal for a Vietnam digger from Adelaide who had lost his pet puppy at the rally with a wry grin on his send-up news reader face (with the microphone pointing away from him towards the camera like a huge phallus, of course), as though that was all the news left in the world to report. He then announced the following night that the puppy had been found and returned to the digger so he was free to get the train home to Adelaide. And the Vietnam era had finally come to a close?
Meanwhile the Left wondered whether they had conceded too much ground to the former "baby burners" as the New Right agenda included a total revisionist view of the origins and outcomes of the Vietnam War. A Harry Van Moost inspired after thought was the gathering of former Draft Resisters at the Melbourne Town Hall to accompany the Vietnam Voices touring exhibition shown in Year 2000 at the Casula Powerhouse in Sydney where veterans, refugees and protesters "come together".Too little too late for the Left?
Remember the 1980's decade began with Rambo and  Ronald Reagan's election and US cultural imperialism was alive and well where Jane Fonda's "Coming Home" (anti-war/pro Veteran) was monstered at the box office with Vietcong as terrorist torturers and weak soldiers in everything from "The Deer Hunter" to "Apocalypse Now" to "The Killing Fields" and the string of Chuck Norris "MIA" movies then "Platoon". In all these celluloid reconstructions of the Indochina War, the Vietnamese people were backdrop, cardboard cut out, depersonalised stereotypes, as we in Australia and American remembered "our war" and "our boys".
I acknowledge here, the tremendous work by Queenslander Jean Williams compiling "Mist of Orange" and other veterans poetry collections as part of the Agent Orange and VVAA campaigns. Also the outstanding narrative poem on the Welcome Home Parade in Sydney anthology "Harbour". But forget about the ideologues of Quadrant re-working the CIA inspired US right wing publications like Encounter. Just look at the recent mainstream media coverage which retrospectively tries to reposition our entire involvement in Vietnam
From Keith Suter's 'HISTORY' in the Daily Telegraph [DT 18/8/08 p30] headed "Anzac spirit lived on in Vietnam War", sub-headed "Veterans of an unpopular war are now remembered.." complete with photos of the Queen pinning a VC medal on a former Vietnam Vet and reference to the AWM and Paul Ham's "Vietnam : Thje Australian War" as the authorities for students to pursue further study on the issue? What about Greg Pemberton's Vietnam Remembered"? or Ken Maddock or Val Noone…or Siobhan McHugh on Australian women and the Vietnam War? Not a word Keith?
Then we have Gerard Windsor, "The men with no choice but to serve", [Spectrum, SMH, 7-8/2/2015, p.30,] reviewing "The Nasho's War: Australian National Servicemen and Vietnam, VIKING Books, by Mark Dapin.  Windsor argues "For if Dapin wants to give us a colourful, readable account of nasho life, he is also a zealot, intent on making one point. This is to explode what he believes is a multi-headed myth – that the Vietnam Veterans were never welcomed home until 1987, that the nation was generally opposed to the Vietnam involvement, and that the moratoriums and other protests were the great manifestations of feeling about the war. None of it true, says Dapin, and he makes a convincing case."……Really? That's news to me! Despite the Liberal Party saying for years no Nasho would ever be forced to serve in Vietnam I have correspondence from former Deputy PM Tim Fisher saying he had "no choice"! Who lied? Not hard to guess?
Then compare this to Max Blenkin, "50 years on, nasho still controversial" in Epoch Times, [30/10/14-5/11/14, Australian edition, p.1 taken from AAP source], where it was argued
"….It was the most divisive issue of post-war Australia, akin to conscription campaigns of World War One. Despite the eventual controversy, the mass street marches, vocal community opposition and mythology of the era, the story of national service in the 1960s is overwhelmingly one of compliance.Between 1964 and 1972, more than 800,000 20 years olds registered and 63,735 served in the army.
At the end, non compliance was rising, but just 14 were jailed for refusing to obey call up notices."
He then quotes one of the 15,000 nashos who went to Vietnam in 1969, engineer Peter Churchill concluding (in Blenkin's words) "community attitudes were more upsetting than their actual war service". He says after the welcome home events "We suddenly discovered we were actually thought of highly." But his verdict was "It wasn't until many years later that I came to the conclusion that the whole thing was a waste of time".
Regarding Public Opinion polls and statistics on the changing popularity of the war? See Murray Goot and Rod Tiffen chapter in Peter King's book "Australia and the Vietnam War".  Re rubbery figures…How many men registered hoping and expecting to be balloted out? How many went to Asia on extended surfing holidays to sit out the war? How many failed medical or had tertiary education deferment? How many jailed for seven days (Failure to Register), 1 month ( failure to attend medical)…..as opposed to the 14 who did the full 2 years and then later the 18 months only stretches?
Re WHY public opinion to the War and Vietnam Veterans shift from the 'Decade of Silence' about the war (1975-1985) to the 'Decade of Reconciliation, Renovation and Revisionism'(1985-1995) see the many Left and independent academic authors on the subject from Stuart Rintoul's "Ashes of Vietnam", Ken Maddock "WAR Australian and Vietnam", Ina Bertrand research on Film and Vietnam War, Peter McGregor, Frank Frost, "Australia's War in Vietnam", Geoff Doyle  et al book on the Cultural Meaning of the Vietnam War….and dozens of American authors with books like Loren Baritz, "Backfire", "Tell Me Lies About Vietnam, "Vietnam Generation" series, etc…
(6). Anti Nuke and Nuclear Free Pacific Poetry
Poems like "The Silence of Hiroshima" [GPW],  "Come to South Australia it's the Radiation State", "Even Rainbows", "They're Ours!", "Pacific Wonderland", "An Ant on the Fire", "Little Earth Worm", "Leaves" and dozens of others demonstrate the Kevans commitment to opposing "nuclear sullied seas"["Monuments"] and destruction from Nuclear waste and the threat of nuclear war!
(7). Anti-Colonial Struggles in the region Indonesian Independence,Timor Leste, West Papua
"Your Friends Will Never Forget You" was written and recited on 'ABC Radio to an audience of roughly one million on 'Macca All Over' on Sunday 5th September 1999 as the UN was in retreat and Dili and East Timor were being burnt to the ground by the Indonesian army of occupation following the UN supervised referendum on August 30th that found that 78.5% of Timorese wanted Indonesia to leave. It referred to the leaflet dropped by the "biscuit bombers" , the ones where Gough Whitlam served as a navigator at the end of World War Two. We forgot the Timorese when Indonesia invaded in 1975 and again as the UN threatened to pull out in 1999. Denis performed this poem many times including when 2/2 Commandoes like Paddy Kenneally were on the platform with him from Scruffey Murphies Pub to the Sydney Town Hall.
Even today in 2015, the former diplomats and military brass and politicians are covering up their tracks of their involvement in the near genocide of East Timor and West Papua. From memoirs full of snow jobs from people like Philip Flood and Tricky-Dicky Woolcott; to military intelligence  re-writing  on the role of Interfet in covering up  the level of TNI atrocities encountered, etc (see Blaxland book forthcoming 2016 out of ANU), to the denial of Archives on Balibo and the Australian intelligence knowledge of the Timor 1979 famine by DOD/DFATASIS while legitimate historical researchers like Dr Clinton Fernandes are forced to launch court cases over the public's right to know. The memory of Kevans reminds us of the true history of the 2/2 and 2/4 Commandoes and their promise to the people of Timor Leste to "Not Forget them" for they lost 60,000 people defending Australians during WW2 AT THE HANDS OF THE Japanese. More than our total losses of 31,000!
"Black Cargoes" was written especially for a Timor Leste Benefit held at Pier One The Rocks in 1998. Pier One was one of the sites where the Dutch ships were stopped by a wharfie ban in support of Indonesian Independence from The Dutch in the immediate post-World War Two period. This poem reminds us of Indonesian regime neo-colonial hypocrisy. Receiving support for their own Independence from the Dutch and then denying the people of West Papua their right to self-determination.
 
(8). Iraq War 2003 and the War on Terror
"Abu Grahaib" was written just before the end of his life. Denis reflected on the ugly metaphor for US imperialism that the teasing torture of a group of naked prisoners forced to climb on each other in a pyramid form for the entertainment of the American troops who were guarding and torturing them, without trial during the 2003 Iraq War. It follows on from his poems on torture in Chile under Pinochet and the poem "Guai A Voi, Ipocriti!" about torture in East Timor under the Indonesian Regime. [personal copy dated 4/1/98]
Had he lived beyond 2005 there would have been many more biting and sarcastic poems on the progress or lack of it on this war and all the others since? He was a man of peace who despised war.
(9). Denis on Monuments and War  Memorials
"Monuments" is one of Denis Kevans finest poems. It tells us the story of Australia in a few stanzas. Just like "Southern Melody" did in his early years. The circle is completed. It is worth more than the hundreds of millions of dollars Canberra is spending building War Memorials everywhere to condition the people that war is inevitable. The poem "Shrine Of Remembrance" should remind them that war is inevitably class war over resources and power.
"We came home from France, nineteen nineteen,
At last we were happy, but Peace lost its shine.
We were soon out of work, but at least we got 'sustenance'…"
 (10). Conclusion
The purpose of this paper is to provoke a debate on censorship and the lack of recognition of what I regard as one of Australia's finest poets. Definitely  one of our finest war poets?
When will the Australian War Memorial allow "The Slouch of Vietnam?" to be included in "The Home Front" of their collections and publications on the Vietnam War?
When will the poetry "police" and literary gate-keepers  include some of Denis Kevans works in there voluminous anthologies of Australian poets and writers?
When will the Australian peace movement assist in organising a 10 years on memorial event for his passing on August 26th 2015?