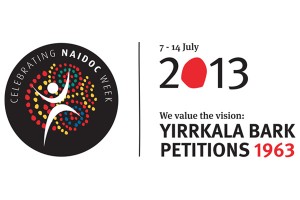 This article is from the NAIDOC website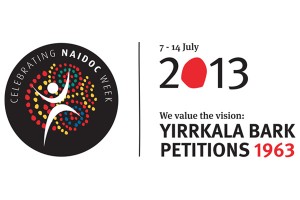 NAIDOC Week runs from the 7 – 14 July.
This year's theme proudly celebrates the 50th anniversary of the presentation of the Yirrkala Bark Petitions to the Federal Parliament.
In August 1963, the Yolngu people of Yirrkala in northeast Arnhem Land sent two bark petitions – framed by traditional ochre paintings of clan designs – to the Australian House of Representatives.
The petitions protested the Commonwealth's granting of mining rights on land excised from Arnhem Land reserve and sought the recognition by the Australian Parliament of the Yolngu peoples' traditional rights and ownership of their lands.
Asserting title to Yolngu country under Yolngu law, the petitions were the first traditional documents recognised by the Commonwealth Parliament and helped to shape the nation's acknowledgment of Aboriginal people and their land rights.
We value the foresight, strength and determination of the Yolngu people whose Bark Petitions set into motion a long process of legislative and constitutional reforms for Aboriginal and Torres Strait Islander people.
While appealing for the recognition of Yolngu rights to land, the Bark Petitions were a catalyst in advancing changes to the Constitution in the 1967 referendum, the statutory acknowledgment of Aboriginal land rights by the Commonwealth in 1976, and the overturning of the obstacle of the concept of terra nullius by the High Court in the Mabo Case in 1992 that recognised the traditional rights of the Meriam people to their islands in the eastern Torres Strait.
Today, we look to a future that better understands and celebrates the unique connection that Aboriginals and Torres Strait Islander's share to country, as we continue to build an Australia that reflects the achievements and furthers the aspirations of our people.