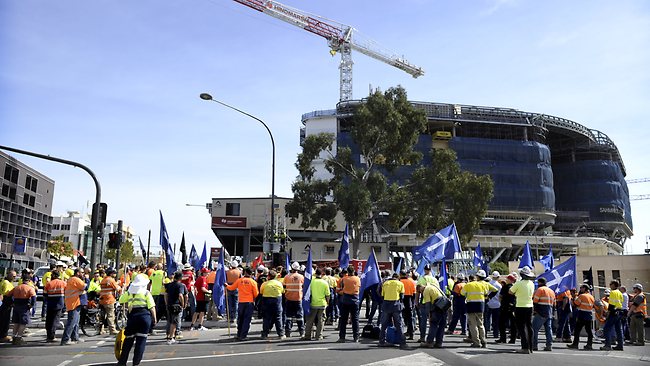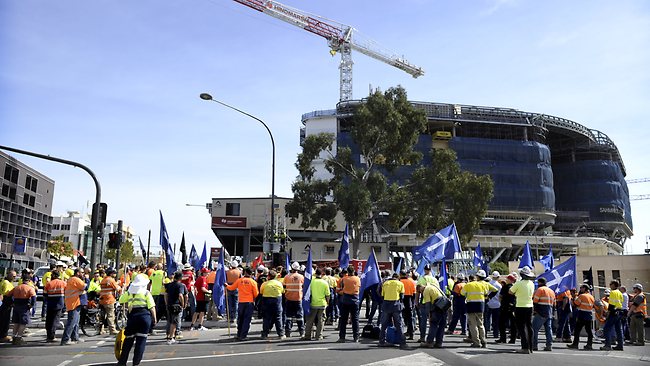 With the recent loss of jobs at auto makers Holden, workers and their unions took a swipe at the State Government and protested against overseas products being used in taxpayer-funded building projects.
Union leaders told a workers rally, held on 12 April, at the SA Health and Medical Research Institute (SAHMRI) that the use of Australian materials in government projects would be an election issue in both the state and federal elections.
The speakers pointed out that the new Royal Adelaide Hospital, SAHMRI, Adelaide Oval and Adelaide Convention Centre use imported materials. Aaron Cartledge, state secretary of the CFMEU highlighted the fact that the "entire facade of the SAHMRI was manufactured in China".
He said that the CFMEU intends to audit sites of multi-billion dollar government-funded construction projects in Adelaide over the next couple of weeks to see what products are being made in Australia.
The audit is part of the union campaign called `Let's Spread It Around' calling for the benefits of the mining boom be spread through the community. Advertisements will run during the Crows and Power footy match as part of a continuing strategy to win public support.
Janet Giles, SA Unions secretary informed the workers that the mining wealth was going to a small cabal and blamed the "big miners, four major banks and two supermarkets" as the major perpetrators.
"We are good at fighting battles but have been losing the war – we should have been running this campaign (to spread the wealth) for the past 10 years," Giles argued.
AMWU union leader John Camillo said Australia needed manufacturing and explained he had just asked the new RAH project manager to name products in the project that were being made in Australia.
"Glass? None," Mr Camillo told the workers. "The 700 shower cubicles? None. Hot and cold water taps? None. All this is coming from overseas.
"If we are going to use taxpayers' money on these projects we want a better outcome, with jobs and a future for our children.
"We have to put pressure on the State and Federal Governments to ensure that when taxpayers' money is spent on these big projects it results in jobs, making products here in Australia – this is going to be a long campaign."