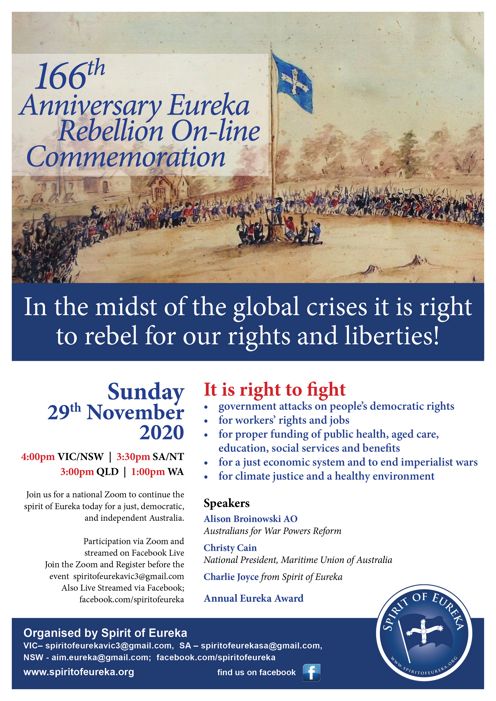 Registration link to the Zoom Eureka Anniversary Commemoration.  Please register in advance for this meeting:  https://us02web.zoom.us/meeting/register/tZEtf-GuqzIuHdZ1IUTdjbZ2O9Zpw-WIwQGx
After registering, you will receive a confirmation email containing information about joining the meeting. Also Live Streamed via Facebook; facebook.com/spiritofeureka
This year Spirit of Eureka is awarding Bernard Collaery the annual Spirit of Eureka Award for their courage in standing up and speaking out against injustice as a matter of principle and their unwavering commitment to democratic rights.  Their courageous stand is inspiring and makes this country a better place for working people.  Both men are now being persecuted by the Australian government and face jail for helping correct what they saw as a gross injustice.
Bernard Collaery, the Australian lawyer is being prosecuted in a secret trial by the Australian government for exposing Australian Secret Intelligence Services (ASIS) bugging the East Timorese government during negotiations over East Timor Sea Oil.
In 2018 he was about to represent East Timor at the International Court of Justice, in The Hague,  when he was charged with conspiracy to breach Intelligence Services Act 2001 and were forbidden from talking about the charges against them.
Bernard Collaery's book, Oil Under Troubled Water, relates the sordid history of Australian government dealings with East Timor, and how the actions of both major political parties have enriched their corporate allies at the expense of its tiny neighbour and wartime ally, one of the poorest nations in the world.
Bernard Collaery is a patron and honorary solicitor of various charitable and non-profit organisations serving Indigenous and marginalised sectors of the community.
https://www.theguardian.com/australia-news/2019/aug/10/witness-k-and-the-outrageous-spy-scandal-that-failed-to-shame-australia
Also speaking at the Anniversary
Alison Broinowski
Christie Cain
Charlie Joyce
Spirit of Eureka
VIC – spiritofeurekavic3@gmail.com,  SA – spiritofeurekasa@gmail.com, NSW – aim.eureka@gmail.com;  facebook.com/spiritofeureka