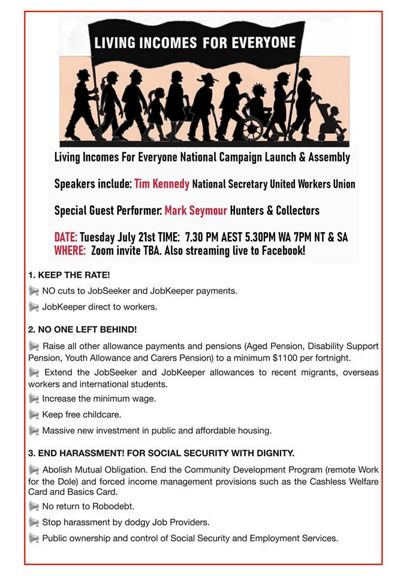 This National Campaign is building a groundswell movement of all organisations, groups and individuals who are working for economic and social justice for the unemployed, others dependent on Social security, the underemployed and low-income workers.
LIFE is a national network of organisations and individuals campaigning for a living income for everyone. The emphasis working at the grass roots, to encourage many to join a broad movement to bring about change which will ensure that everyone has adequate home food and the other necessities an adequate standard of living.
Australia is about to explode with mass unemployment and increased poverty
Until recently the Unemployment Benefits and Youth Allowance have not been raised for twenty six years leaving people in grinding poverty and struggling for dignity and health.
This war on the poor has long involved so-called mutual obligations privatised job providers policing peoples lives deliberately complex taper rates and income thresholds and a vicious compulsory Income management system. Many of these programs are trialled in racists and divisive ways in First Nations communities before being rolled out to non-indigenous people.
The Living Income for Everyone campaign is organising to stop this and to make $1100 a fortnight an absolute minimum below which no one should be forced to struggle for survival.We recognise this payment still forces people to contend with hradship, and we invite everyone to join us in our further campaigns for living incomes.
We believe we can win this very important fight by bringing together as many groups, organisations and unions as possible with a stake in the welfare of All working class people in Australia. We seek collective and individual endorsements of our urgent demands.