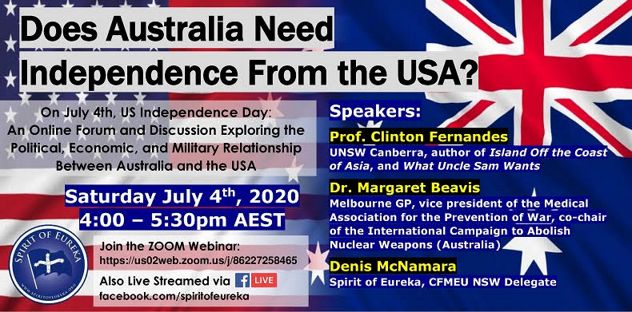 Invitation to join an online forum and discussion, "Does Australia Need Independence From the USA?"
Saturday 4th July, at 4 pm (3.30 pm Adelaide time).  July 4th is US Independence Day.
The zoom webinar forum will discuss the political, economic and military relationship between Australia and the USA.
Speakers:  Prof. Clinton Fernandes,  Dr. Margaret Beavis, Denis McNamara (Spirit of Eureka and CFMEU-NSW delegate). Speakers' details below.
Also LIve streamed via Facebook – facebook.com/spiritofeureka.
Contacts – 0417 456 001; 0476 234 232; 0412652227