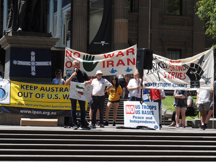 The following Speech was given by Shirley Winton, a member of IPAN (Independent and Peaceful Australia Network)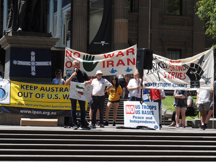 We acknowledge we're on the stolen lands of the Wurundjeri people, Kulin nation.  Sovereignty was never ceded – always was always will be Aboriginal land.   We pay our respects to First People's elders past, present and emerging.
Across the world, hundreds of peace, anti-war and anti-imperialist people's organisations are gathering today holding rallies in cities and towns demanding no US war on the people of the Middle East.
Independent and Peaceful Australia Network, initiator and one of the organisers of today's national rallies in Australia calls on the Australian government to refuse to bow to US dictates and support its preparations for imperialist war in the Middle East.  We demand all Australian military forces (2000 of them just in Iraq) be brought back home and Australian warship HMAS Toowoomba bound for the Strait of Hormuz, be turned back.
War with Iran has the potential to be far worse than Iraq war – we know well the devastating death, suffering and destruction US imperialism unleashed on millions of the Iraqi people.
The US and Australian governments try to sell us the lie that Australian troops are in the Middle East defending our safety and national security from Iran's aggression.  Facts are, US provocations and preparations for war with Iran are solely for protecting US control over vast reserves of oil from other big power competitors.  And as in all imperialist wars, millions of people are the collateral damage and discarded pawns in big power conflicts.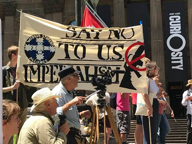 The day after the assassination of Iranian General Soelemani the shares of Lockheed Martin, the world's largest multinational weapons corporation skyrocketed.  The price of oil went up by more than 3%.  Lockheed Martin, and other multinational weapons corporations, has embedded itself in Australia's universities, including RMIT and Melbourne universities.  They're developing weapons of mass destruction and spreading their war propaganda funded by Australian people's taxes.
It's the US that pulled out of the nuclear treaty with Iran and imposed even harsher trade sanctions against the people of Iran which are leading to more hardships and the impoverishment of thousands, including critical medications and medical equipment.  The economic sanctions the US is imposing on 39 countries is nothing short of terrorism.
Since 1975, every Australian government has been servile puppet obediently following US global imperialist agendas and wars.  They are tools of the US empire and willingly used to legitimise US global imperialist policies and wars.
US military and intelligence base Pine Gap near Alice Springs directs and conducts US global wars, drone targets and assassinations such as the assassination of Iranian general Soelemani.
 2,500 US marines are permanently stationed in Darwin
Australia is a launching pad for US wars in the Asia-Pacific.
The more than $200 billion Australian defence budget over 10 years is solely to support US wars and multinational weapons corporations.  The $200 billion of people's taxes syphoned off to US wars and multinational weapons corporations have nothing to do with sovereign self- defence of Australia. There's little funding for desperately needed social and community services, public health, education, public housing.  Public funds to mitigate and end the urgent climate crisis are nowhere to be seen.  Instead, fossil fuel multinationals are protected and supported in parliament. That's where the real and only threat to Australia's people and our environment is. 
Australia – Get out of the Middle East!
Close all US military and intelligence bases 
Send US marines home
End US-Australia Alliance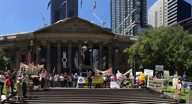 Australia's people don't want to be complicit in US imperialist wars.  We want an independent foreign policy that promotes peace and justice, upholds the sovereignty of other countries and people and builds a sovereign self-defence industry, not for wars of aggression.
We stand in solidarity with the people of Iran, Iraq, Syria, Libya, Philippines, Venezuela and with people all over the world fighting for a just peace and resisting imperialism.