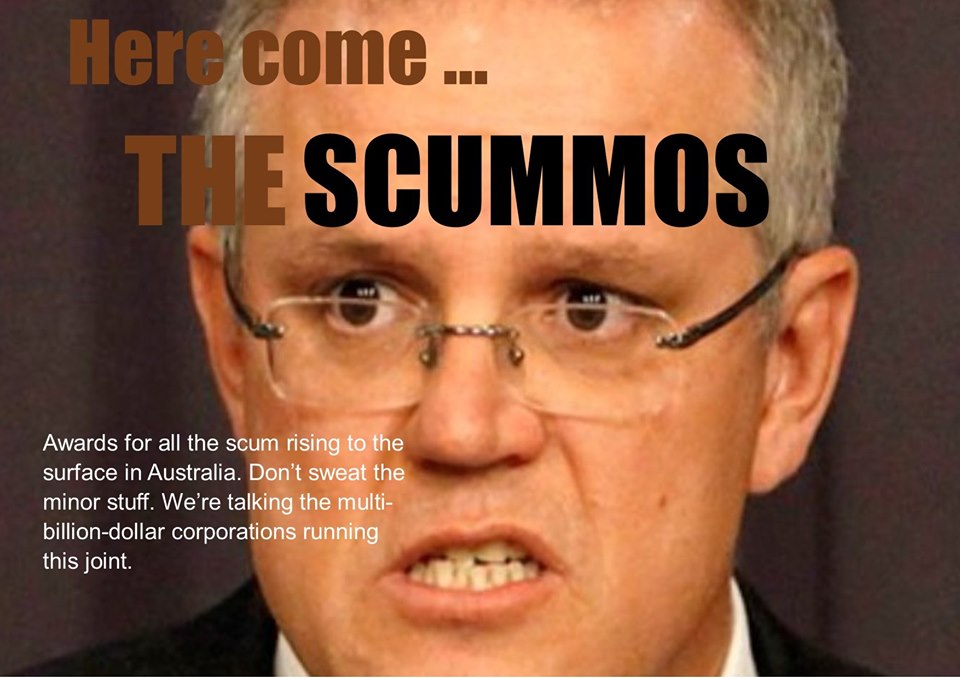 Capitalism has crapped on this continent and its islands for too long, blaming everyone else for its stinking mess. Now its our turn! In a stinker of a system, NOMINATE YOUR LEAST FAVOURITE MULTINATIONAL CORPORATION HERE OR ON SPIRIT OF EUREKA'S FACEBOOK PAGE AND TELL US WHY.
Who's cooking corporate books and hiding profits in Bermuda? Who's demanding corporate welfare but ripping off the poor? And just who's killing us with silica or selling us U.S. weapons to use in U.S. wars?
 

SCUMMO AWARDS
• The Blupa Too-Big-to-Fail Award for Health
• The George Calombaris Award for Workplace Relations
• Rupert Murdoch Perpetual Trophy for Education
• Apocalypse Now! Award for the Environment
• Right off the Plan Award for Housing
• For Whom the Bell Tolls Award for Transport
• The Mind the Gap Award for Public Infrastructure
• Cranky Parrot Award for Media, sponsored by Alan Jones
• Terra Nullius Award for Theft of First Peoples' Lands & Waters
• Christopher Pyne Offensive Contracts' Award for the Military
Let's out their dirty secrets! Tell us what you know. Find out what you don't. Let's join the dots to see to see the whole picture of who's who in this thieving murdering capitalist zoo.
It's time for an independent Australia with some laughs while we organise. WINNERS REVEALED AT OUR AWARD CEREMONY ON EUREKA'S 165th ANNIVERSARY. Note date change!
| | |
| --- | --- |
|   | Thu 5 Dec 2019 06:30 – 10:30 |
|   | Gaelic Club 1/64 Devonshire Street, Surry Hills, New South Wales |
Laughter, music and common-sense voices for truth and justice are weapons to unite and empower us.
So here come The SCUMMOS !
With RITA MALIA – CFMEU
MAXINE SHARKEY – TEACHERS FED TAFE
AUNTY DENI LIDDLE LANGMAN
NICK DEANE Independent & Peaceful Australia Network (IPAN)
DENNIS AUBREY singer-songwriter
ELVIS'S KISSING COUSIN Pedvis and more!
How low can capitalism go? How high can scum rise? You've scraped from the bottom and scooped from the top.
And you've told us…
You've nominated thieves of wages, resources, First Peoples' lands and waters. You hate the "too big to fail" who demand corporate welfare,  while targeting the sick or your kids in their schools.
Uber's in for billions in borrowing to undercut competitors, calling riders 'business partners' but endangering their lives. US Adecco's there as the world's biggest for labour-hire crimes. Twiggy's named for planning Indue welfare card punishments for First Peoples and the poor.
Our military's a wing of the USA's, so most war nominees are from Trump-land. Australian independence? LOL.
Clive spent $60 million to divide us. But it's them versus us. Imperialism's business-as-usual against us everyday people. Marking Eureka's anniversary by naming those who deny our rights & liberties