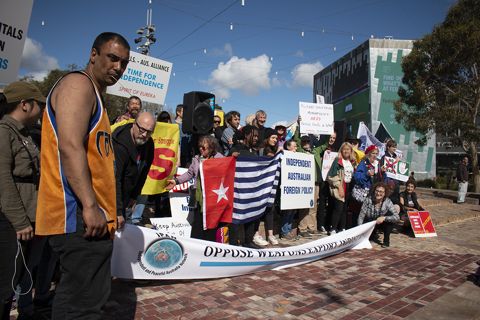 International Day of Peace – "Peace Day" address
21 September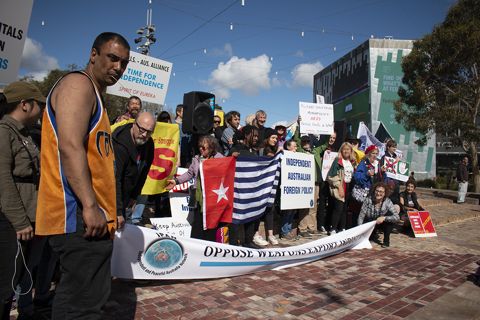 by Alexia Fuentes
Migrante Melbourne
Today is September 21st. International Day of Peace or "Peace Day"! I have to ask though. Do we live in a peaceful society? Do we live in a peaceful world?
We are all peaceful people. We all yearn for peace. It is the aspiration of all peaceful-loving peoples and nations. But what does turning away refugees who come here to escape war and poverty, aspiring for peace, tell us? To many of us here today, including the ones who came here to escape the ravages of the second world war, we've been lucky enough. To those who came here because they simply had the means to start a new life, even luckier. Many of you probably feel unaffected by the present situation.
I was one of the lucky Filipino migrants who made it here. But many of my fellow brethren and countrymen who have also made it here mostly live in far different circumstances than I. They work in farms in regional Victoria. They work in unscrupulous conditions and precarious jobs with dodgy employers and dodgy pay. Jobs that they usually wouldn't give average Australians. They try to pit a foreign labour force against everyday working Australians. We are exploited because we are the cheaper and more dispensable force.
We have been made this way by years of neoliberal and imperialist onslaught on our economy and our national sovereignty. It's on an historical magnitude. Why are we here? Because of neoliberal policies like the "Labor Export Policy" crafted in the Philippines. Because of extreme poverty and rising unemployment. Because of the massive human rights violations and State-sponsored killings under the fascist and tyrannical Duterte regime. Because there's still martial law in Mindanao, the southern island of the Philippines; and de facto dictatorship all over the country. Because of  neoliberal schemes likewise in Australia such as the "457 visa", demanding for a foreign labour force.
It's because of US and also Australian military presence in the Philippines! Both the US and Australia give military aid to the fascist Duterte regime which is killing Filipinos and committing gross human rights violations. Military aid and weapons which are being used in Duterte's "War on drugs" and "All out war" against Communists, human rights defenders, and union leaders. Apart from all this, we have large destructive mining companies like OceanaGold that has open pit mines in the Philippines. Filipinos are left with barren lands, our forests stripped, and our rivers polluted. The same thing that they're doing here with Adani.
Meanwhile, Filipino workers are being sold like commodities to industrialised nations. They say it's due to a "lack of skilled workers" in the US, Canada, Europe, and Australia. But the truth is that they want to take advantage of our destitution, and replace unionised workers like you here with cheaper labour. At the same time, my friends, you are also exploited by the same people.
Are these working conditions conducive environment for a peaceful democratic society?
What might happen, then, if all the workers of the world unite?
What a world it would be, comrades.
We've kicked out US bases in the Philippines before in 1991. You can kick them out of Australia too. The problem though is that there are still US troops –and now Australian troops as well, who have found a way to use Philippine military bases for themselves through the Visiting Forces Agreement and Enhanced Defense Cooperation Agreement. We will kick them out too!
That is why we are answering the call, and are likewise calling out to all of you today present in this gathering. Build the popular united front! Long live the broad mass movement of the people!
And if we really want to demand peace, say this with me:
No to US and Australian support for wars!
No more wars! (3x)