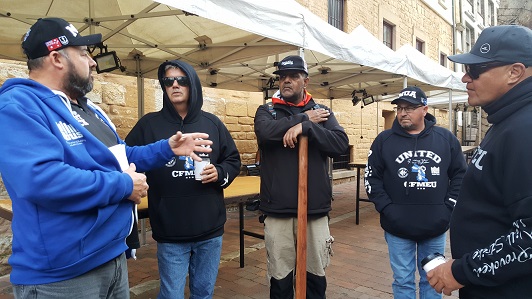 By Lindy Nolan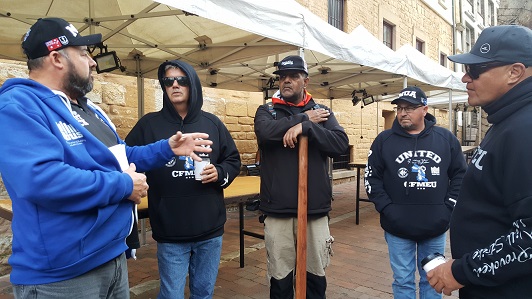 Sydney's Rocks on Sydney Harbour has been a working class heartland almost since the British invaded and stole Gadigal land in 1788.  
Convicts had tough lives, but held tight a fighting spirit, later taken up by waterside, maritime and office workers who let off steam and organised in the Rocks.
Now it's Sydney's tourist centre, but a small group of workers hold tight that working class heritage. They're into their eighth week on the picket line there.
Staying strong on a picket line takes strength and commitment, but when there's less than 20 of you, it becomes harder still.
GBAR asbestos removal workers started protected action Monday 29 July.
The former AWU members had negotiated for nine months before joining the CFMEU and starting talks about their EBA. They were paid 50 percent less than the CFMEU award.
GBAR Group took the union to Fair Work for not bargaining in good faith and lost. The company wanted to cut out the union and negotiate directly with unrepresented workers.
Unsustainable and dangerous
GBAR's main contract was with BlueScope at Port Kembla. The picket began there, and asbestos removal was stopped.
In the first week of the strike, the company offered to pay holiday loading and RDOs, which were standard in the award. The company previously deducted RDO pay from their wages.
Managers demanded compulsory overtime at short notice. The workers come from Wollongong to Sydney or vice versa for these contracts, leaving at 5am. A twelve-hour day is unsustainable and dangerous on top of a minimum three-hour daily commute.
The workers' suggestion, "Give us some notice so we can be prepared for it," wasn't good enough. They weren't offered meal allowances either.
Next GBAR decided to call their office in Wollongong "a storage facility" so they could wriggle out of paying travel money too.
Pancakes on the Rocks – it doesn't stack up
GBAR brought scabs from its headquarters in Queensland to undercut EBA subcontractors.
After ten days, the picket moved for a further three days to Norwest Business Park in outer Sydney, where GBAR's major shareholder Ben Stoltz is chief executive and founder of Jani-King one of the Australasia's biggest commercial cleaning companies, with over 850 franchisees.
Stoltz also owns the Pancakes on the Rocks franchise in the Rocks itself, and more of the franchise restaurants in Queensland.
Striking workers and supporters gather outside the restaurant from 7am to 2pm each weekday. While it's not the restaurant's busiest time, most of them come up from the Illawarra, a fair hike from Sydney.
Their leaflet states, "Workers are taking a stand for decent wages that reflects the risk they take every day making others safe."
Stoltz came from South Africa to Australia. Someone who knew him there said he was unsurprised Stoltz was trying to screw workers here too.
Looking out for each other
GBAR picketer Darren used to be in the navy, "where two people talking together was a mutiny," he laughs.  
The others reckon Darren's good to have around when they're feeling down. Hardly surprising they'd need cheering up when they've sat through wild and cold winds, and days of continuous rain.
Darren says the nature of their work has brought them together.
"We have to put up a bubble, isolated from the rest of the workplace, and work inside it.
"That's how we're able to maintain the strength of the picket because we have to work so closely together and look out for each other."
Brian says the workers "know the steelworks inside out". It's collective knowledge that keeps them safe.
He says, "You've also got to have a qualified Service provider, with extra experience, to sign in the other workers."
That's why stopping scabs is critical, because safety relies on it.
Brian says, "It's been good standing strong, keeping together. We've got no choice but become harder and stronger.
"Everybody's pulled in a lot closer," he says.
Corporations can't be trusted
The workers believe their action has kept Pancakes on the Rocks pretty quiet.
"We've had lots of support," a striker said. "We've had families and tourists tell us we're doing the right thing."
CFMEU members have been levied to support the picketers, whose family members have been supportive because they understand what's at stake. Plenty of CFMEU members were at the picket when this writer visited.
Others like rank and file construction worker Michael are under the gun themselves. Michael headed off to a specialist's appointment after arriving at 7am. He was badly injured at work. He knows first the bastardry of construction companies and their offsiders.
The insurance company is refusing to pay up, causing havoc in his life when he needs to rest and recover. Yet, he's putting in as much time as he can at the picket line.
This isn't the biggest battle in Australian history or against the biggest multinational company.
But workers standing up against rip off merchants have a long and deep history. It's part of a web of struggle that brings us all together. When people stand up to corporations the risk isn't small. With collective action they share that risk, and strengthen each other.
On September 20, the GBAR strikers will join the Climate Strike. They know corporations can't be trusted to look after the future.
This small group shows by their actions what is possible, an Australia putting people before profits, the collective before the individual. They set a great example for all Australians, especially our young people.