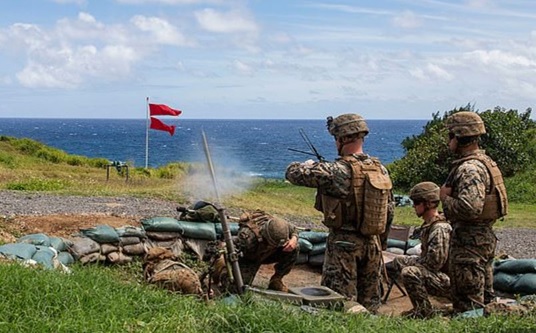 This article was originally published on March 22nd, 2019. It will also appear in the April edition of IPAN's monthly newsletter Voice. Spirit of Eureka is a founding member of IPAN*.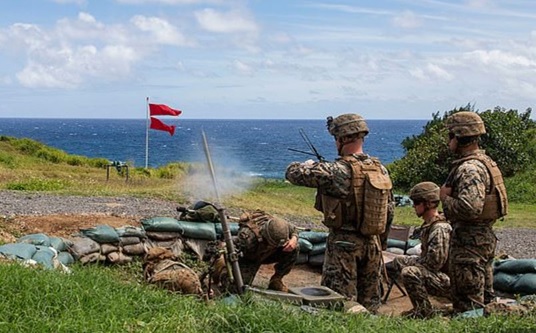 Last week, 31st MEU, backed by the 3rd Marine Division, 3rd Marine Logistics Group and 1st Marine Aircraft Wing, members of the Air Force 353rd Special Operations Group, and Army soldiers with 1st Battalion, 1st Special Forces Group, conducted a series of simulated military exercises attacking and seizing Ie Shima Island located off the northwest coast of Okinawa Island in the East China Sea, reported Task Purpose.
The new military strategy, known as Expeditionary Advanced Base (EAB) Operations, will allow Marine units to seize, establish, and operate multiple small bases across the Pacific Ocean, a tactic that will be beneficial in a high-end fight with China.
Nick Deane, IPAN spokesperson for the IPAN campaign to end the stationing of US marines in Darwin, responded to this report by saying:
"This latest US Marine exercise tends to confirm what many of us fear – that the US is actively preparing for war with China. Another indicator can be seen in the fact that HMAS Adelaide has been modified to support amphibious landing of troops on island territories and that US Marines have been embedded with her crew. In the event of hostilities between the USA and China, it appears that the USA is intent on drawing Australia into its plans.
Every effort should be made to keep Australia out of yet another US war overseas, especially a war against China, our major trading partner. In this potential war scenario, the presence of a US marines base in Darwin could draw fire onto the Australian mainland. For peace and our own security, we need to see an end to the stationing of US marines in Darwin and an end to war exercises with the United States. 
All of this makes IPAN's campaign to end the stationing of US marines in Darwin more relevant and urgent than ever."
*IPAN = Independent and Peaceful Australia Network