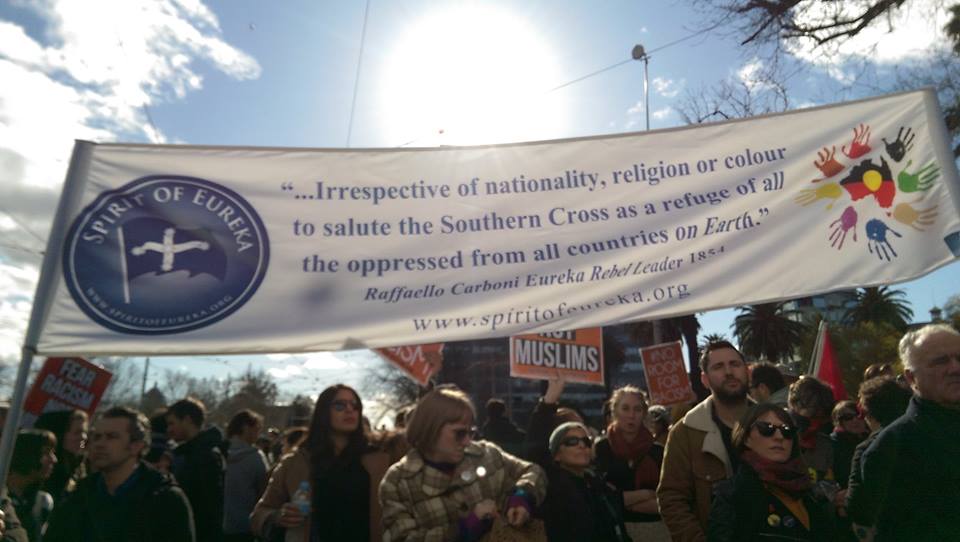 Spirit of Eureka condemns in the strongest possible terms the far-right terrorist attacks against the Muslim community in New Zealand on March 15th. We express our absolute solidarity with the Muslim community in New Zealand, Australia and anywhere around the world where Muslims are the victims of such hate crimes. We reiterate that we will always stand with the Muslim community and welcome them as a part of Australian society. 
Spirit of Eureka stands resolutely opposed to the racism, hatred, bigotry, ignorance and evil of the reactionary white supremacist, ultra-nationalist, fascist ideologies of the far-right that attempts to weaken and divide the working class along lines of colour, religion, gender and nationality.
Spirit of Eureka takes inspiration from the Eureka rebellion on the gold fields of Ballarat in 1854. The neo-Nazi far-right in this country has long tried to claim the legacy of the Eureka rebellion and usurp the Southern Cross flag as their own. They ignore and twist the facts in order to paint it as a symbol of white supremacy and right-wing nationalism.
But the truth speaks for itself. The Eureka rebellion united people from over 20 nationalities, as well as different cultures and religions. It was the birthplace of Australia's multiculturalism and democracy. The rebels saluted and pledged allegiance to each other and their flag. Rebel leader and Italian miner Rafaello Carboni famously declared: "I call on my fellow diggers, irrespective of nationality, religion or colour, to salute the Southern Cross as a refuge of all the oppressed from all countries on earth." It is this sentiment that represents the true spirit of Eureka. It has remained an inspiring symbol of unity, solidarity and defiance for the working class and our unions for 165 years.
We must never allow the neo-Nazis and their sympathisers to smear our flag with the filth of their reactionary ideology. At this time when the far-right is being emboldened in Australia and around the world by the racist and Islamophobic dog whistling of parliamentary politicians and the main stream media, it is imperative that those of us who stand opposed to the rise of fascism in Australia do not abandon our most precious symbol of working class unity to those who would use it as a symbol of hate to divide and weaken us. We must deprive them of the room to use it by raising it higher and more often in all of our struggles for real democracy, workers' rights, justice, equality and a multicultural and independent Australia.
Spirit of Eureka is determined to do its part in the fight against the far-right and to keep the true spirit of the Eureka rebels alive.
Spirit of Eureka, March 17th 2019