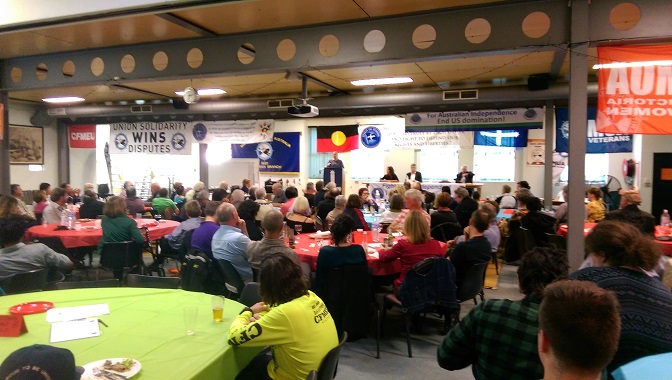 DEMOCRATIC AND WORKERS' RIGHTS UNDER ATTACK – THE FIGHT CONTINUES!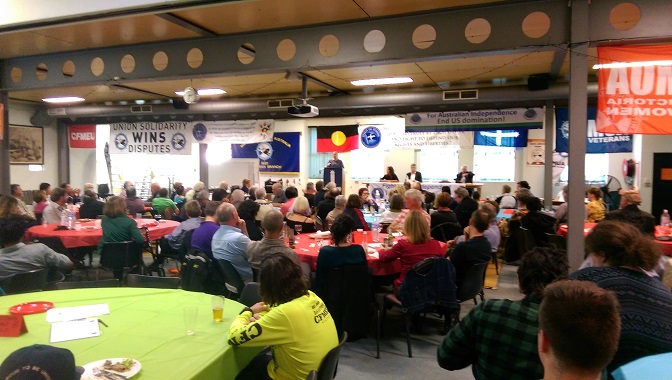 On Thursday November 29, over 150 people, including union officials and members, community activists, and Spirit of Eureka supporters gathered at the Maritime Union of Australia Hall in Melbourne to celebrate the 164th anniversary of the Eureka Stockade.
Proceedings were MC'd by former comedian and now lawyer, Corinne Grant, and guests heard inspiring and thought provoking speeches from Shirley Winton (Spirit of Eureka member), Lidia Thorpe (Gunnai-Gunditjmara woman, First Nations activist), Greg Barns (democratic and civil rights lawyer), and Dave Noonan (National Secretary CFMMEU Construction Division).
The annual Spirit of Eureka Award was presented to Dave Noonan on behalf of the CFMMEU Construction Division for their resolute struggle in defense of workers' rights and the Eureka flag. This year's award was a unique, one of a kind, hand painted picture by young artist Harley Kewish, son of one of the Longford maintenance workers who were the recipients of last year's award.
Below are some extracts from Spirit of Eureka member Shirley Winton's speech, followed by some photos from the night. Other speakers' speeches will be posted soon.
"164 YEARS ON, THE STRUGGLE CONTINUES!" – Shirley Winton
This commemoration of the Eureka rebellion is being held on the stolen Aboriginal land of the Wurundjeri people of the Kulan nation. We acknowledge that the land was violently seized and occupied by the British imperialism. It was never ceded by the Indigenous people who have continued their inspiring struggle for 230 years from the first landing by Captain Cook in 1788. The Frontier Wars are continuing today. We uphold the First Nations Peoples fight for a genuine Treaty and self-determination.
Why do we commemorate and celebrate the Eureka Stockade after 164 years. Some say it is no longer relevant and belongs only in history museums and library books collecting dust. And of course there are those in power today who fear the inspiration of Eureka in working people's struggles.
They try to rewrite, bury or simply cut out the ordinary people's history altogether and replace it with their ruling class history and stories.
We honour the 10,000 Eureka rebels and their supporters, some of whom paid with their lives, in a united fight for justice and a real democracy for all working people. Eureka and its flag are enduring and inspiring legacy and symbol of ordinary people's fight for a better life for all and a more just world.
The legacy of Eureka's fighting spirit, of collective solidarity in defiance of injustice has not been defeated and continues today in many working people's struggles, in unions and communities.
Eureka was far more than a rebellion resisting the oppressive British colonial authority, the army, police and the rich squattocracy.  Eureka rebels put forward far-reaching demands and a vision of ordinary people– a just, truly democratic and independent Australia for the working people.
Eureka gave birth to Australia's militant union movement and multiculturalism of a fair go for all.
For 164 years Eureka flag has proudly flown above many battles in workplaces and communities. Many generations of migrant workers have proudly carried Eureka flags in workplace struggles. For 164 years working people from all corners of the world, cultures and religions united in struggle under the Eureka flag.
The demands and a vision on which Eureka rebels united and fought for are still with us today, as relevant as ever – genuine democracy and rights for the working people, fair go for all, taxing the rich not the poor and independence from big powers.
The rich squatters and their British aristocracy have been replaced by some of the biggest multinational and local corporations who continue to steal the land of the First Nations Peoples, exploit the natural resources and workers' labour, pay very little tax or refuse to pay any at all. The hard earned taxes paid by ordinary working people are siphoned off away from public heath, education, housing and used to subsidise profiteering big business.
In 1854 the British colonial aristocracy ran the country. Today it's the multinational corporations who run this country. Class relations have not changed in the past 164 years, and that's why Eureka and its flag are still as relevant as ever – inspiring unity, courage and a fight for justice, democratic rights of working people and a better world.
The struggle continues! And we honour the Eureka rebellion by continuing their legacy today.
Importantly, genuine democracy and justice in Australia will not be achieved without the First Nations People winning their rights and sovereignty.