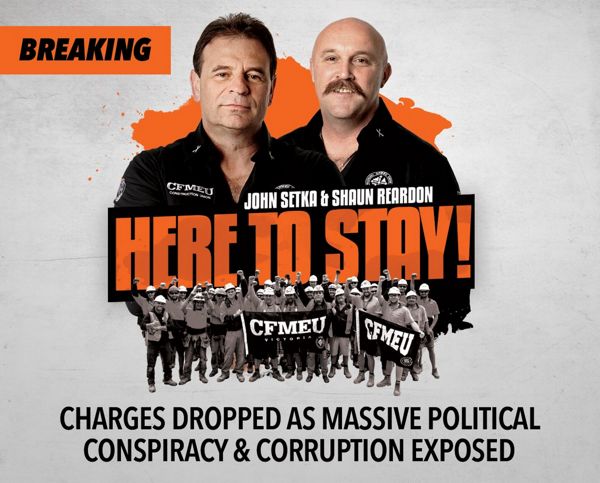 This article came from the CFMEU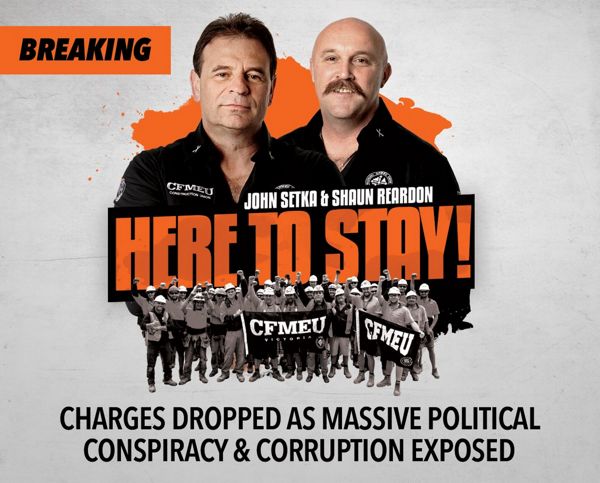 http://www.youtube.com/watch?time_continue=24&v=LM1XHxgZ8-A
In a major victory for Australian workers, charges against two CFMEU Victorian Construction officials were dramatically dropped at the Melbourne Magistrate's Court this morning.
The CFMEU has welcomed the decision by the Director of Public Prosecutions to withdraw blackmail charges against Victorian Branch officials Shaun Reardon and John Setka.
Quotes by John Setka and Shaun Reardon:
"This decision is a major victory for all workers in this country.
"It is difficult to see this case as anything other than a conspiracy among those with vested interests in ensuring workers in this country are not adequately represented.
"This case was the culmination of a political witch-hunt against unions driven by Liberal Governments for over four years.
"This court case has nothing to do with workers safety or rights, it's always been about criminalising unions in this country.
"This matter should never have made it to court and we are grateful the DPP has now recognised that.
"These charges were laid on the basis of a complaint to the Heydon Royal Commission. It's extraordinary that the original complainants were never interviewed before the decision to press charges.
"It has emerged during this committal hearing that the witness statements to the Royal Commission that these charges were based on had been changed 41 times in one case and 18 in another.
"The CFMEU's campaign was about saving lives. And our penalty for that is to be targeted, prosecuted and fined by government agencies and the regulators.
"The union thanks its legal team, Gordon Legal, and Senior Counsels Neil Clelland and Robert Richter.