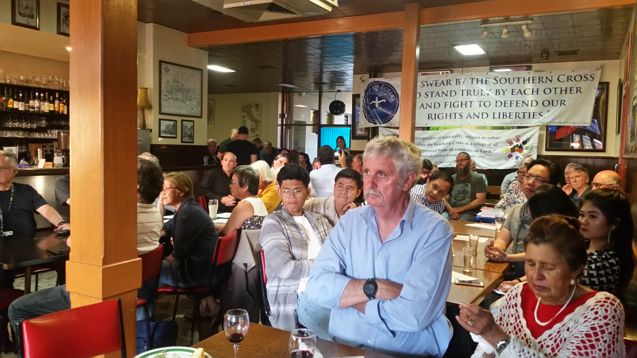 27/11/2017 – Railway Hotel, North Fitzroy, Melbourne
"Continuing the fight for workers' rights"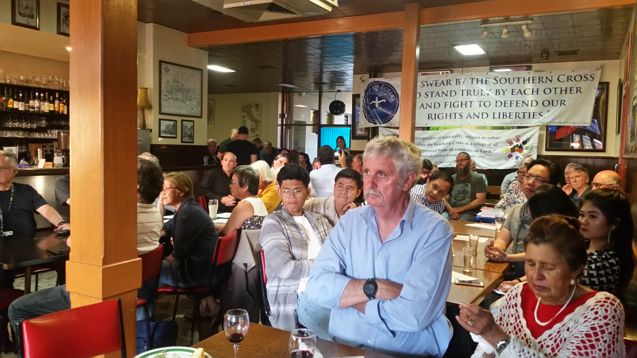 The 163rd Eureka Stockade anniversary in Melbourne was celebrated in honour of 59 Longford Esso workers and attended by 90 supporters.  The theme of this year's anniversary was "Continuing the fight for workers' rights – celebrating the spirit of Eureka in Australia's working class struggles".  The Anniversary celebration was attended by 20 Longford workers and their partners, union officials and members from AMWU, AWU, ETU, MUA , CWU, activists, and supporters of Spirit of Eureka.
For more than 160 days Longford Esso (Gippsland, Victoria) maintenance workers and their supporters have been on a community picket resisting ExxonMobil (Esso parenting company) savage attacks on their wages and working conditions.
The celebration was opened by Margaret Williamson, a descendant of the Eureka Stockade rebels, acknowledging the First Nations people as the custodians of this land who never ceased fighting for sovereignty.   Margaret told the gathering, "although I descend directly from a family of Eureka rebels, I believe all who continue the fight for the rights and justice of working people are descendants of Eureka rebels".
Dirk van Dalen, CFMEU worker and Spirit of Eureka member, spoke on behalf of Spirit of Eureka, welcoming and thanking all for coming to the anniversary to pay tribute to the Eureka rebellion and Longford Esso workers.
Dirk spoke to a Power Point Presentation on the continuing relevance and inspiring spirit of the Eureka rebels throughout the 163 year history of Australia's working class struggles.  The impoverished miners fought against the oppression and injustice of the British colonial authority and demanded real democratic rights, justice and independence from British colonial rule.
Dirk compared the 1854 oppressive conditions of the impoverished miners' struggling against heavy licence fees imposed by the rich British squatters and aristocrats who paid no tax, to today where the rich multinational corporations are still not paying taxes – ExxonMobil being one of them.  "Replace squatters and aristocracy with multinational corporations, and you have to wonder just how much has really changed 163 years on!"
The struggle of the diggers was for justice, for democratic rights, and independence. At its core was a vision for a fairer, better society for ordinary people.
Our union movement too fights for more than just wages and conditions. It fights for justice. It fights for equality. For democratic rights and fairness. And at its core too lies a vision of a better society for ordinary working people.
But despite all the challenges, and despite all the attacks, I know that Australia's working people can overcome them.
Because I know that when workers stand together shoulder to shoulder united in struggle;
Because I know that when we come together to fight for the best interests of all working people;
Because I know that when we stand defiant, determined and united;
Because I know that when we remember the spirit of Eureka,
that we have the power to not only defeat the attacks of multinational corporations,  and the power to change governments, but that working people have the power to change society for the better.
And I believe that's what we should aim to do.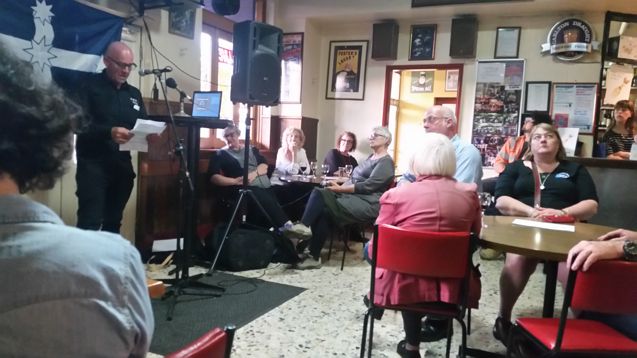 The next speaker, Craig Kelly, Assistant State Secretary of the AMWU, praised the Longford workers' initiative and unflinching resilience.  He commended the Longford workers for keeping the struggle in their hands, organising, co-ordinating and strategising the campaign themselves from the Longford picket line, a 3 hour drive from Melbourne. 
In what is becoming a regular pattern by multinationals operating in Australia, Longford Esso terminated the Longford EBA and demanded workers sign a new agreement that would cut wages by more than 30%, introduce longer working hours and longer off-shore shifts.  The workers refused, the company sacked them, and had the new EBA signed by a small group of workers at one of the company's sites on the other side of the country.  A community picket was set up and the company is flying in FIFO workers.
The campaign is now reaching out to more unions and communities across the country.  Meetings with Longford workers are now being held in workplaces and communities; funds are being raised for workers and their families across the country.
Craig pointed to the greed of the companies and Esso (ExxonMobil) who controlled the oil and gas fields in Bass Strait and contracted the workforce to UGL labour hire company. While they have ruthlessly sacked workers who were not prepared to see their pay and conditions slashed, and have replaced them with unskilled and cheaper FIFO scabs, all to increase their profits from exploiting Australia's natural resources, the Esso (ExxonMobil) monopoly has profit-shifted to overseas tax havens and conspired to pay no Australian tax at all!
Craig told the meeting, had Esso (ExxonMobil) actually paid company tax on their billions of dollars in profits, this would have provided more funds to employ many thousands of nurses, teachers and apprentices just from the foregone taxes.   While consumers are paying record prices for their domestic residential and industrial gas supplies, the ExxonMobil monopoly is sitting on vast, untapped reserves and exporting our gas, to keep their profits high. The workers at Longford are fighting for their jobs, their families and their communities, and they are in the front-lines of the fight for all Australian workers dominated by multinational monopolies.
And just imagine what would be possible if the greedy multinationals were nationalised and the benefits of these resources flowed through to the people! (Spirit of Eureka)
Mal Wood, Longford Esso worker and AWU delegate on the community picket line spoke passionately of the workers determination to continue their battle with Esso (ExxonMobil) not only to defend the hard won conditions of Longford workers, but for all the Australian working people.
The campaign has now extended its focus on ExxonMobil getting away with paying no taxes in Australia and raking in huge profits made from Australian gas and oil by Australian workers.  The workers and community have just launched a fb page Make Exxon Pay https://www.facebook.com/Make-Exxon-Pay-1525763867537275/
To loud applauds Mal declared that workers are the backbone of this country who create the wealth and profits for multinational corporations.  He was confident that Longford workers' determination and support from other unions and community will bring victory.
The 59 Longford workers were determined to keep going until they won –"One day longer, one day stronger" was their motto. Like the miners of Eureka, they knew their cause was just and they were not going to back off.
Mal praised the workers for their solidarity and the families and communities for their support.  He thanked the Spirit of Eureka and unions for encouragement and support, and having the honour of receiving the Eureka Award.
During the meeting, word came through of a new dispute at Webb Dock (Melbourne Ports) that had just broken out. Will Tracey, Deputy National Secretary, with other MUA officials arrived at the Eureka Anniversary, directly from the Fair Work Commission to address the meeting.  Maritime workers in Melbourne were being presented with another CUB and Longford battle.
VICT and ICTS (one of the world's biggest terminal operators) locked out MUA from EBA negotiations when members refused to sign a new agreement that decimates the current industry rates, penalties and conditions. The terminal operator refused to negotiate with the union further and got the new substandard agreement signed by five workers from another port. A community picket was set up that night and holding firm.  The Delegates and officials from the MUA who had attended the meeting for a period had to leave early, but carried with them the well-wishes of the meeting.
Someone pointed out that the ruling class has a unified co-ordinated strategy to smash organised labour, and unions will have to unite and develop a co-ordinated strategy, and not solely rely on getting Labor into power, to roll back attacks.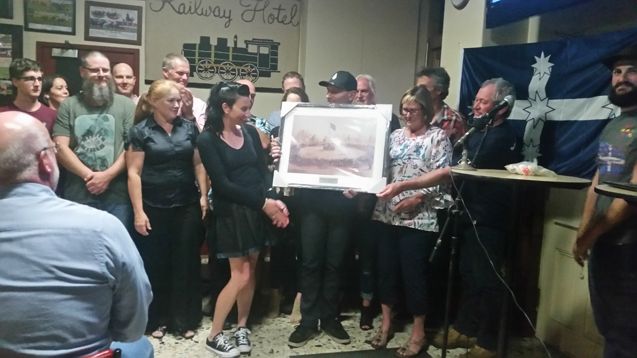 After discussion, the Longford workers and their partners were called up to receive the 2017 Spirit of Eureka Award, a framed reproduction of the rebel miners swearing allegiance to the Southern Cross, along with a Spirit of Eureka badge for every worker on the picket line. The plaque read, "Awarded to the Longford maintenance workers in recognition of their inspiring struggle".
The workers were visibly moved and honoured to have received this year's Eureka award.  They paid special tribute and thanks to their partners who have stood with them without wavering.
Then, to some surprise, a second award was announced, this time presented to the Spirit of Eureka Chairperson Kevin Bracken for his "dedicated service to the Australian working class". Kevin is a former MUA state secretary and highly respected in the working class movement.
Kevin asked all to stand up and raise their clenched fist as he led the whole meeting in reciting the Eureka Oath, "We swear by the Southern Cross to stand truly by each other and fight to defend our rights and liberties".
Dirk Van Dalen's Eureka Day speech will be posted on the SoE (Spirit of Eureka) website in a fortnights time