Continuing the fight for workers' rights – celebrating the spirit of Eureka in Australia's working class struggles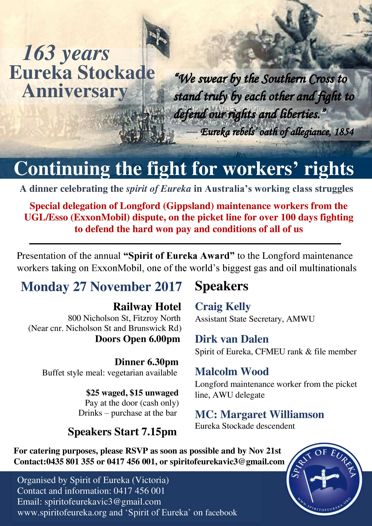 This year's Eureka Anniversary celebration is paying tribute to the Longford Esso (Gippsland) offshore maintenance workers currently engaged in a long battle with ExxonMobil, one of the world's biggest oil and gas multinationals (Esso's parent company), defending jobs and living standards of all working people.
The celebration will be attended by a delegation of Esso Longford maintenance workers, community and union members, and descendants of the Eureka Stockade rebellion.
The Longford Esso workers will be presented with the 2017 "Spirit of Eureka Award" in recognition of their courage and determination for more than 140 days on the picket line, fighting for all of us.
Be there and show your solidarity with Longford Esso maintenance workers continuing the fighting spirit of Eureka for justice in Australia's working class struggles.
Doors open 6.00pm
Dinner 6.30pm – Buffet style meal; vegetarian available
Speakers start 7.15pm
Monday 27 November
Railway Hotel
800 Nicholson Street, Fitzroy North
Melbourne
Dinner – $25 waged, $15 unwaged.  For dinner, please RSVP by 21 November on 0435 801 355, 0417 456 001 or by email to spiritofeurekavic3@gmail.com
Further details: https://www.facebook.com/events/1794830650814831/
In Unity
Spirit of Eureka (Vic)