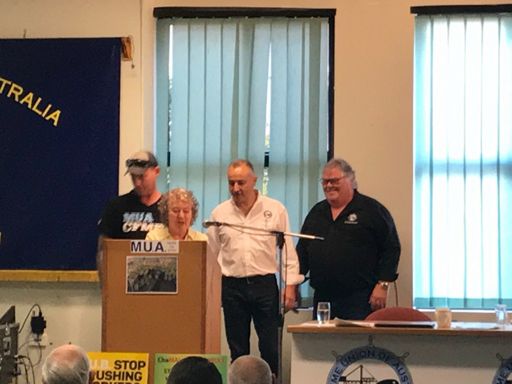 Shirley Winton addressed the Maritime Union of Australia – Victorian members meeting 31 October, on behalf of Independent and Peaceful Australia Network and Spirit of Eureka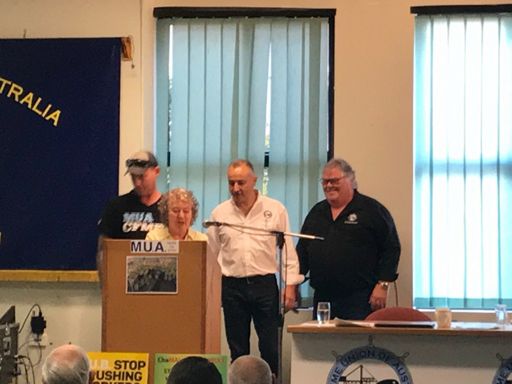 Independent and Peaceful Australia Network (IPAN) and Spirit of Eureka extend sincere thanks to the MUA-Vic. Branch members and officials for your tremendous support to IPAN's national conference and generous donations to IPAN's work for an independent and just Australia.
We feel especially honoured to receive the $500 generous donation from the MUA Melbourne Tug Boats members because this collection for IPAN was initiated and raised by the rank and file members themselves.
This donation will be used in our work building a broad people's movement for peace, justice and Australian independence; and for IPAN's Peace and Justice are Union Business working group.
Workers and ordinary working people are the main casualties of imperialist profiteers' wars.
We are the tens of thousands who get killed, injured and maimed, left homeless, living in poverty and hunger, by the super-powers' and multinational corporations' wars. We're the so-called collateral damage, the new sanitized description of mass slaughter.  And we are the refugees who flee the devastation of imperialist wars.
People's taxes are siphoned off from people's needs to imperialist wars.
Maritime workers have always been the staunchest supporters and activists in the anti-war and peace movements in Australia – against imperialist wars and in solidarity with our sisters and brothers around the globe.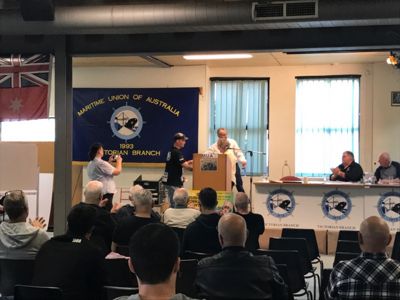 This donation is especially appreciated as it comes during one of the fiercest and savage attacks on workers and their unions in Australia's history.  We don't have to look far to see that it's the same corporations who start and profit from imperialist wars are also driving the ruthless war on the working class and unions.  It is all about class.
IPAN and Spirit of Eureka (one of the founding organisations of IPAN and organisers of the recent conference) stand in solidarity with you in the fight for workers' rights.  You can count on our support.
IPAN thanks the MUA-Victorian Branch members and officials for their continuing solidarity and support to the people's movement for peace and Australian independence from big powers' domination.