by Richard Buckdale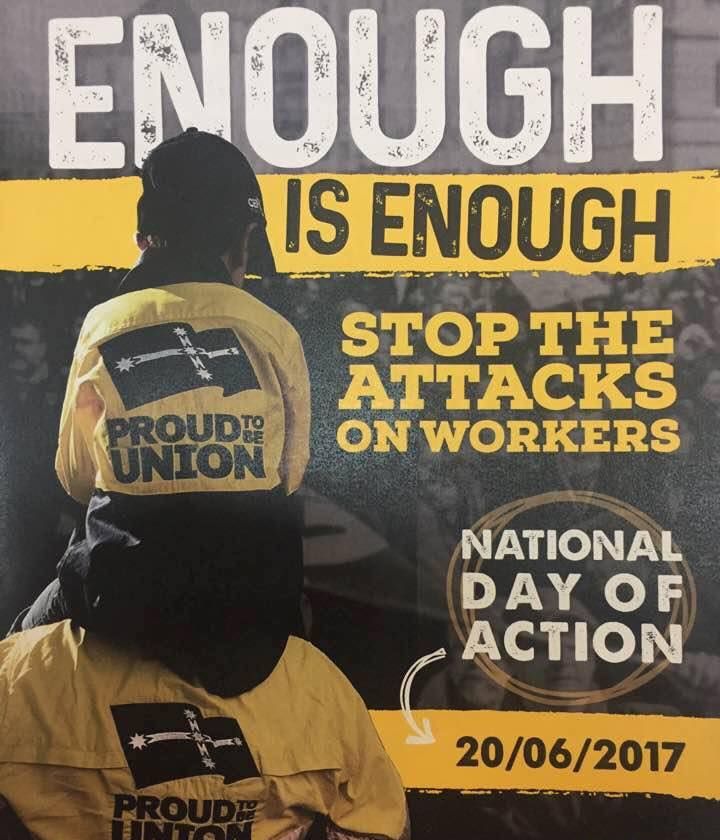 On Tuesday June 20th, throughout Australia, there were National Day of Action rallies demanding a stop to attacks on workers. The rallies were called by the CFMEU and supported by workers from a variety of unions including the MUA, ETU, AMWU, metal workers, plumbers, FSU, NSW Teachers Federation and NTEU.
The Sydney day started at 11 am with workers meeting and assembling at Belmore Park, opposite Central Railway.
Our Spirit of Eureka flyer was handed out here and was extremely well received: "Good onya, mate", "Keep up the good work, Comrade", and "Spirit of Eureka, good, mate" were typical responses. The front-page heading "Code Red" resonated widely with workers, many of whom repeated the expression and often read the whole leaflet there-and-then rather than putting it away for reading later.
At Belmore Park, the Spirit of Eureka (SoE) banner 'Fight for an Independent Working Class Agenda' was placed with poles beside a tree whilst our flyer was distributed. About 11.30, two young CFMEU workers, not SoE members, picked it up, read the banner's slogan, and asked if they could hold it up during the impending march to the Hyde Park Archibald Fountain.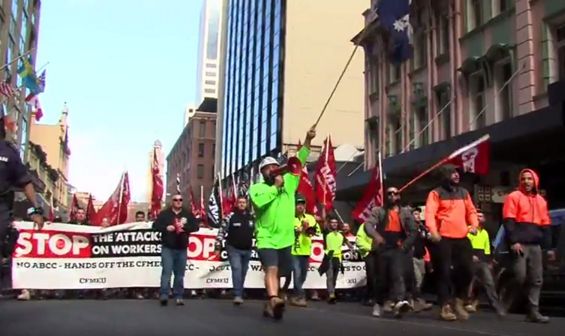 The march of more than 10,000 workers and supporters began. What a thrill to see the Eureka flag held high leading the march!
And what a thrill to be marching with two unknown workers who spontaneously held high our banner!
The bosses' attempt at intimidation
The Australian Building and Construction Commission (ABCC) chief, Nigel Hadgkiss, sent a letter to construction workers with an implied threat if they were to take part in the National Day of Action rallies. An e-alert published on the ABCC website says in part:
"The Australian Building and Construction Commission (ABCC) is aware that a series of industrial rallies have been scheduled to take place at various locations on 20 June 2017.
The ABCC seeks to remind building industry participants, including union members and employees, of their rights and obligations [my emphasis] under the Building and Construction Industry (Improving Productivity) Act 2016 (BCIIP Act).
Subsection 7(2) of the BCIIP Act provides that where an employee fails to attend for building work or absents themselves from building work, that absence is not industrial action if it has been authorised or agreed to by their employer in advance and in writing. A failure to obtain authorisation or agreement for a stoppage of building work in advance and in writing may constitute industrial action."
This needs to be taken in conjunction with the BCIIP Act's penalties for unauthorised industrial action, which is illegal by this act and can attract fines up to $36,000 for each person taking part.
Regarding this, a CFMEU worker at the rally said, "We've now had two illegal rallies. They sent us all letters telling us all we'd be fined if we went on strike, but we went anyway. If we all stick together, what can they do?"
This typical rank-and-file CFMEU viewpoint displays the logic and courage of these workers against the most vicious boss victimisation of the ABCC "legitimised" by the BCIIP Act.
The CFMEU Construction Division workers have been well led by Dave Noonan, their National Secretary, who, speaking on the Archibald Fountain platform, said:
 "Construction workers who received letters signed by a person called Nigel Hadgkiss (resounding boos from the workers) designed to attack working people and treat us like criminals, were asked to remind ourselves of our rights and obligations.
So, I'm going to.
You have the right to stand up for your rights at work (much applause).
You have the right to say 'No' to jumped-up bureaucrats who are paid hundreds of thousands of dollars a year to steal your wages and conditions."
Noonan: "Who built this city?" Mob: "We did." Noonan: "Who built this country?" Mob: "We did."
Clearly, the ABCC attempt to intimidate failed.
Behind the resurrection of the ABCC
We're all aware of the hard work put in by Malcolm Turnbull and Michaelia Cash in horse-trading with the cross-bench to ensure the successful resurrection of the ABCC in November 2016 but who was pulling the strings?
A Business Council of Australia (BCA) media release of 1 February 2016 under the heading "BCA Calls for the Reinstatement of the ABCC" had this to say:
"The Australian Building and Construction Commission (ABCC) is an important piece of the jigsaw in ensuring the construction industry is more productive and cooperative."
"All participants in the industry – employers, employees and unions – have a responsibility to ensure their workplaces operate lawfully."
"If the Royal Commission showed us anything it's that we need a strong and well-resourced ABCC to keep unlawful and ultimately unproductive behaviour in check."
"The Business Council urges all parties to work with the government to restore the ABCC so that the type of conduct uncovered by the Royal Commission cannot continue to occur."
The BCA is the peak body representing the most powerful corporations in Australia—it not only sets agendas, it uses the huge resources of its member companies to see those agendas through to fulfilment. Keeping "unproductive behaviour in check" is the way to ensure super-profits for its members. CFMEU stop-work meetings about a construction worker's death and about trying to improve safety conditions, all fall within the BCA's ambit of "unproductive behaviour".
Then there's the Master Builders Association (MBA), the peak body representing corporations involved in construction. It has for years sung from the same hymn book as the BCA regarding the construction industry. In a media release of 20 November 2016, entitled "Master Builders thanks senate for ABCC", the MBA says this: "Master Builders is extremely pleased that the Parliament has delivered what has been the number one priority for its members for many years."
"Master Builders supported the original ABCC, opposed its abolition, and have called for its restoration ever since. This outcome is the most significant event for the sector in recent times."
Harmonising with the BCA and MBA are other bosses' associations such as the Housing Industry Association Limited (HIA), the "voice of Australia's residential building sector", which in a 20 November 2013 media release entitled 'ABCC must be restored' said "The abolition of the Australian Building and Construction Commission (ABCC) and the watering down of the building industry laws previously administered by the ABCC was the wrong decision and were matters that HIA publicly opposed."
"Re-establishing the ABCC is essential to boosting Australia's productivity and to ensuring law and order prevails at our nation's building sites."
To workers' ears, this harmony is noise. They know too well that the ABCC spells out nothing but more injury and deaths. As Dave Noonan said at the rally, "Time and time again we see construction workers killed, nearly one a week, and employers get away with no penalties or a slap on the wrist."
 Stand Up, Fight Back
Along the march to Hyde Park, workers and activists chanted "The workers united will never be defeated".  Through the megaphone boomed the query "When workers are under attack, what do we do?" and the defiant mob responded, "Stand Up, Fight back"!
Mark Morey, Secretary Unions NSW, interviewed on the march said, "Taking money out of the back pocket of workers and the penalty rates decision is an absolute disgrace. It's time for workers to stand up and defend our conditions."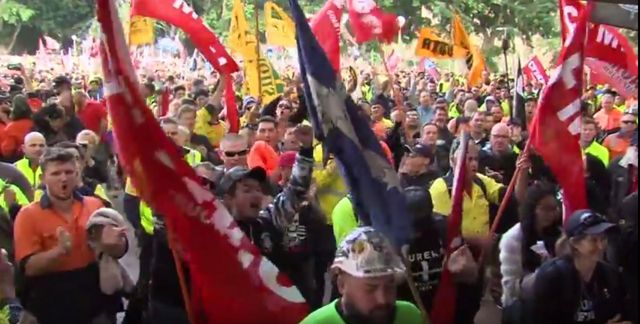 On the stage at the Archibald Fountain, Rita Mallia, President CFMEU NSW Construction and General Division, said, "You can all be very proud today. Coming out in full will send a message to the Federal Parliament and the ABCC."
Brian Parker, State Secretary of the CFMEU NSW Construction and General Division, then made a toast, "Here's to all the workers out there that were told they were going to get fined, that they were going to get prosecuted if they turned up today."
Parker: "One, two, three and a bit"
Mob: (inaudible, perhaps…) "Nigel Hadgkiss, full of shit."
Dave McKinley, State Secretary ETU, then spoke, "We've all heard about the ABCC and the code of practice. It's there for one reason and one reason only: to make those miserable bastards down that end of town rich and take it out of your pocket."
Parker: "They think they can split us, divide us… and I say to them, 'Today, Sydney says to you, you will never beat us, you will never divide us, and we will win.' "
The militant mob, led by Parker, then chanted: "The workers united will never be defeated."
Paul McAleer, Secretary MUA Sydney Branch, then took to the stage: "The fact that you have all come out today in support of each other and for your union demonstrates to all those rotten bosses and all those rotten politicians that no law is big enough, tough enough, or ugly enough for us not to fight it or for us not to break it." (Much applause)
"The ruling class, the Liberals, the Nationals, the One Nations…all of those filthy rotten reactionary parties, they seek to divide us by race, they seek to divide us by gender, they seek to divide us into diversified sectors for all the things that make us different. But when I look out into the crowd today, I don't see one colour, I don't see one race, I don't see one gender, I see a united trade union movement." (Loud applause)
"A rise in inequality can only be defeated by a rise in militancy. A rise in attacks on the working class can only be defeated by a rise in attacks on the ruling class."
McAleer: "Is the ABCC an unjust law?"
Mob: "Yes, it is."
McAleer: "And, what do we do when laws are unjust? We break them. What do we do?"
Mob: "Stand up, fight back".
Mark Morey: "It is time for the politics of hate to be brought to a stop in this country. It's more important than ever to stand in solidarity together because we cannot win this by ourselves, we have to win this as a collective…We are the only social movement in this country, big enough, strong enough to stand up and bring the community with us and send a clear message to this Government, 'Stuff the ABCC.'"
Julia Angrisano, National Secretary Finance Sector Union (FSU): "The laws are broken for all working people in this country. We're living through a time when the corporations and the very rich have become far too powerful… This attack is not just on this industry but it is an attack on all of our unions, all of our workers, and we're not going to stand for it."
Michael Thomson, Secretary NSW Division NTEU: "When workers are under attack, what do we do?"
Mob: "Stand up, fight back".
Tim Ayres, NSW State Secretary AMWU: "The system is broken. We need to fight for the right to strike and I'll tell you what—you don't fight for the right to strike by stopping going on strike."
Rita Mallia closed the rally with the following words: "It [this rally] is a very clear message that the likes of the Australian Building and Construction Commission—that is funded to the tune of hundreds of millions of dollars of taxpayers' money to prosecute workers, to prosecute trade unionists, all in a bid to try and reduce their power, and reduce their capacity to organise—has inspired us to fight back.
They won't win. The ABCC will be seen off. The Turnbull government will be seen off.
And also, a message to the opposition: they need to commit to turn round the clock that is the ABCC and the unjust industrial relations laws and they must come out publicly to defend workers."
Rita Mallia: "What do we do when we're under attack?"
Mob: "Stand up, fight back."
Rita Mallia: "Thank you all. We'll see you soon."
Conclusion
This National "Stand Up, Fight Back" day was to protest attacks on workers through the unjust industrial relations laws and the bosses' ABCC with its infamous building code as well as the extension of the 'code' to come fully into effect on September 1. Information about the code and its extension can be obtained from the Spirit of Eureka National Day of Action flyer.
The Sydney rally was an inspiration to all who are working for an independent working class agenda. It is an important step on the way, showing militant working-class solidarity and determination to win against ruling class injustice.