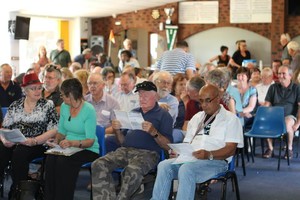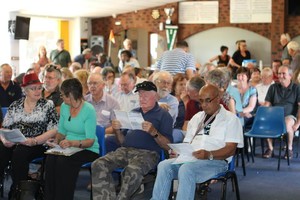 by Pas Forgione
More than 100 people attended a heated community meeting in Ceduna, South Australia, on November 7, to hear Assistant Minister for Social Services Alan Tudge discuss the Healthy Welfare Card.
Ceduna is the first region to participate in the roll-out of the federal government's Healthy Welfare Card. From February, all working-age welfare recipients — 800 people or about 20% of the population — will have 80% of their payments stored in a cashless account, accessed through a debit card that can be used at stores with EFTPOS, but not on alcohol, gambling or pornography.
The proportion of payments being restricted and the blanket nature of the scheme — not only will all working-age people be affected, but there will be no exemptions of any kind and no way for people on welfare payments to exit the program — make the Ceduna "trial" unprecedented.
The turnout for the fiery event was impressive for a region with only a few thousand residents. However, due to short notice — the meeting was announced only a few days before — only a small number of people from the remote Aboriginal communities several hundred kilometres away were able to attend.
Income management will once again be discriminatory, with 72% of Ceduna residents forced onto income management next year being Aboriginal people.
Many angry locals connected the lack of warning about the public meeting with the government's limited consultations on the Healthy Welfare Card, which were mostly with heads of community organisations rather than affected individuals (as even Ceduna Mayor Allan Suter, supporter of the scheme, conceded in Senate hearings). Many residents said they were shocked when they found out about the scheme for the first time.
Members of a group fighting the Healthy Welfare Card that has been circulating a petition and writing to politicians, stormed out of the meeting, dissatisfied with Tudge's responses to questions.
Members of three remote Aboriginal communities — Yalata, Tia Tuckia and Oak Valley — spoke about their feelings of being betrayed and tricked, emphasising that they never wanted and were never asked about a blanket system of income management affecting all working-age Centrelink clients.
Their preferred model was one that allowed individuals to volunteer for the program, with a compulsory option for the quite small number of residents suffering from alcoholism, financial mismanagement or other crises.
One of the highlights of the forum was when Yalata Council chairperson Maureen (Mima) Smart spoke. Yalata Council is one of several Aboriginal organisations that, along with Ceduna Council, signed a memorandum of understanding (MOU) that the government has frequently referred to as evidence of widespread local support. She told the crowd that as far as she was concerned the cashless welfare card was meant to be "only for a few of them, not for all of them … it was not meant to affect everyone".
Keith Peters, chairperson of the Oak Valley Council, another organisation that signed the MOU, also spoke against blanket income management for all working-age Centrelink clients in Ceduna. He emphasised the importance of remote Aboriginal communities being able to control their own programs, calling on the "government to give us the money to look after our own problems".
Early on, Tudge repeatedly avoided using the phrase "income management". It was a clear effort to distinguish the Healthy Welfare Card, brainchild of billionaire miner Andrew Forrest, from the version of income management involving the Basics Card that has operated in the Northern Territory as part of the Intervention since 2007 and which over the past few years has been extended to a number of new locations.
Tudge portrayed the scheme as something new and untested that should be trialled, encouraging the community to "give it a shot". But a number of questioners reminded Tudge and the audience that the Healthy Welfare Card is just a tweaked version of an old, failed policy, noting the lack of evidence that the quarantining of part of someone's welfare payments has a positive impact on alcohol consumption, financial capacity and child wellbeing.
Local resident Zephatali Walsh cited the Commonwealth Parliamentary Library's 2012 paper, Is Income Management Working?, which stated there was a "lack of evidence relating to the effectiveness or otherwise of income management".
More recently, a 2015 report by the Parliamentary Joint Committee on Human Rights noted: "Rather than promoting independence and building skills and capabilities, it appears to have encouraged increasing dependence … and there is no evidence to indicate its effectiveness at the community level or that it facilitates long-term behaviour change".
Tudge was repeatedly questioned by residents as to why a policy supposedly meant to address substance abuse problems, which are experienced by small numbers of people, would be forced on so many with no history of financial or personal mismanagement.
In response, Tudge described the cashless debit card as "an ordinary debit card that would look and act like any other debit card" and which would be an extremely minor inconvenience to people. He said it would be much easier to use than the more restrictive Basics Card, which can only be used at some stores with EFTPOS.
But many people challenged his assessment of the inconvenience of cashless welfare. One woman, a sole parent, made reference to several Facebook groups in Ceduna that allow low-income people to buy and sell appliances, furniture and other goods cheaply, but where purchases can only be made in cash.
For low-income people, cash is still an important reality of life. The Reserve Bank of Australia's latest Trends in retail payments survey paints an interesting picture. Overall, the use of cash and cheques has declined while electronic transactions have increased, but critically, cash is still used "for the majority of low-value transactions, with around two-thirds of payments under $20 by cash". While the value of cash purchases might be falling, it remains the most commonly used means of payment.
The introduction of this latest version of income management — a punitive, failed scheme that has now been turbocharged — to Ceduna has been marred by the same problems income management has suffered from throughout its eight-year history.
These include the failure to properly consult with those affected and the refusal to pay attention to the research on income management. With an estimated cost of $2.5 million over the next few months simply to establish the technology needed for the Healthy Welfare Card, once again resources are being wasted that could fund long-neglected community services.