This article was a leaflet produced in Adelaide for the March In July Rally by people who agreed about the need for a broad-based campaign in response to the Coalition Austerity Budget.
"The crisis we face in Australia is not a budgetary one but a moral one.
….. a budget crisis has been manufactured to drive a radical conservative policy agenda, one that seeks to dismantle great institutions like our public health and education systems, which will be starved of the funds they need to ensure fair and decent outcomes for all Australians."
Ass.  Professor John Spoehr, Uni of Adelaide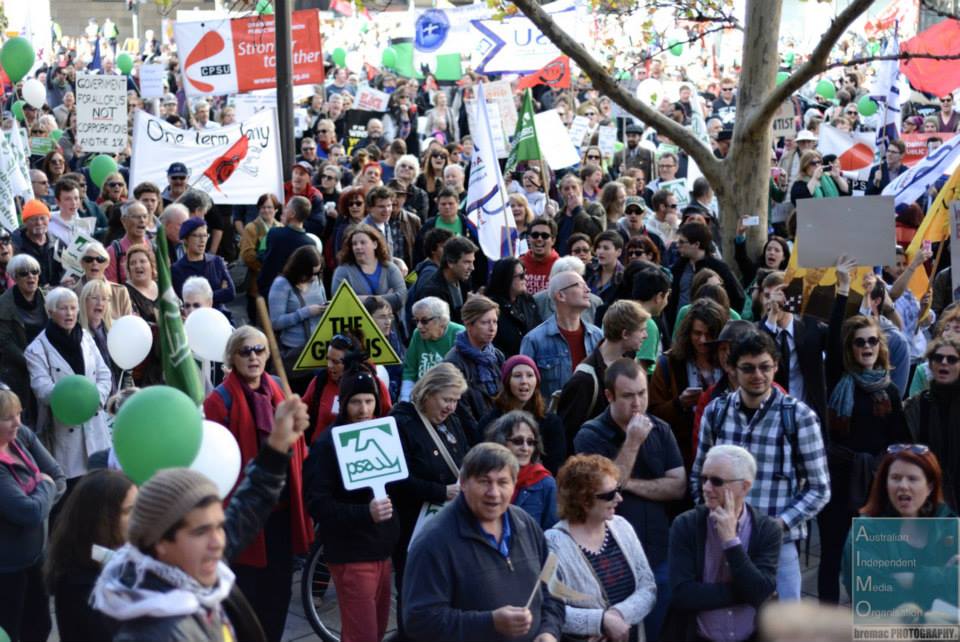 Q:  Is there a "budget crisis"?  No, Australia's low debt ratios are the envy of the industrialised world.  This "crisis" has been fabricated to justify its ideology of privilege and inequality.  Many commentators, from all walks of life, and both sides of the political spectrum, have called this budget "class war".  We may need to adjust our economy to tackle climate change, fluctuating prices for our raw exports, an ageing society – and the fact that we haven't effectively planned for any of this. We should have had an effective Mining Tax throughout the mining boom, generating the funds to reshape the economy after the boom.  Instead income from the boom was squandered, mostly on tax and other concessions to the rich.  But there is no "crisis". 
Q:  Can money can be found elsewhere in the budget?   Yes – no increase in military spending, no F-35 Fighters, cut the diesel fuel rebate and upper income super concessions, no business tax cuts, no subsidies to carbon-intensive industries. Bring back an effective mining super-profits tax.  Tighten up on tax evasion by the rich – individuals and corporations.  (E.g. recent revelations that our largest coal-miner, Glencore, has paid almost no tax over the last 3 years, despite income of $25 billion.)
 Q:  Where do we go from here?   Populism rules the opposition parties at the moment, so stopping the budget is quite possible. But there are plenty of people in the ALP leadership who support the ideologybehind the budget.  (Who moved single parents onto NewStart? Who refused to raise NewStart?  Who expanded Income Management? …… etc)  Palmer is a billionaire opportunist, and can't be trusted.  Besides, horrific as this budget is, it is only a continuation of the neo-liberal policies of the last 20+ years, taking from the poor to give to the rich, with therationale that the trickle-down effect will make us all rich.  The reality is that it doesn't work – it simply increases inequality, and deals a death blow to the concept of a fair go. This budget is just the final straw.
We have to make the pollies feel the anger of the Australian people – not only on the streets – but through ongoing, sustained political action, through our organisations – unions, community action groups, churches, particular issue support/lobby groups, and political parties.  For such a campaign to be effective it needs to work towards a coordinating alliance or network of concerned individuals and organisations.
"Senators

, we demand that you v

ote for an

equitable and sustainable

Australia.

Vote against attacks on the most vulnerable."
Health
·

    

No Medicare co-payments;
·

    

Restore state hospital funding.
Education
·

        

Full funding of the Gonski model;
·

        

No deregulation of higher-education fees;
·

        

No increases in student loan costs.
 

Social Welfare
·

         

Full NewStart entitlements for under 30's;
·

         

No cuts to pension rates or further raising of pension age;
·

         
No changes to disability criteria, and full funding of Disability Support Scheme;
·

         

No cuts to public housing funding and homeless support schemes;
·

         

No cuts to child care rebates;
·

         

No cuts to Family Tax Benefits and super concessions for low income families.
Environment
·

         

Retain and strengthen the carbon tax, or bring in an Emissions Trading Scheme;
·

         

No fuel-tax re-indexation;
·

         

Restore renewable energy funding – fully fund the Climate Change Authority and the Clean Energy Finance Corporation;
·

         

Restore rail funding, oppose road funding increases.
Indigenous
    ·

      

Reject the $500 m cuts to Aboriginal funding.
This budget marks the end of an Australia where a Fair Go matters.  It can't be negotiated with – it must be rejected.  So we insist the Senate follow the demands of the overwhelming majority of Australians and ……..

'bust the budget'!