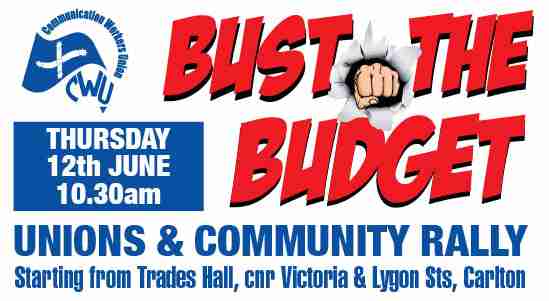 The article below is a leaflet from the Communication Workers Union in Melbourne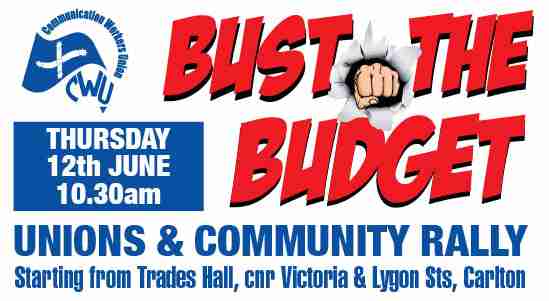 The 2014 budget will cut tens of billions of dollars of people's taxes from public health, education, welfare and social services; increase the cost of living for all ordinary people and change Australia for the worse. It will inflict more hardship on the young, the sick, the elderly, unemployed and their families.
 This harsh budget is only a start of the Big Business Council of Australia plans for more attacks on jobs and job security, abolition of penalty rates, more taxes on ordinary people and destruction of affordable government services for the people. At the same time company taxes will be cut by 1.5% from 30% to 28.5%. As it is already, some of the biggest corporations are getting away with paying as little as 20%, and even 10%, in taxes.
That's why on Thursday, 12 June we have to send a strong message to all political parties and politicians that this harsh budget is a No Go Budget!
The Communication Workers' Union calls on our members to come to the 12 June Rally. You cannot be sacked for attending a political rally, this is your right as an Australian citizen. Bring your families, friends and neighbours. We will gather at the CWU's large "Hands Off Aussie Post" banner and union flags mounted on a trailer next to the Trades Hall in Lygon St, Carlton from 10am.
These are key budget measures from a workers' point of view.
Under 30s unemployed will be on their own.
Young unemployed people will be completely on their own for the first 6 months after leaving school or university whilst looking for work, with no income support from government.
After those first six months, people will have to work for the dole (25 hours per week). After six months of work for the dole, people will
be on their own again, with no income support.
Under 25s will receive less income and be on a Youth Allowance.
Job seekers will be expected to take up any suitable work, and will need to relocate to wherever a job is.
No benefits will mean people under 30 will be forced to work for any wage just to survive.
Public Sector Jobs Slashed
16,500 jobs will be cut over the next three years from the ATO, ABC, SBS, CSIRO. The Royal Australian Mint, Defence Housing Australia and several other agencies are to be privatized, adding to more job losses.
Whilst Australia Post has been reprieved from privatisation in this year's budget, it has not be taken off the privatisation agenda in the future.
Fuel Tax To Rise
Twice yearly fuel excise indexation will be reintroduced, in line with inflation.
Family Payments Reduced for Many
Family Payments will be cut by $8 billion. Tax Benefits for low income families will be slashed, especially sole parents. Family Tax Benefit Part B (for single parent families) will now only be paid to parents of children younger than 6. Family Tax Benefit Part A and Part B will be 'paused' over the next years.
Dependent Spouse and Mature Workers Tax Offsets to be Abolished from 1 July 2014.
Health Care
Standard GP consultations, out-of-hospital pathology and imaging services will have a $7 co-payment fee.
People will also pay more for medicine. This is the start of dismantling of Medicare and opening the way for increases to more medical co-payments in the future.
Federal funding to public hospitals will be slashed by billions of dollars.
Education
Federal funding to the States for public schools will also be cut back hard. Higher education (universities) fees will go up making tertiary education inaccessible to many. Overall federal funding to education will be cut by billions of dollars.
Increasing the Age Pension – Qualifying Age to 70 years.
The qualifying age for the Age Pension is set to gradually increase to age 70 by 1 July 2035.
Pension Indexation to be Cut
Pensions currently rise in line with wages growth. Now pensions will rise only in line with the CPI. People dependent on pensions and welfare will fall far behind the community living standards.
Concessions for Pensioners
From 1 July, 2014, the Commonwealth government will cease funding certain concessions, including council land, and water rates, travel, phone, electricity and gas.
Disability Pensions
There will be stricter eligibility requirements for young people on Disability Support Pensions.
Super Guarantee Increase Delayed
The Superannuation Guarantee will rise as planned to 9.5% in July 1, 2014, but then remain at this level for the next 4 years instead of moving to 12%.
Fair Entitlement Guarantee
This scheme that ensures workers will be paid their entitlements if their employer goes out of business will now have a cap of 16 weeks' pay.
First Home Saver Accounts Scheme to be Abolished
In the meantime, the Government is spending $53.3 million on the Royal Commission into Trade Unions and approximately $100 million into the anti-union Australian Building and Construction Commission!!!