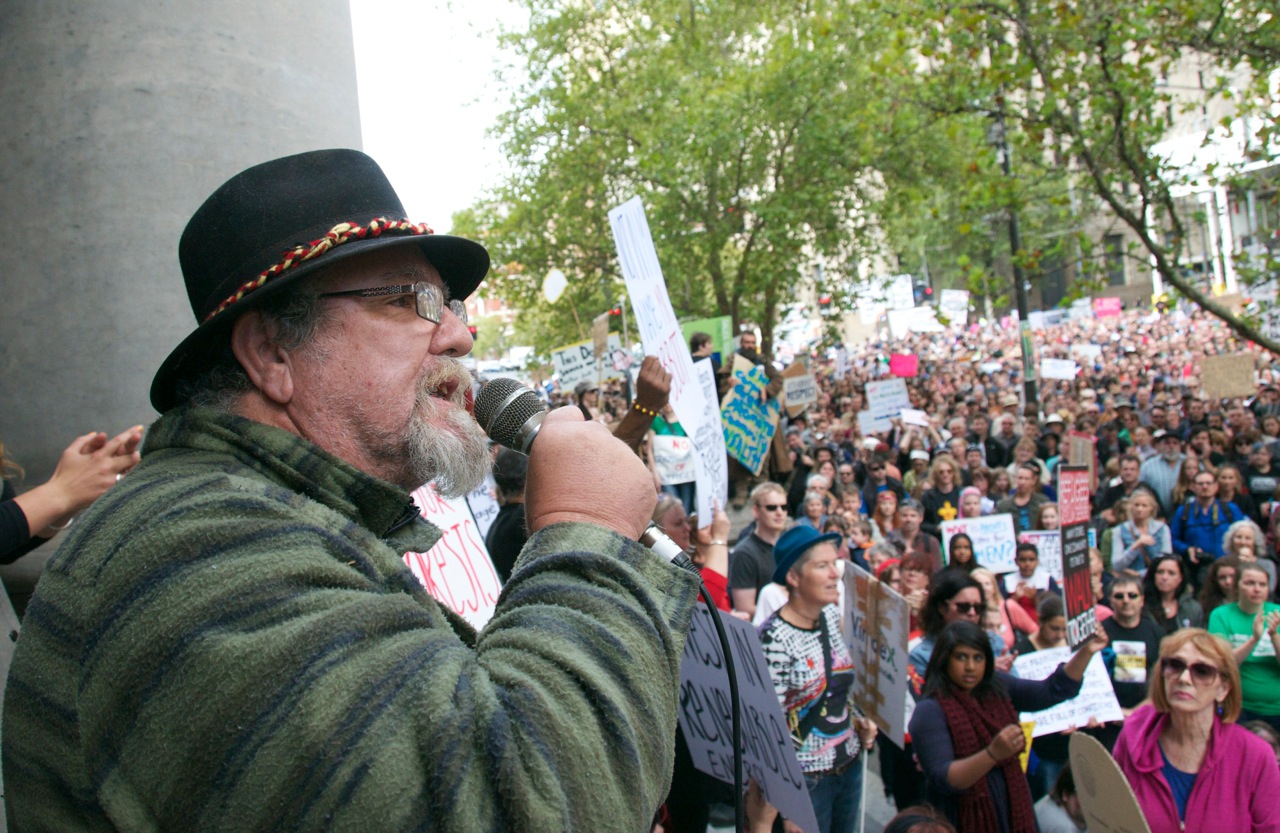 Karranjal John Hartley is from the Kuku Yalanji (Daintree region of Queensland) nation and a member of the First People First Culture Foundation (above) – March in March Adelaide 2014
Brothers and Sisters
We gather today in the un-ceded homelands and territories of the Kaurna Peoples. I speak today on behalf of my Family as a guest in Kaurna Country.
I also acknowledge the continuing sovereignty of all First Nation Peoples throughout our continent
It is an honour to be here in solidarity with you all today.
Brothers and Sisters
In our country, the long resistance of First Nation Peoples did not begin with
Tony Abbott and it will not end with Tony Abbott
This Country is the only commonwealth nation throughout the world – which has not entered into Treaties with First Nation Peoples.
First Nation Peoples know body and soul and all too well the lies, impacts and effects of the cult of rampant individualism and free marketers and the cold hearted policies of successive governments who act in their interest.
It is true we the First Nation Peoples are the oldest continuing culture on the face of the planet, yet, in 2014 in country that houses many of the world's economically rich – it is also true, we are among the worlds most impoverished and the fastest dying human-beings on the planet.
The reality for First Nation Peoples in over 225 plus years of resistance is that in our communities today – we are struggling with the highest rates of suicide in the world.
[The Australian Bureau of Statistics reported 996 suicides of First Nations people between 2001 to 2010. – Human rights activist Gerry Georgatos's research estimates that it is closer to 2000 suicides when other unnatural deaths are taken into account. Between 1 in 12 to 1 in 24 of all First Nations deaths are by suicide. In the last three years – Gerry Georgatos has estimated there have been another 400 suicides, a rise of 30 per cent per annum on the preceding ten years. By 2020 he estimate nearly every First Nations nuclear family will be touched by suicide]. Sourced: Stringer Website.
Brothers and Sisters
We share a country with the highest Indigenous incarceration rates, 1 in 18 adults and 50% – 50% of our youth are being now being incarcerated, Rates higher then black South Africa during the apartheid era
The highest infant mortality rates,
The highest illness through curable disease rates,
The lowest life expectancy rates and where trachoma a third world disease eradicated in most nations throughout the globe is still rampant.
We share a Country with the world's highest recorded rates of rheumatic heart disease, another third world condition linked to overcrowded housing,
A country where First Nation children are being removed from their families at over 10 times the rate for other children – at rates higher than at any time during the Stolen Generations era.
A country where the cattle industry prospered using First Nations men and women as slave labour, and where the mining industry today – makes profits of a billion dollars a week from the desecration of First Nation Homelands
We share a Country whose governments in your name sends in its own army into remote First Nation Homelands on the basis of lies and deliberately constructed falsehoods to enact racist legislation such as the Northern Territory Emergency Response Act, later to become the Stronger Futures Legislation still enforced to this day.
We share a Country that, also records the highest language extinction rates on the planet.
We share a Country recorded to have one of the greatest appropriations of First Nations land in world history,
Brothers and Sisters
We share a country whose governments have suspended the 1975 racial discrimination act 3 times since its introduction in order to knowingly racially discriminate in order to deny us justice and further oppress First Nation Peoples.
As we stand here today the Abbott government under the guise of 'free speech" are typing changes to section 18C of the racial discrimination Act referred to as the 'Bolt Law" These changes will impact most severely on First Nations Peoples and will have consequences not unlike income management that will also ripple throughout all areas of our shared communities.
Brothers Sisters
Until the rightful political status of First Nation Peoples is secured – until our rights to share in the economic wealth illegally extracted and generated from our Homelands is secured – until the myths of the "lucky country" and so-called peaceful settlement of this Country are exposed and embraced and transformed by each of us – until justice in the light of current and historical truths is afforded First Nation Peoples – Until we the people change the power imbalance from one of oppressor and oppressed – of coloniser and the colonised – to one of respectful relationships and acceptance for each other's world-view – until we enter into binding treaties – "not constitutional recognition" but Treaties that lay the foundation for peaceful co-existence with First Nations Peoples and so-called "settler" states – there can be and never will be true justice in this Country, we all call home.
Brothers and Sisters
It is we who must demand of politicians of all persuasions to right the many injustices and end the oppression of First Nation Peoples evident in our own backyard – we will then get it right for all people – not only here – but throughout the globe.
Brothers and Sisters
Tony Abbott and his stable of elitist free market ideologues are out to silence our collective dissent, frustrations and anger at their careless and shameful scorched earth policies implemented solely in the interest of Profit-for-a-few
Brothers and Sisters
We are here joined together today, to organise collectively in the interest of a better life for all – It is we the people who make and determine change –not politicians and Mr Abbott, we the people – begin that change today.