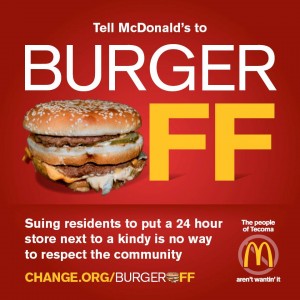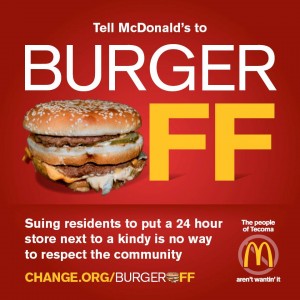 Take a 3 minute break from the endlessly vacuous, shallow and indistinguishable election spins that's an insult to people's intelligence.
Watch this YouTube video (see below) and be inspired by the Tecoma community fighting the McDonalds Corporation – this is where real politics of the people is happening.
"Do you hear the people sing.  It is the music of the people who will NOT be pushed around."
The Eight refers to 8 members of the Tecoma community who've been injucted not to publicly speak out against McDonalds.  They're also facing several criminal charges for having a 24 hour vigil on land McDonalds wants to build one of their restaurants – across the road from a school, kindergarten, etc.  In the meantime McDonalds can say whatever it wants against the community and the 8 local people facing the charges.
Several unions are supporting the community in different ways.
To find out more about the Tecoma community struggle against McDonalds, click here.