Ford Australia announced recently that by 2016 it was closing down their car plants at Geelong and Broadmeadows in Victoria, with 1200 workers to be made redundant. In addition, thousands more jobs will now also be threatened in industries and services that supply Ford.
The duplicity of this multinational giant knows no bounds, especially after receiving the Federal Government's $34 million "co-investment" bail-out in 2011. Ford has sponged up to $1.1 billion off the Australian taxpayer over the past decade. Despite of all this assistance it has just dumped the Australian economy and its workers!
Ford will re-establish its car plants to where the rate of profit is better, such as Asia. Here workers are exploited over longer hours, with lesser working conditions and fewer rights and protections. Apparently they plan to increase their sales into the Chinese market, partnering up with Chinese companies as well as its own expanding manufacturing plants.
Pathetically, the Federal and Victorian governments have just rolled over and copped it. No thought to nationalising the car industry and re-tooling it to manufacture public transport vehicles (such as trains, trams and buses), electric cars and infrastructure towards shifting to renewable energy.
However nobody should be surprised by the, past and as well as the present, Australian governments grovelling behaviour to such multinational corporations. The 1973 Broadmeadows industrial struggle at Ford highlights how weak kneed governments are, and also the vehicle unions were back then at defending workers' rights.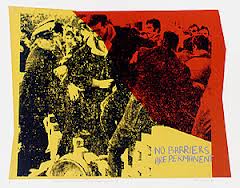 This dispute led to a nine week strike and became an iconic industrial workers' revolt. Ford had a reputation for being a ruthless company. Wages were low and the speed of the assembly line was relentless. There was the humiliation of workers begging their line bosses for a toilet break. Added to this powder keg was the widespread hostility to union officials who were seen as in bed with the Ford company.
Ford had been dragging out negotiations over a union log of claims and the workers were feed-up. The Metalworkers Union officials did not want any serious strike activity at Ford. The workers at Ford, however over-rode the union officials treacherous undermining tactics, and went ahead and declared a strike action.
Only a small number of workers attempted to enter the assembly plant, however they were stopped by a far larger crowd on the day of the return to work. At the picket line a shop steward was arrested and a huge melee started. The police were repelled again and again by showers of bricks, stones, cans, fruit and horse manure. Workers stoned the factory and the plate glass windows, pushed over a brick wall and invaded the plant and sprayed offices with a fire hose and used steel poles as battering rams.
They were prepared to fight back! An amazing $100,000 was collected in donations. The Furnishing Trades Union banned repair of the broken windows and wharfies banned the handling of all Ford parts. Consequently, the workers succeeded in winning tea breaks, toilet breaks, and a pay rise. An important outcome of the strike was the implementation of better (militant) shop steward organisation.
It is a pity that the current union officials haven't learnt the lessons of industrial history. Instead of meekly accepting Ford's treachery and the Federal and State governments acquiescence, why aren't they mobilising the workers around the demand to nationalise the company and campaigning for the building of trains, trams, buses, electric cars and infrastructure towards a shift to renewable energy?
Militant action such as this is the only way to break the grip of multinational control of our country.