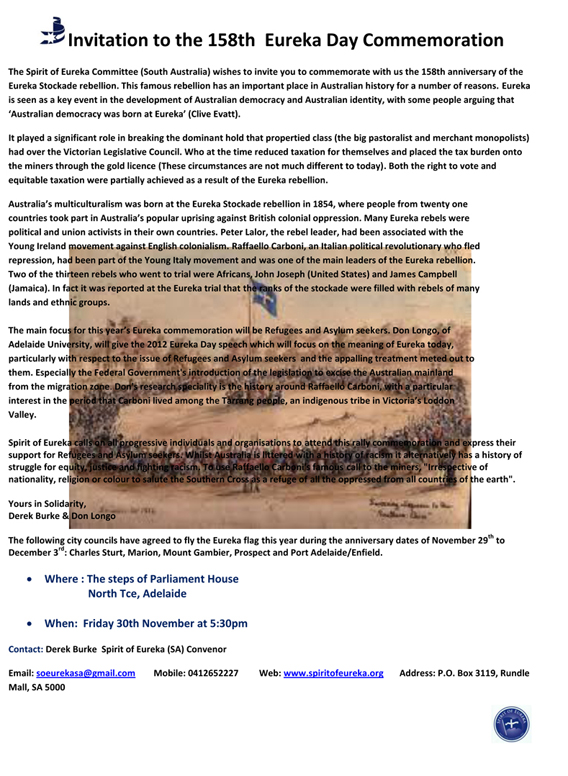 Invitation to the 158th Eureka Day Commemoration
The main focus for this year's Eureka commemoration will be Refugees and Asylum seekers. Don Longo, of Adelaide University, will give the 2012 Eureka Day speech which will focus on the meaning of Eureka today, particularly with respect to the issue of Refugees and Asylum seekers and the appalling treatment meted out to them. Especially the Federal Government's introduction of the legislation to excise the Australian mainland from the migration zone. Don's research speciality is the history around Raffaello Carboni, with a particular interest in the period that Carboni lived among the Tarrang people, an indigenous tribe in Victoria's Loddon Valley.
Spirit of Eureka calls on all progressive individuals and organisations to attend this rally commemoration and express their support for Refugees and Asylum seekers. Whilst Australia is littered with a history of racism it alternatively has a history of struggle for equity, justice and fighting racism. To use Raffaello Carboni's famous call to the miners, "Irrespective of nationality, religion or colour to salute the Southern Cross as a refuge of all the oppressed from all countries of the earth".
The following city councils have agreed to fly the Eureka flag this year during the anniversary dates of November 29th to December 3rd: Charles Sturt, Marion, Mount Gambier, Prospect,Port Adelaide/Enfield and West Torrens.
Where : The steps of Parliament House North Tce, Adelaide
When: Friday 30th November at 5:30pm
Organised by Spirit of Eureka (South Australia)
Contact – Email: soeurekasa@gmail.com Mobile: 0412652227 Web: www.spiritofeureka.org Address: P.O. Box 3119, Rundle Mall, SA 5000