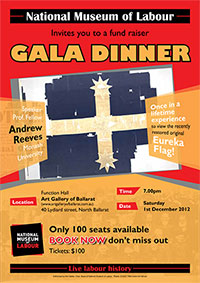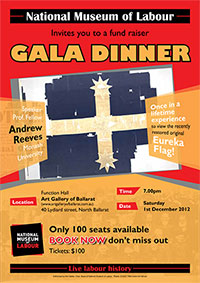 Book now to guarantee your place at the 2012 National Museum of Labor Gala Dinner in Ballarat.
Location: Function Hall, Art Gallery of Ballarat, 40 Lydiard Street, Ballarat.
Time: 7.00pm
Date: Saturday December 1, 2012
Be one of the first to view the recently restored original Eureka Flag.
Speaker:
Professor Andrew Reeves from Monash University.
Contact Kim Sattler to book your place.
Authorised by Kim Sattler, Chair, Board of National Museum of Labour Phone: 02 6247 7844 (www.nml.net.au)