Media Release from The Australian Independent Media Network
As international tensions rise to a new level, with the Ukraine war passing its first anniversary and the Albanese Government set to announce its commitment of hundreds of billions of dollars to new weaponry, nuclear propelled subs, Stealth bombers etc, The Road to War brings into sharp focus why it is not in Australia's best interests to be dragged into an American-led war with China.
The Road to War is directed by one of Australia's most respected political documentary filmmakers, David Bradbury. Bradbury has more than four decades of journalistic and filmmaking experience behind him having covered many of the world's trouble spots since the end of the Vietnam war – SE Asia, Iraq, East Timor, revolutions and civil war in Central and South America, India, China, Nepal and West Papua.
"I was driven to make this film because of the urgency of the situation. I fear we will be sucked into a nuclear war with China and/or Russia from which we will never recover, were some of us to survive the first salvo of nuclear warheads," says the twice Oscar-nominated filmmaker.
"We must put a hard brake on Australia joining in the current arms race as the international situation deteriorates. We owe it to our children and future generations of Australians who already face the gravest existential danger of their young lives from Climate Change," says Bradbury.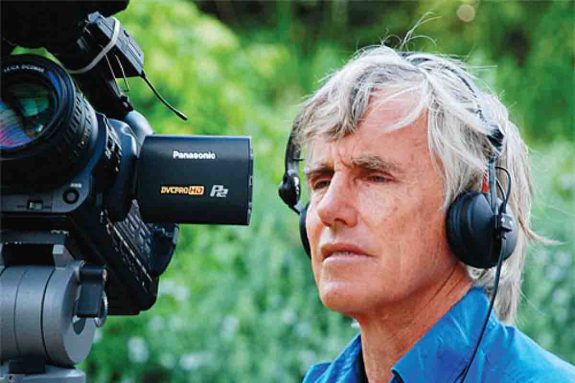 There is general concern among the defence analysts Bradbury interviews in the film that Australia is being set up to be the US proxy in its coming war with China. And that neither the Labor nor LNP governments have learnt anything from being dragged into America's wars of folly since World War II – Korea, Vietnam, two disastrous wars in Iraq and America's failed 20-year war in Afghanistan which ripped that country apart, only to see the Taliban warlords return the country and its female population to feudal times.
"Basing US B52 and Stealth bombers in Australia is all part of preparing Australia to be the protagonist on behalf of the United States in a war against China. If the US can't get Taiwan to be the proxy or its patsy, it will be Australia," says former Australian ambassador to China and Iran, John Lander.
Military analyst, Dr Richard Tanter, fears the US military's spy base at Pine Gap near Alice Springs, will be the first target of any direct confrontation between the US and Russia or China.
"The US military base at Pine Gap is critical to the US military's global strategy, especially nuclear missile threats in the region. The generals in Moscow and Beijing would have it as a top priority on their nuclear Hit List," says Dr Tanter whose 40 years of ground-breaking research on Pine Gap with colleague, Dr Des Ball, has provided us with the clearest insight to the unique role Pine Gap plays for the US. Everything from programming US drone attacks to detecting the first critical seconds of nuclear ICBM's lifting off from their deep underground silos in China or Russia, to directing crippling nuclear retaliation on its enemy.
"Should Russia or China want to send a signal to Washington that it means business and 'don't push us any further', a one-off nuclear strike on Pine Gap would do that very effectively, without triggering retaliation from the US since it doesn't take out a US mainland installation or city," says Dr Tanter.
"It's horrible to talk about part of Australia in these terms but one has to be a realist with what comes to us by aligning ourselves with the US," Tanter says.
"Studies show in the event of even a very limited nuclear exchange between any of the nuclear powers, up to two billion people would starve to death from nuclear winter," says Dr Sue Wareham of the Medical Association for the Prevention of War.
"The Australian Government, Prime Minister, Anthony Albanese, and Minister for Defence, Richard Marles, have a serious responsibility to look after all Australians. Not just those living in cities. Were Pine Gap to be hit with even one nuclear missile, Health Minister Mark Butler would be hard pressed to find any volunteer nurses and doctors willing to risk their lives to help survivors in Alice Springs, Darwin and surrounding communities from even one nuclear missile hitting this critical US target," says Dr Wareham.
Clip from The Road to War: