by Spirit of Eureka-South Australia
Don Longo, a good and valuable friend of Spirit of Eureka, passed away on the 6th October this year.
He came from a poor Italian peasant family who emigrated to Australia in 1960 from the village of Molinara. Arriving in this country when he was eight, unable to speak English, Don proved to be a very capable student. He achieved a first class honours degree in History from University of Adelaide in 1979 and went onto complete a PhD thesis written in French from the Université de Paris VIII in 1985.
Don joined a number of left wing and environmental groups in the 1970s and his political orientation and interests never waned nor mellowed. He was particularly conscious of the exploitation and oppression of the working class and his solidarity with them never ceased.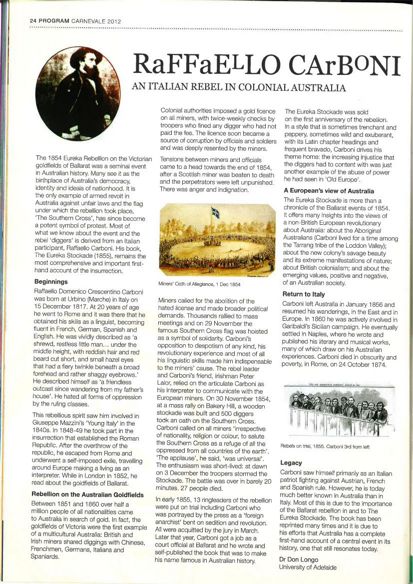 In 2012 Spirit of Eureka became aware of Don through an article he had written for the Carnevale brochure, entitled "Raffaello Carboni: An Italian rebel in colonial Australia". Carnevale is the annual festival for Italians in South Australia. Intrigued, we approached Don to see if he would be willing to be a guest speaker at our Eureka Day commemoration. This resulted in an enduring and productive collaboration over the next ten years. Don put in an enormous amount of work (MCing, researching, giving speeches, manual work etc) helping out commemorating and celebrating Eureka Day.
He and his life partner, Lyn, regularly contributed compelling articles to the Spirit of Eureka website. His brilliance and depth of knowledge was noted by the organisation and readers alike. Being an engaged historian, Don was particularly concerned with writing the history that he was close to. He was responsible for writing books about the migration experience, 'Terra Lasci, Terra Trovi' the history of a southern Italian community in South Australia, 1927-2007; on soldiers from Yorke Peninsula [his wife Lyn came from Yorke Peninsula] who fought in World War One, 'The Ties That Bind': Southern Yorke Peninsula and the Great War, 1914-1919 and 'Pens and Bayonets,' letters from the Front by soldiers of Yorke Peninsula, South Australia, during the Great War; on the conservative intellectual who lectured him, A historian against the Current: The life and work of Austin Gough; and on South Australian activists who opposed the Vietnam War, Moratorium Now! Memories of protest against the Vietnam War in South Australia, 1965–1972.
The latter book was the result of Don's and Lyn's involvement with the Vietnam War Moratorium Anniversary Committee (VWMAC) during 2020. When approached to help establish and participate in the Vietnam War Moratorium Anniversary Committee, both Don and Lyn, without hesitation, threw themselves into this task to make it a success. Throughout 2020 they both worked tirelessly to help plan and organise a public meeting to commemorate the 50th anniversary of the famous VMC (Vietnam Moratorium Committee). Once this commemoration was over, both Don and Lyn then launched into collating the presentations by the speakers and a question and answer session that followed at the Vietnam War Moratorium Anniversary public meeting, producing the book, Moratorium Now!
Work on the VWMAC made them realise that many of the radicals and activists of the 60s, 70s and 80s stories would be lost due to death, dementia or infirmity. Don and Lyn were determined to give a voice to the political activists of this era, and they planned the book, 'Days Of Wrath, Years Of Hope: Memories of Protest and Civil Disobedience in South Australia 1965-1983' to achieve this. It is no mean feat to apply for and receive a grant from the History Trust of SA; visit, record and interview 55 people; put all this down into print and edit the interviews; return the copy to the interviewees with instructions to self-edit; and then complete the final draft of all these interviews. It was an enormous undertaking for both of them. Unfortunately and sadly, Lyn and Don had left interviewing himself to last, an interview that now can't happen. This invaluable oral history project will now be completed by Lyn alone.
Interspersed with all this work was Don's presentation to the Labour History Society of South Australia on the Paris Communards. The revolutionary in Don could not let the 150th anniversary of the Paris Commune go unnoticed, and in August 2021, he gave a gripping lecture called, "Dancing in the snow: The Paris Commune as a paradigm for social change?" Here he drew seven important lessons that came out of the Paris Commune: revolutionary tactics, distribution of power, democracy, the military in a socialist order, the economic and the political, women, socialism as 'a festival of the oppressed'. These lessons are eternal issues for revolutionary social change and still have relevance for today.
His vast undertakings demonstrate to us the historian in Don. He was a first-rate historian, intellectual and revolutionary. Don's life was unfortunately brought to an end too soon. He only started to experience the gentle years of retirement with Lyn, his family and especially his grandchildren. There was much more he wanted to experience and do with family and friends. However, we have been blessed with knowing a noble man whose spirit of humanity and loyalty will remain with us always. It is extremely painful to bid a final farewell to a good friend who we admired immensely but, he will live forever in our hearts and memories.
Comrade Don Longo, Spirit of Eureka salutes you!