SATURDAY, FEBRUARY 12, 2022 AT 10:30 AM UTC+10:30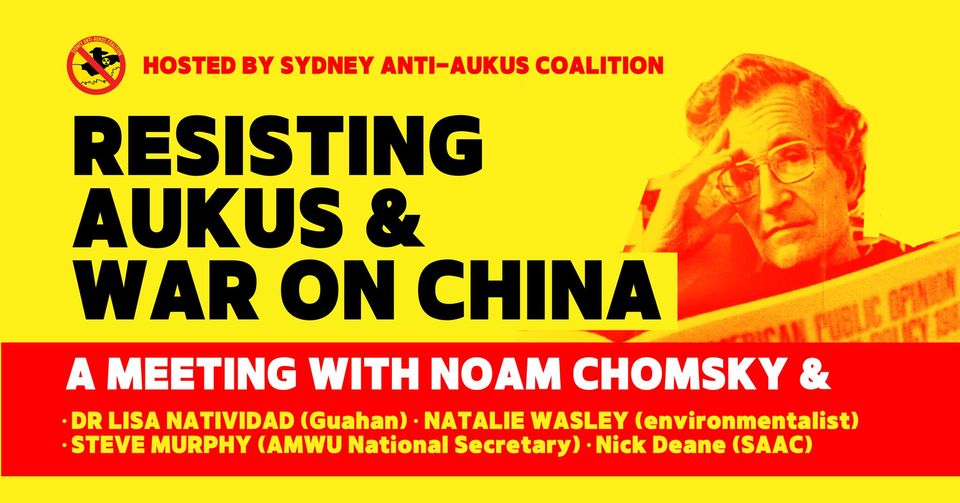 RESISTING AUKUS & WAR ON CHINA- a Sydney Anti-AUKUS Coalition Online meeting
Speakers:
• Professor Noam Chomsky
• Dr Lisa Natividad (Guahan)
• Steve Murphy (AMWU National Secretary)
• Natalie Wasley (environmentalist)
• Nick Deane (Sydney Anti-AUKUS Coalition) Eventbrite link:
https://www.eventbrite.com.au/…/resisting-aukus-and-war… Zoom link:
https://us02web.zoom.us/j/86071363937… Passcode: 318750 Scott Morrison and the Liberals are fanning the flames of war between the U.S. and China. In September last year Morrison announced the AUKUS Pact- a new military agreement between Australia, the U.S. and the UK which will further militarise the region and see Australia become only the 7th country in the world to acquire nuclear powered submarines. Join Sydney Anti-AUKUS Coalition for this important online meeting about how we can resist the disastrous drive to war.