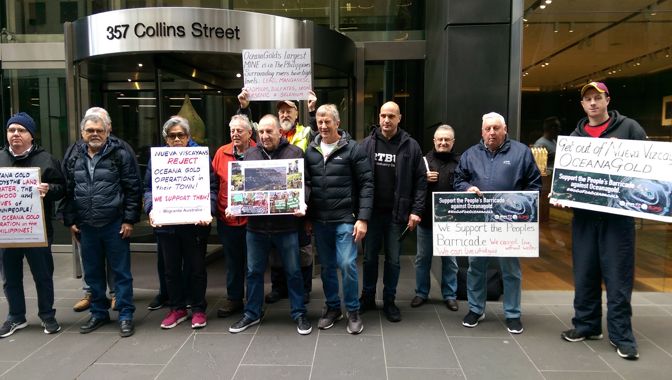 Protest held at OceanaGold Offices 357, Collins Street, Melbourne, Australia, on 9 July 2019
This report was published on the Hiyaw website on 9 July 2019.
The local people around the area of the Didipio Gold-Copper mine in Nueva Vizcaya Province of the Philippines have set up a community barricade against the mine. So far they have had their barricade in place for about a week. A world-wide support network is now in place to support them in their just demand for OceanaGold to stop their mining operations completely.
Spirit of Eureka took part in this protest as part of global action in solidarity with the people of Nueva Vizcaya.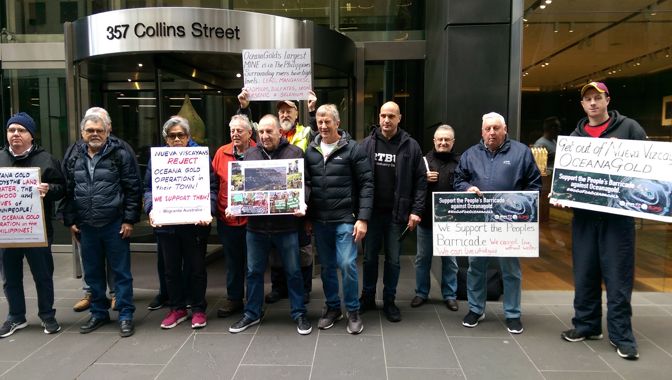 The OceanaGold Didipio mine's 25-year Financial or Technical Assistance Agreement (FTAA) recently expired last June 20, 2019, but OceanaGold has defied restraining orders by the Provincial Government.
Various investigations, complaints, and local government resolutions have exposed that OceanaGold's environmental and social violations are legion, including the following:
A 2017 community health diagnosis by the IBON Foundation found that 80% of Barangay Didipio, the mine's host village, have complained of clean water access problems amid OceanaGold's depletion and pollution of rivers
A 2018 investigative report by the Institute for Policy Studies and MiningWatch Canada revealed that OceanaGold figured in 10 violations of national laws and FTAA contract provisions relating to environmental, land, labour, and indigenous people's rights
A 2019 communication by 9 United Nations Special Rapporteurs to the Duterte government raised questions on OceanaGold's history of civil-political, socio-economic, and environmental rights violations, including violent demolitions, illegal arrests, and the forced displacement of communities
It is a human right to a healthy environment and this mining activity presents harm to the local population and the environment. Community participation is a crucial element of sustainable development and part of international environmental law, expressing the right of people to participate in decisions that affect them.
The state has a permanent sovereignty over its natural resources and finds its legitimacy and its limits in the public interest.
We call on OceanaGold to respect the will of the community in Nueva Vizcaya.
The Spirit of Eureka Committee was established in the lead up to the 150th anniversary of the Eureka Stockade in 2004, to give a strong and united voice to the current struggles of Australia's working people.
FOR A JUST, SOVEREIGN AND DEMOCRATIC AUSTRALIA.
Further reading about the struggle against the OceanaGold Dipidio mine can be found here:
http://thedefiant.net/a-town-rallies-against-oceanagolds-mining-operations/
https://pia.gov.ph/index.php/news/articles/1023915?fbclid=IwAR2vmVjF6vim5AqUV9bC5q2ODqmievB2BuiOwdNIWYNXj1bGfwkoDcQzLVg
https://www.bulatlat.com/2019/07/03/didipio-residents-stage-barricade-as-oceanagold-continues-operation-sans-license/
https://www.philstar.com/business/2019/06/25/1929191/oceanagold-allowed-operate-expired-ftaa