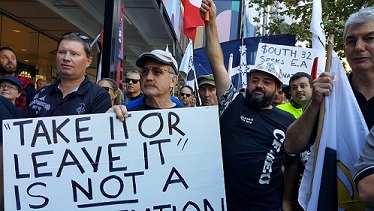 By Lindy Nolan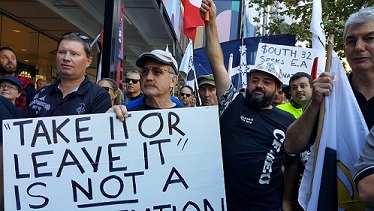 Adani's recent tactics against First Nations bear the marks of a man well-known to workers in Queensland mines and in the Illawarra south of Sydney.
According to the Financial Review's Matthew Stevens, Lucas Dow became new Adani CEO in April 2018 after leaving South32, which emerged from BHP Billiton in 2015.
Dow immediately took steps to ensure the struggling Adani project was self-financed, by cutting 50 per cent from initial planned costs. He also took steps to end battles with other corporations.
According to Stevens, Adani had been fighting not only those opposed to the mine, but Australia's biggest freight operator and Business Council member, Aurizon.
Adani had been refused funding for a potential rail monopoly of its own that would have undermined Aurizon's.
Dow quickly announced a new plan to link Adani's rail line to the closest point on Aurizon's system. This entrenched Aurizon's position while providing dramatically cheaper result for Adani. Negotiations are ongoing.
In March costs were awarded to Adani after a court battle with yet another corporate giant, John Holland.
Dow stated, "We are close to finalising finance as the recent mine and rail decisions have significantly simplified the finance requirements for Carmichael."
Who's who in the Adani zoo?
Dow is a clever fella. Like Business Council of Australia chief Jennifer Westacott who grew up in public housing, he promotes his background to create a human face for the dirty business of capitalism.
"On a personal level, my old man was an interstate truck driver," he told Matthew Stevens, when asked why he wanted to take the job.
"It has always struck me how hard he worked to give us a go and how well remunerated I have been as a result of the opportunities he and the mining industry have afforded me… I am a parochial Queenslander and I really want to see this get up. This is personal, there is a personal drive there."
This blah blah blah is directly aimed at ordinary Queenslanders, including workers and One Nation and Katter Party supporters, many of whom previously opposed Adani's plans.
But Dow has a less good-guy side. Illawarra Mercury's Ben Langford wrote that Dow was president of BMA (BHP Mitsubishi Alliance) when it cut 700 jobs from its coal operations in Queensland, before he became a fixed-contract consultant at South32's Illawarra Coal in July 2017.
Under Dow Adani has hit Traditional Custodians opposing the mine with several nasty legal and financial obstacles just before Christmas, probably hoping things would be done and dusted before their opponents could get organised.
Most "dysfunctional" place in the country
It's not the first Dow December bombshell. A year earlier, 103 jobs cuts at South32's Appin Colliery were announced under a 'voluntary' redundancy program. Perhaps it was Dow's departing gift before he headed to Adani.
South32's Appin Mine is one of the gassiest in the country, requiring experienced workers. 
Illawarra Mercury's Ben Langford wrote, "One long-time mine worker said the destabilisation caused by sudden and unexplained management shifts was creating cultural problems rather than solving them.
The worker said, "I've never seen a place as dysfunctional in the country." Of course Dow was not the only executive involved, but he was certainly part of it.
But there's more!
Illawarra's Port Kembla Coal Terminal (PKCT) is owned by South32, Peabody Energy, Glencore, and two smaller multinationals, Centennial Coal and Wollongong Coal.
While Dow was at South32, PKCT followed a premeditated strategy to get rid of unions in one of Australia's most highly unionised regions.
ABC's 7.30's James Thomas and Alex McDonald first exposed the strategy. The plan included sacking 30 per cent of the workforce. Management was considering a 'regional hub' model which would use 'employees from South32 to replace the Port Kembla Coal Terminal employees'."
When work was short PKCT locked out the workers, but never let the picket line continue long enough to become a focus for regional or state-wide organisation.
A 'cabal' is a secret group which plot against others.
South Coast Labor Council Secretary Arthur Rorris called PKCT "a multinational cabal".
Talented individuals like Dow are useful to a corporate coal cabal desperate for Adani to open its mine.