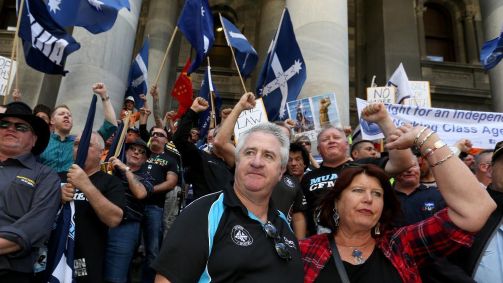 This article was produced by Spirit of Eureka (Sydney) and handed out as a leaflet at a rally of  CFMEU & other workers outside the Fair Work Commission Sydney headquarters in support of the locked out Port Kembla Coal loaders.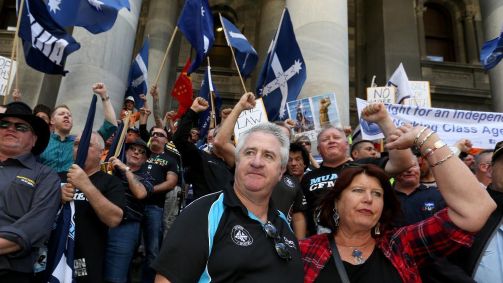 Photo by CFMEU
Illegal to fly the Eureka flag? There's a political party headed by a former Nazi, gaoled for conspiracy to murder. Last year the Australian Electoral Commission said it could use the Eureka flag as its symbol in elections. Our beautiful flag that represented 21 nationalities at Eureka, handed to violent divide and conquer racists!
Yet the ABCC says it's illegal for construction workers to fly the Eureka flag on their multicultural work sites because it's the symbol of the Builders Labourer's Federation. Remember when the BLF marched on insurance corporations who wouldn't pay injured workers? The Eureka flag flew front and centre. Shock! Horror!
History is littered with violence backed by laws against workers who raise the flag or fight for rights. At Eureka, twelve thousand miners swore "by the Southern Cross to stand truly by each other and defend our rights and liberties". British soldiers massacred many at dawn, bayonetting the wounded, for daring to build a stockade to protect those rights.
In 1891, shearers stood firm under the flag against the police and army's threatening machine guns. 14 leaders were gaoled. Just before World War II, wharfies swore the Eureka oath refusing to let pig iron for weapons go to Japan. Soon-to-be-PM Bob Menzies praising Hitler & Nazism, found very old laws to force them back to work.
Workers who unite and defend our people are criminalised. Groups who divide and betray us are handed the people's flag! Who runs Australia?
Independence for Australia!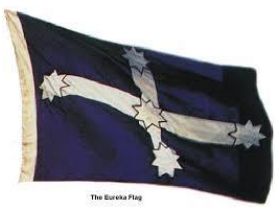 The silver Southern Cross shines against the blue, a message of rebellion, of hope, of unity. In 1854 the British Governor of Victoria feared it. He called it 'the flag of Australian independence', that "threatened British rule". Spot on!
For three months in 1989 striking shipbuilders flew it from occupied Cockatoo Island Dockyard's Titan crane, alongside the Aboriginal flag. They knew what the flag meant!
"It's the flag of old Eureka where the miners took a stand, It's the flag of independence of this great, and stolen, land." Cockatoo '89
Today giant corporations, not British Governors, tell governments what to do. In 2016 US corporations held $860 billion investments here, nearly double Britain's, 900 percent more than China's growing portfolio.
This doesn't include outright ownership, the massive amounts hidden in nominee companies, or corporations based in tax havens.
Locked out workers at Oaky Creek and from Longford gas field also refuse to cave in to multinational corporations. They raise the Eureka flag.
Australia-wide the ABCC is threatening companies that they won't get government contracts if the Eureka flag flies on their sites.
Even giant Probuild copped a mouthful from Michaelia Cash last year because it didn't want to pick a fight with workers.
But across Australia, construction workers are telling the ABCC to get stuffed.
They stand with PKCT workers!