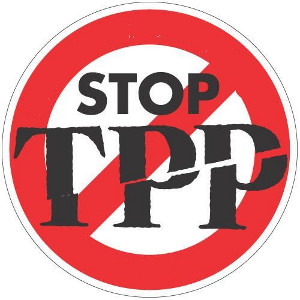 This article was a leaflet distributed by Spirit of Eureka – Victoria
 Defend our livelihood, the environment and Australia's independence
The Australian government is about to sell out our rights and livelihood, the environment and the little that's left of Australia's national sovereignty, to the profit-driven US multinational corporations and global banks.
The Trans-Pacific Partnership (TPP) is a Free Trade Agreement devised by 600 of the world's biggest corporations and the US government. It has little to do with trade but everything to do with unfettered profiteering by multinational corporations and foreign investment, and the increased exploitation of all workers and working people in the TPP countries.
It's a tool for corporations and international banks to seize even more of nations' wealth and resources that rightfully belong to the people of these countries. 
The US – driven TPP will impose the corporations' rules on all TPP countries to remove any obstacles that stand in the way of increasing their profit-making through foreign investments and unhindered movement of cheap labour across the world.  TPP will override domestic laws and regulations – Federal, State and Local – especially those designed in public interest.
TPP will empower multinational corporations and banks to sue all levels of domestic governments for outrageous amounts, where they claim domestic laws and standards may prevent future maximisation of profit making.
TPP is being imposed, and enforced, on the people of 12 Pacific Rim countries – New Zealand, Malaysia, Japan, Australia, Canada, Peru, Mexico, Chile, Vietnam, Singapore, US, Brunei.
Across many TPP – Pacific Rim countries hundreds of thousands of ordinary people, unions and community organisations are coming together in public meetings, protests, rallies and demonstrations to voice their opposition to the corporations' driven Trans Pacific Partnership.
This people's movement is growing and spreading globally.
Australia
TPP will sweep away the few remaining regulations that protect local jobs, working conditions, the environment, local agriculture and manufacturing industries, safe food production, public services and people's rights to make the world a better place.
The livelihood of workers and working people, farmers and rural communities are threatened.
Regulations covering rates of pay, working conditions, penalties and shift allowances will be attacked even more.
The cost of affordable medicines will eventually go up within a few years.
Local scientific and technical skills and expertise will be lost.
Local art and culture and the livelihood of our cultural workers will be drowned in floods of more commercialised US "culture".
The environment will be ravaged.  Efforts towards an environmentally sustainable economy, based on renewable energy, will be stopped.
It will be illegal for governments to preference employment of local workers and use local materials on government funded projects.
Australia's minerals processing and manufacturing industries will disappear along with jobs and technical skills.
Preservation of Aboriginal culturally significant sites will no longer be guaranteed as mining corporations are given a free hand to plunder the country.  Native title could be challenged.
Australia's relatively high standards in agriculture and food production will be lowered, leading to lower standards in food safety.
More privatisation of community services, national infrastructure, outsourcing of public services will increase the cost of living for ordinary people.
Under the TPP, sovereign governments will be prohibited from increasing taxes on multinational corporations eg. super-profits mining tax, and introducing regulations to stop tax evasion. Even the few weak Government regulations on banks and financial institutions  will be undermined.
The destruction of our minerals processing and manufacturing industries over past 25 years is already undermining people's livelihoods, and this country's self-reliance and national sovereignty.   Under the TPP this is bound to accelerate and take Australia to third world economy status.
Australian people have a long and proud tradition of standing up for justice, democratic rights and national sovereignty.  The present workers' and union rights, jobs and even the limited protection of local industries, had been achieved through many long battles by working people.  Most of this country's laws and regulations that protect the environment have been gained through people's campaigns and mass actions.
We're not about to give away these hard fought for gains to multinational corporations and global banks.
Australian people want to live and work in an independent and self-reliant country that invests its wealth and resources into the well being and interests of working people and the environment.  We need an independent economy with strong environmentally sustainable minerals processing and manufacturing industries.